Super-cheap Beachfronts and Sound Economics.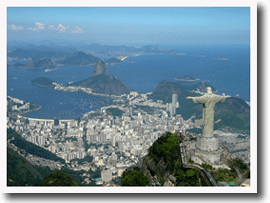 If you're in the market for cheap beachfront property, this is the place to shop. Crime is the country's biggest drawback, but south from Ceara to Natal, you can enjoy super-cheap coastal buys in safety.
Brazil is self-sufficient for fuel and making a continued big push for bio-fuel (from cane), even passing legislation requiring car manufacturers to modify vehicles to run on it.
Furthermore, Brazil stands out as unique in this part of the world. It has managed to maintain a socialist government while sticking to sound 21st-century business and economic policies. One of our editors' top picks both for lifestyle and investment in 2008.
Note that Americans need a visa to visit Brazil.
Photo Gallery
(Click on the pictures to enlarge)
{gallery}galleries/Brazil{/gallery}
Brazil at a Glance
Population
198,739,269 (July 2010)
Gross Domestic Product (GDP)
$2.013 trillion (2009)
GDP Per Capita
$10,100 (2009)
Inflation Rate
4.2% (2009)
Currency
Brazilian Real (BRL)
Exchange Rate Versus U.S. Dollar
2.03 reals = 1 U.S. dollar (2009)
Language
Portuguese (official)
Capital
Brasilia
Population of Capital City
2.55 million (2008)
Time Zone
GMT minus 3
Seasons
Tropical–wet, warm/hot year-round.
Southern tip: temperate with four seasons
International Dialing Code
55
Electricity
110/220V / 60 Hz; Plug Types: A & B (U.S. style), C
System of Government
Federal Presidential Republic
Name and Party Affiliation
of Current Leader
Luiz Inacio Lula da Silva
Worker's Party
Income Tax Rate for Residents
7.5% to 27.5% (2010)
Property Tax
0.5% to 4%
Capital Gains Tax
15%
Inheritance Tax
8%
Rental Income Tax
15%
Transfer Tax
variable depending on location (in São Paolo it is between 0.5% and 2%)
Sales Tax
17% to 25%
Restrictions on Foreign
Ownership of Property
Local Chamber of Commerce
www.cni.org.br

SBN-Quadra 01-Bloco C- Ed. Roberto Simonsen

Brasilia-DF-CEP:70040-903
Tel: +55-61- 3317-9989

American Chamber of Commerce
www.amchamrio.com.br
Praça Pio X nº 15 / 5º andar
Candelária, Centro, Rio de Janeiro
Tel: 55 (21) 3213-9200
Primary Exports
Transport equipment, iron ore, soybeans, footwear, coffee, autos
Residency and Visa Requirements
Tourist Visa: It needs to be acquired at a Brazilian Embassy/Consulate
Residency: Businessman/Professional, Entreprenuer,Investor, Retiree, and High-Level Specialist visas
Citizenship: uninterrupted residency of 15 years and clean criminal record; Investor Visa holders can apply after 4 years of residency
Special Benefits for Foreign Residents or Retirees
none
National Airline
VARIG
www.varig.com
Preferred Contact
Map
{phocamaps view=map|id=3}
Comments