Charming Bullet Tree, Belize–Where You Can Own Riverfront For US$20,000
The idea behind Mahogany Park is straightforward. This riverfront community in the Cayo District of Belize has been conceived as an opportunity for retirees looking for a place to enjoy the simple life in a charming rural setting and on a very modest budget.
Mahogany Park isn't a gated community. This is more low-key than that, more for retirees more interested in becoming part of the existing local community rather than creating one of their own.
Mahogany Park is also about a year-and-a-half in the making. That's how long Belize developer-friend Phil Hahn and I have been working to put the pieces for this into place.
The piece of land where Mahogany Park is being developed was chosen carefully. The property sits on the Mopan River just outside the town of Bullet Tree. The location is quaint, quiet, and back to basics. The river situation means cooling breezes and pleasant views.
As I said, this isn't a "gated community." No clubhouse, no gym, etc. All of that adds cost for the owners, both upon purchase (every amenity must be amortized over the prices of the lots) and ongoing (in the form of HOA fees). Plus, all of that would change the face of what's on offer here. If you want a full-amenity situation, you have other good options in this country. If you want sweet and simple country living, Mahogany Park could be just the thing.
While this isn't a master-planned community in the traditional sense, the property will be supported by roads, water, and electricity. You won't have to dig your own well, for example.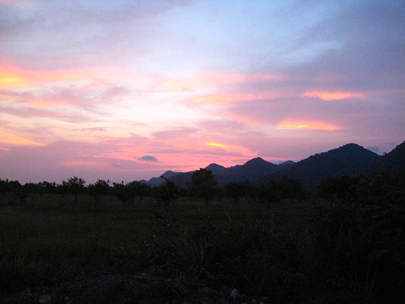 In addition, Mahogany Park will include a half-acre park with access to the river for use by all owners, a nice place to meet with your few neighbors and maybe share a cocktail at sunset. Otherwise, the property is being given over to dozens of mahogany trees (hence the name). Three of the lots are riverfront; owners of these will be able to step out your back door and be right at the river (note that there's a 66-foot government setback from the river's edge for construction).
With lots ranging from about 1/8th to 1/5th of an acre and prices starting at US$25,000, Mahogany Park is a very appealing option for someone looking to retire to Belize on a budget, build a second home, or invest in a small rental property. You could put up a two-bedroom, 1,000-square-foot house for as little as US$70,000, including the septic system, meaning that you could have a comfortable home of your own in this riverfront setting within walking distance of town (Bullet Tree) for a total of less than US$100,000.
Belize is generally best known for its Caribbean lifestyle. That's out on Ambergris, and that's where you should look if you like to spend your days diving, snorkeling, and fishing. Belize's Cayo is a different place entirely. This is inland, in the mountains, in a region that has managed to remain largely undiscovered and undeveloped despite all the attention other parts of this country have attracted.
Frankly, the Cayo is my favorite part of Belize. The older I get, the more I appreciate the attractions of simple country living on the banks of a slow-going river. If that lifestyle appeals to you, too, the Cayo is one of the best places in the world to enjoy it.
Finding serviced lots in a riverfront setting at the prices on offer at Mahogany Park isn't easy–not in Belize or anywhere. And at Mahogany Park, there are only 23 of them.
Phil likes to launch any new project with a special offer. In this case, he's convinced me to offer a US$5,000 discount off the price of the first five lots sold. That means you could buy a lot in Mahogany Park for as little as US$20,000. I don't know of any opportunity anywhere that compares. And, again, this one is very limited in scope.
For more information on Mahogany Park, you can get in touch with Phil here.
Lief Simon
***
Kathleen Peddicord's New Book "How To Buy Real Estate Overseas" Available Now Pre-Release!
Kathleen Peddicord's latest book, published by Wiley & Sons, hits bookstores April 8. Starting now, though, you can buy a copy pre-release and save 36% off the release price!
Go here now to order Kathleen Peddicord's New Book!
Continue Reading: How To Get A Job In Panama or Panning For Gold In Ecuador
Image Source: Hollyposts
Comments