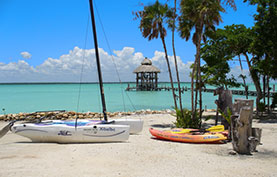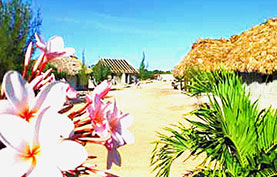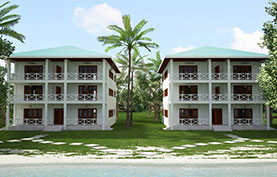 Turn-key Homes in Paradise
Starting at $189,000
Hidden in the preserved Caribbean paradise of northern Belize, the Orchid Bay community boasts over 4,000 feet of uninterrupted frontage on the Caribbean waters of Chetumal Bay and will be home to under 500 private residences ranging from seaside Casitas and condominiums to half-acre estates.

Indigenous flora and fauna, Mayan influences, and a pedestrian-friendly design characterize residential neighborhoods. First-class amenities will include an equestrian center complete with a 6-acre horse pasture and stables, miles of walking and riding trails, on-site outfitter for excursions, tennis courts, and observatory. The beachside cantina will be home to a casual restaurant featuring fresh local cuisine, palapa bar, beachside pool, bonfire pit, and lounge deck with sunset views.

Ease of ownership is assured with property management and concierge services.

Orchid Bay's location on the protected waters of the bay is ideal. From Orchid Bay, Belize it is easy to visit the world's second largest barrier reef system or the Mayan ruins at Cerros.

The modern city of Chetumal, Mexico is only 10 miles across the bay from Orchid Bay. The capital of the Mexican state of Quintana Roo, Chetumal is home to hospitals, museums, movie theatres, and restaurants and shopping.

Easily accessible by air, Belize is served by 5 major airlines with direct flights from Atlanta, Charlotte, Dallas, Houston, Los Angeles and Miami.

The Vision

The land plan and architectural designs of Orchid Bay are the essence of our community. With an "earth-in-mind" philosophy, we tread lightly on nature to ensure the community's legacy. Classical architecture ties the influences of the Maya, Spanish, and English together with a uniqueness best described as "Culture in Nature".

Our tread lightly philosophy is evident upon arrival at Orchid Bay. Our roads are hand cut to preserve any and all ancestral trees; we'll move or adjust the road to make sure the trees stay. We promote the use of green energy alternatives such as solar and wind, as well as alternative treatment systems for water reuse; all to lessen our footprint on this pristine place.

Furthermore, the development broadens its definition of sustainability beyond just the environment to include local citizenry and residents of Orchid Bay. The town is committed to protecting the environment; ensuring financial stability and continued value growth; and respecting the traditions of Belize and its people. The organic layout of Orchid Bay works within nature, rather than trying to alter its surroundings.

The Community

Orchid Bay embraces the ideas of New Urbanism and walk-ability. The town is planned around central plazas, which provide gathering spaces for community members. Broad boulevards and tree-lined avenues connect these plazas in a design that pays tribute to the Mayan Tree of Life and the divine proportions of sacred geometry. Organically shaped radial neighborhoods create an intimate living experience. The public realm is prominent here and the aesthetic of the whole remains paramount, from 360-degree architecture that promises more than just a perfect façade to a family-friendly shared waterfront owned by the community, not by individuals. Every attraction is less than a five-minute walk from any given point. Residents will congregate in Founder's Square and linger over fresh squeezed lemonade at a sidewalk cafe, in the Plaza del Encanto for a poetry reading, in the Plaza del Sol for live concert on a balmy evening or at the observatory for stargazing and a nightcap. Orchid Bay, Belize marks a return to tight-knit community, a place where daily life is lived outside and among others.

Turn-key homes start at US$189,000 but there are other residential options available on the property. Further, developer financing is available.

To find out more about Orchid Bay get in touch by entering your contact information below.