President Trump requested $603 billion for defense spending in fiscal 2018, a nearly 10% rise over the previous year.
The United States spends more on defense than China, Russia, Saudi Arabia, the U.K., India, France, and Japan combined.
Every year, billions of taxpayer dollars flow into the coffers of defense contractors. These are companies that supply everything from missiles to software to toilets for the military.
And there are big profits in all of those missiles, software, and toilets—for both the defense contractors and their shareholders.
Investors in defense contractors have done extremely well over the past decade.
The defense sector has significantly outperformed the broader market over the past 1, 3, 5, 10, and 11 years (since the S&P Aerospace & Defense Select Industry Index was launched).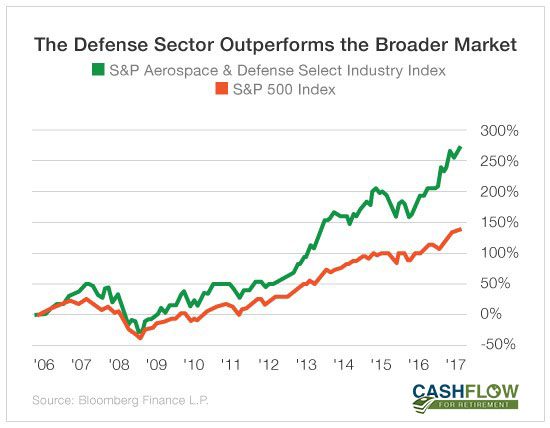 You can see from the chart above that, starting in 2007, the defense sector has consistently beaten the S&P 500. Since 2013, that outperformance has widened.
Since inception, the S&P Aerospace & Defense Select Industry Index beat the S&P 500 by more than 132%.
An investor who put $10,000 into the S&P 500 on May 31, 2006, would have $18,989 as of May 31, 2017. But if the money were invested in the Defense Select Industry Index instead, the total would be $37,210.
The index is composed of some household names like Boeing (NYSE: BA) and Raytheon (NYSE: RTN). The latter has been a huge winner for us in The Oxford Income Letter, up 185% in three years.
But the index isn't made up of only giants that you know. It also has quite a few stocks you may have never heard of, including…
HEICO Corp. (NYSE: HEI), which makes electronics for airplanes, satellites and rockets;
BWX Technologies (NYSE: BWXT), which manages nuclear and national security operations for the government;
KeyW Holding Corp. (Nasdaq: KEYW), a cybersecurity and computer analytics company.
Considering that North Korea seems to test a new warhead every five minutes, terrorism is still prevalent, and Russia… well, who knows what the heck to think about Russia these days?… The world is not getting any safer.
We need more sophisticated tools to protect ourselves from enemies. Other countries do, too, and they buy lots of technology from American defense companies.
So it's likely that the sales booms for makers of missiles, software, and military toilets will continue for the foreseeable future.
I expect to see defense contractors outperforming the broad market for years to come.
Good investing,
Marc Lichtenfeld
For Cashflow For Retirement
Comments