At a recent conference, the subject of what's "hot" in the industry was brought up.
"Crypto," said one expert.
"Pot stocks," claimed another.
"Penny stocks," declared a third.
"Everyone wants trading systems," stated an authority.

Another guru advised, "Income always sells."
So with that, I'm happy to introduce you to Marc Lichtenfeld's Crypto Penny Pot Stock Income System Trader.
I'm joking, of course. Though I bet it would sell.
A much less sexy area of the market that is harder to sell but where investors routinely make great money is the health care space.
For speculative investors, there are small stocks—especially in the biotech sector—that have the potential of doubling overnight and going up hundreds of percentage points in a few months or years.
For more conservative investors, there are a number of high-quality companies that will not only provide great growth opportunities but also generate a meaningful amount of income.
For example, one of my favorite health care stocks is the big pharmaceutical maker AbbVie (NYSE: ABBV). I actually recommended this stock in my active trading service Lightning Trend Trader and my dividend-focused Oxford Income Letter.
On March 6, 2017, I recommended AbbVie as a trade in Lightning Trend Trader. The price was $63.22. At the same time, for investors who really wanted to go for big gains, I suggested the AbbVie January $75 calls at $1.18.
We exited the stock on Feb. 1, 2018, at a price of $112.44, for a total return (including dividends) of 81%.
The options play was even bigger. When we sold that position on Jan. 19, 2018, the calls were trading at $29.28, a 2,381% gain.
But I also recommended the stock for long-term investors in The Oxford Income Letter.
That's because when I suggested buying the stock at about $57, it was yielding 3.8%. Importantly, the company had raised its dividend seven times since it began paying one in 2013. Because of the dividend raises, AbbVie now yields a very strong 6.7% on our original price and 3.9% on its current price.
AbbVie has an impressive set of products, including cancer blockbuster Imbruvica, which many people expect to eventually generate up to $7 billion a year in revenue.
Additionally, it has a pipeline of 30 drugs that should create plenty of cash flow and fund not only growth but dividend increases as well.
There are many high-quality health care companies that reward shareholders with both dividend income and growth potential.
The table below shows the expected earnings growth rate and current dividend yield of five great health care companies.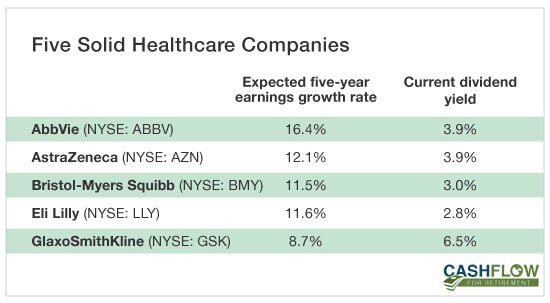 Getting in on a hot new trend can certainly make you money if you're early enough. But rather than trying to time new trends and hoping to get it right, I prefer sticking with what has worked for decades.
Health care stocks have a long history of providing growth and, in many cases, income. There will always be demand for health care products and services.
I'm not sure I can say the same for the Crypto Penny Pot Stock Income System Trader.
Good investing,
Marc Lichtenfeld
Comments