"The honesty and realism of your information shines through. I am looking forward to continuing reading your offerings for a long time."
— Carol C., United States
Panama v. Costa Rica
"We want to move abroad and have been considering Panama and Costa Rica, but we're not sure how to decide between the two. What do you think? Why would one live or retire in Costa Rica, for example, over Panama?"
— Hundreds of readers over the 23 years I've been in this business
"The weather. And the international schools."
This was friend David Stubbs' response to that question when I put it to him last week in San Jose. Those are the reasons why, more than four years ago, David and his wife chose to relocate themselves and their two children to Costa Rica rather than any place else in the region, including Panama.
"We looked closely at both countries," David explained. "For us, the education options were key. Our children were nearing high school age, and we needed a place where they could receive an education that would prepare them for university in the UK or the States. San Jose has five schools offering the IB program (see my comments on this international option for a high school diploma that carries big weight all over the world in last week's dispatch)…whereas Panama City has but one.
"But, in fact, the deal breaker for us was the weather. We'd lived in Asia for many years. Our children were born in Hong Kong. We knew we didn't want hot and humid anymore. Here in the hills surrounding San Jose, where we're living now, the temperature is almost never too warm, even at midday. In the evenings, we wear sweaters. Many homes come with fireplaces."
Eight-year-old Jackson asked if we're going to have a fireplace in the home we're building in Panama. What a crazy question, we responded (politely). I prefer warm to cold, but, even for me, Panama City can be hard to take. Lief flat out can't tolerate the humidity and counts the days until we're able to split our time between the city and the beach (where we're building a home). Outside Panama City, in the highlands and along the coasts of the interior, the temperature is more tolerable, even pleasant.
Still, I understood David's response. If you've lived where the air hangs heavy with almost palpable moisture day after day, you understand, too. It can get to you.
On the other hand, having spent the past week in Costa Rica, I'm reaffirmed in our own decision. We wouldn't be happy there.
It's a beautiful country…but so is Panama. The two are similar, of course, being next-door neighbors. The jungle, the hills, the coastlines…they don't know where Costa Rica ends and Panama begins. They continue along as dramatically lovely on one side of the border as on the other.
You can't say the same for the infrastructure. I spent a lot of time in Costa Rica 20 years ago. Back then, during the Golden Age of Costa Rica's pensionado program, when the country was pulling out all the stops (and spending big bucks on ad campaigns with Madison Avenue agencies) to lure foreign investment and American retirees, I visited the country two or three times a year at least, leading tours of readers and speaking at conferences.
Back then, when Costa Rica was rolling out the welcome mat…and Panama was less developed and less prosperous than it is today…we recommended Costa Rica heartily for the would-be expat, retiree, and investor overseas…recognizing, as we gave the endorsement, that the country's infrastructure was basic and challenging.
Today, more than 20 years later, those remain the kindest words to describe this country's roads, bridges, and airports. Meantime, the infrastructure in the country's neighbor to the south, Panama, built by the U.S. during its tenure operating the Canal, has continued to expand and to improve, especially in certain regions.
True, the infrastructure in the capital is straining and nearly breaking these days. But, as I write from my apartment on Avenida Balboa, I can see the crews down at street level continuing their sometimes around-the-clock efforts to expand Panama City's main drag along the water. Indeed, this entire city is being reconfigured before your eyes. You feel the energy (and the investment capital behind it) every time you walk down the street or drive across town. The effect is invigorating. You can't help but be caught up in the excitement. These Panamanians are doing the heavy lifting to turn their nation's raw potential into a better quality of life and ever-expanding prosperity. Spending time among them, you wish them well…and wonder what you might do to help.
Not so up north. San Jose is over-crowded, dirty, polluted, and downright unpleasant. We did our best to find a redeemable neighborhood or region or even spot…but failed. At the end of our Let's Give San Jose A Chance day, we retreated in defeat to our hotel.
San Jose's roads are jammed at all hours, as are the two "highways" that lead from it to the Pacific coast, where everyone wants to be. The Costa Ricans have been talking about building a new road, an actual highway, with four lanes, to the Pacific beaches for years. This third highway is even indicated on some country maps. But it doesn't exist…just hasn't materialized, despite all the talking, all the planning, all the funding…
Every non-local I spoke with in the country agreed. The Costa Ricans decided a decade or so ago that they'd generated enough foreign investment and that they wanted no more foreign retirees. They abandoned their famed pensionado program. They discontinued their aggressive U.S. advertising campaigns. And (as far as I can tell), they pulled in their welcome mat.
Come visit, dear eco-tourist, they seem to say now. Spend your tourist dollars. Then go home.
On top of that, the country is suffering from a crime wave that's all anybody talks about. I don't know how truly unsafe the country is today, but I do know that you can't pick up a local paper or speak with a local (Tico or gringo) without the subject coming up.
At week's end, we all were happy to head south, back to our new hometown.
Kathleen Peddicord
P.S. Our point of view, of course, is not everyone's. David and his family are happy living outside San Jose. One key, of course, is that they're outside San Jose. If you're thinking about Costa Rica, you probably want to position yourself likewise, in one of the settlements in the hills surrounding the San Jose valley. The air is fresher, and the views are great.
"We're committed to Costa Rica until the kids are out of high school," David explained last week. "After that, who knows. We recognize that this country has limitations and downsides, but we're very comfortable."
He's more than comfortable. David and his family are installed in a large and beautiful four-bedroom home on 5 acres. He has a guesthouse…he's making plans to put in a swimming pool. His daughter keeps a horse nearby (this is horse country). His son plays baseball.
"We could never afford such a big place in such a special setting in the UK," David told Lief and me over drinks on his patio. (He and his wife are both British; they met at university in London.)
"We couldn't afford this standard of living back in the UK either. We may not stay in Costa Rica after the children have gone off to university, but we won't return to Britain. We've had a taste of living abroad. We know the benefits and the advantages it brings. We'd have trouble giving it up at this point."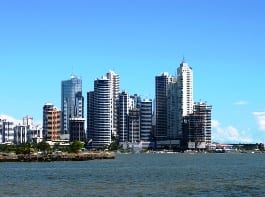 Panama City
P.P.S. We believe we've made a valiant effort, but we're ready to admit defeat. We just can't do it. Can't fit all the market updates, political to's and fro's, currency ups and downs, infrastructure updates, reports from the ground, expat stories, and real-life new life abroad secrets for success into one dispatch per week.
Uncle.
So we're moving to daily. Starting today you'll hear from us five days a week, Monday through Friday, plus you'll have access to our new Weekend Edition. Starting today, your Overseas Opportunity Letter is your six-day-a-week passport to a new life of fun, adventure, profit, and better living…overseas.