Dear Live and Invest Overseas Reader,
The sweetest pleasures of life, there for the taking. Picnics in the Luxembourg Gardens, long walks along the Seine, afternoons lost among the cobblestones of the Latin Quarter...
Ah, Paris.
This city is a never-ending feast of gallery openings and special performances, museum exhibitions and seasonal celebrations, many available for little cost. You can enjoy three-course meals for US$20 or less, and you can spend hours in a café, enjoying the passing show, for the price of but a single café au lait. You can join conversation groups, discussion groups, book clubs, and cooking classes often for very little cost, even free.
In many ways, la vie française is as good as it gets... and even Paris can be far more affordable than you might ever imagine...
Of course, walks among the centuries-old rues of the Latin Quarter and gallery openings don't substitute for dinner on the table or wi-fi access.
That's OK, because, in France, even in Paris, the more practical necessities of life also can be a bargain... if you know your way around and where to go for the best deals.
Years ago, when we were preparing for our move from Paris to Panama City, my husband Lief presented me with a budget showing that it would cost slightly more for our family to be in Panama City, Panama, than it had been costing us to live in Paris, France.
I suggested he double-check his math…
My husband, the accountant, assured me his figures were correct, and, indeed, Lief's projections have played out. Our day-to-day cost of living in Panama City is a little higher than it was in Paris.
How can this be?
Paris is the most beautiful, most romantic city in the world. It's also a place where your cost of living can be hugely variable and highly controllable.
That is to say, you don't necessarily need a royal's budget to be able to enjoy life in the greatest city on earth.
In Paris, you can live happily car-free, walking nearly anywhere you'd want to go. The butcher, the baker, the grocer, the wine shop, a half-dozen busy cafés, and as many lovely parks and gardens are all less than 15 minutes' walk from almost any point in central Paris. And, when you want to venture beyond your quartier, the Métro will transport you from restaurant to nightclub, from museum to café for around US$2.
France boasts perhaps the world's best infrastructure, and it's a bargain. Cable TV, Internet, and telephone, as well as the Métro, the bus, and the RER train system... all are likely less costly than comparable services where you're living now. Our phone plan living in Paris cost less than 40 euros per month and allowed unlimited free calls anytime to anywhere in the United States and anywhere throughout Europe. That's hard to beat.
My point is not that you should plan to move to Paris to reduce your cost of living. It is possible, in fact, to do just that, but that's not the typical agenda where Paris or France is concerned.
My point is that you shouldn't deny or delay your dreams of la vie française because you're worried you can't afford them. We lived in Paris for four years, with two children, and I'm here to tell you that we were able to control our costs within a very reasonable budget.
Return To The City Of Light
As I write, Lief and I are preparing for our return to Paris. After nine years living in Panama City, it's time for us to launch the next stage of our ongoing live-and-invest-overseas adventures.
These past years in Panama, we've been hunkered down raising our son and building a business. Now that both are grown up enough to take their first independent steps, Lief and I are allowing our imaginations to wander.
If we could go anywhere, where would we go, we've asked ourselves…
Paris will always be the first answer to that question for me. For me, Paris… indeed, all France… is as good as life gets. And right now, this country, including its City of Light, is on sale for us dollar-holders. Our U.S. dollars go further in France today than they have in many years.
For Lief and me, it's an irresistible window of opportunity.
Life in Paris can be luxury defined...
Hands down, no contest, France is the best place in the world to seek out what qualifies no question as a rich and full life. Five-star restaurants with wine lists to match... malls and boutiques offering internationally recognized brand-name indulgences... live theater... live music… movie cinemas showing first-run and foreign flicks (in English)... an active artist community... specialty food shops... wine stores offering top vintages from across France and around the world... English-language bookstores... spa and salon services... cafés full of interesting people on every corner...
All in a setting of architectural delights... historic landmarks... manicured gardens... well-tended parks...
And running through the center of everything is the River Seine with its many romantic bridges...
Everywhere you turn you find something new to explore and discover... somewhere lovely to wander and linger...
The Charms Of French Country Life
Are Unrivalled
(And Very Budget-Friendly)
And, of course, Paris is only the beginning of France. The charms and appeals of French Country Life are likewise unrivalled.
After spending a year on the road, trying a series of places on for size, Euro-Correspondent Lucy Culpepper and her family chose to settle in the "other" south of France. Not Provence (which, yes, can be pricey), but southwest of there, in Aquitaine.
Not everyone is cut out for life in the Tropics or the developing world. If you, like Lucy, are more interested in Old World living, you, like she, could find this region of France offers just what you're looking for.
As Lucy explains, this other south of France is "colorful, eclectic, always changing, never following a formula, very open to retirees, and very affordable."
Lucy also spends a lot of time with her extended family at the other end of the Pyrénées, in the Languedoc region. This part of this country has a long history and a lot of heart. Today it's building a reputation as well for its wine, producing world-ranking reds…
And, again, this part of this country is cheap. Lucy explains that a retired couple could live comfortably in the Languedoc region on a monthly budget of US$2,000, including rent.
How You Can Retire In France on US$1,281 per Month...
Or Even Less
Sometimes called the "other" south of France, there lies a charming and affordable region located between the Provence-Alpes-Côte d'Azur to the east, the Midi-Pyrénées to the west, and the Auvergne to the north, while Spain is only a few hours drive to the south.
Very Mediterranean and influenced by its proximity to Spain, it's hot and dry in the summer, wet in the winter, and cool and clear in the spring and fall and enjoys many days of sunshine each year.
This is a region of warm colors, sleepy villages, mountains, gorges with cascading rivers, endless vineyards, olive trees, colorful markets, the Canal du Midi, and the gentle waters of the Mediterranean coastline. It is also the land of the Cathars and boasts incredible historic sites, including Carcassonne.
It may not be the cheapest place to retire to in the world, but it is colorful, eclectic, always changing, never following a formula, and very open to retirees.
Yet, here, you can live on a very affordable budget. Rent for a basic two-bedroom home starts out at under US$700 a month at the current euro-dollar exchange rate. Or purchase a French country home of your own… charming fixer-uppers start at about the US$50,000 range, while modern stone villas will set you back around US$350,000.
Assuming you own your own apartment or home and won't have a monthly rent payment, US$1,300 should cover your everyday expenses over the course of a month. Here's how much you and a significant other could expect to spend, living in your own comfortable two-bedroom house:
| | | |
| --- | --- | --- |
| Rent | $0 | See below for budget including rent |
| Taxe d'habitation | $29 | An occupancy tax, paid by the tenant |
| Property Taxes | $66 | Based on a large two bedroom house in town |
| Local Transport | $15 | In the town, buses and bicycles should be all you need. Mopeds and gas efficient cars are available. |
| Water | $17 | |
| Heating Oil | $170 | Averaged out over a year. However, most homes have fireplaces, which allow you to forego this cost. |
| Electricity | $70 | Averaged out over a year for a two-bedroom home. Depends on the size of house, insulation, and usage. |
| Telephone and Internet | $44 | This cost is generally low throughout France. |
| Cable TV | N/A | Included with the telephone. |
| Food | $600 | Based on a couple, including restaurant visits. |
| Household Help | $168 | 3 hours per week at $14 per hour. |
| Entertainment | $50 | Music, theater, and cultural activities are usually free. Exploring the local scenery is priceless. |
| Homeowner's Insurance | $35 | If you are in a house, I'd suggest insurance. |
| TOTAL | $1,281 | |
What if you rent? US$665 a month can get you a 70-square-meter two-bedroom villa in town. Long-term renters will likely need to pay the taxe d'habitation, but you'd be off the hook for property taxes and homeowner's insurance. Your total monthly budget could be less than US$2,000.
What about health care? I haven't included the cost of health care here, as it can vary wildly from one person to the next. The health care system in France is the best in the world, and, if you become a legal resident, the cost for care can be negligible compared with what you'd pay Stateside.
The World's Best Health Care—
Affordable... Even Free
France is a country of superlatives.
Its health care, for example, is the best in the world. For years, the World Health Organization (WHO) published an index rating and ranking the quality of the health care in all the countries of the world, and, year after year, France came out the winner.
Truly Personal
Medical Care
In the French countryside, health care is very personal. If you fall ill or have any emergency, you call the fire department (les pompiers). That's not so out of the ordinary, but what happens next is...
A siren wails, summoning the firemen to their posts. It's reminiscent of sirens in wartime, warning the population of danger. Fortunately, it doesn't happen often, but, when the alarm is sounded, the fire department's trained paramedics come to your assistance and then organize whatever further service is required. If your concern is minor, a village doctor is summoned.
If the problem is more critical, you are taken to the nearest hospital. One English expat living in the southwest of France told us that his recent experience of surgery was faultless.
"The staff was helpful, the facilities immaculate. When I returned home, we called the village nurse, and she came to the house the next morning to change the dressings and check that everything was okay..."
If you're a legal resident, health care in this country is also highly subsidized by the government, sometimes even free.
Which raises a critical question: Should you become a full-time legal resident of France?
It can be easier to do than you might imagine. The truth is, becoming a resident of this country isn't necessarily the challenge. The challenge is managing the tax liabilities that can ensue. However, you can plan for and mitigate your tax burden as a full-time foreign resident in France, if you get the right help from the start.
This is one of the many important questions we will address in person and in full during our first-ever Live and Invest in France Conference.
If for you (as for us), nothing compares or competes with life in France, then this special event is your chance to make a realistic plan for realizing your dream of la vie française.
Paris is at the heart of Lief and my long-term plan, and, as I mentioned, as I write, we are preparing to reposition ourselves back to the City of Light.
This time, though, we're not moving to a new country but returning to a city we love with the help of long-established infrastructure. Indeed, some of our best friends and most trusted advisors in the world live in Paris… and we can't wait to once again be part of their community.
I've been spending time in France for more than 30 years, and, in that time, I've known dozens of expats, in Paris and elsewhere in the country, residing in the country full-time or only now and then, some operating businesses, some raising children, some soaking up la vie française in retirement...
Each case is different, and, as a result, the plan, the process, and, yes, the paperwork required can vary greatly.
To launch a new life in any foreign country, you need help. But, in France, not getting the right help and the right advice in advance of your move can have costly consequences.
Years ago, a friend, an American who'd been living, investing, and doing business all around the world for decades, relocated his family from the States to France. Because he had so much general international experience, he didn't think to seek out professional tax advice for his move to France.
Five years later, he found himself on the wrong side of a conversation with the French tax authorities. In the end, he had to pay fines that amounted to several thousand dollars.
I don't share this story to scare you, but to forearm you.
How can you best prepare for addressing things like taxes, residency, and health care in this country that invented the word bureaucracie?
You need guidance from folks with firsthand experience addressing all those issues… the kind of guidance we and our France experts and expat friends will share when we meet in Paris for our first-ever Live and Invest in France Conference Oct. 23–25, 2017.
I'm not writing today to sell you on the idea of living or investing in France. A new life in France isn't an idea that needs to be sold. It's an idea whose appeal speaks for itself.
I'm writing today to invite you to avail of a one-of-a-kind chance to access all the information, experience, and support you need to navigate both the benefits and the downsides, the ups and the downs, the ins and the outs of spending time and money in this beautiful country that for so many epitomizes the very notion of the good life.
Of course, nowhere in the world is perfect. Our objective for our Live and Invest in France Conference, therefore, is not simply to arm you with everything you need to know to indulge in the glories of life in France but as well and more important to equip you with the resources and the know-how necessary to manage and mitigate the frustrations.

France Delights In Every Season...
Springtime In The Béarn

"My garden is a mass of primroses, daffodils, violets, tulips, fruit blossoms, and camellias," writes Euro-Correspondent Lucy Culpepper from her home in the Béarn region in the southwest of France.
"In the distance, I can see a tractor plowing the deliciously rich, chocolate-brown soil in preparation for the coming maize season. A woodpecker is tapping away at a hollow tree in the woods behind the house, and a hoard of garden birds is busy chasing the emerging gnats to feed to their young.
"Spring has arrived in the Béarn!
"The distant Pyrenean ski resorts are all but closed and will be tidied up over the next month in preparation for walkers, cyclists, and water-sport enthusiasts. Our thoughts are turning away from the mountains toward the ocean and the beautiful Atlantic beaches; already surfers are braving the waves and the frigid water temperatures of the 'hot' surf spots on the Basque coastline.
"This weekend, we'll be joining our neighbors at the village vide grenier (which means 'empty attic') to sell unwanted stuff that we have accumulated over the last year. The vide-grenier is an institution in France; it's like a mass yard sale with food and drinks sold alongside and often includes an organized family walk or bicycle ride.

"One of the great attractions of the Béarn is that there is something for everyone to appreciate with every season..."
Summer In Languedoc

"The vines are bursting with great big juicy grapes, and signs are appearing warning drivers of 'Vendanges' traffic; the tractors and trailers rumbling all over the countryside as they scuttle hither and thither collecting grapes.
"There are so many vineyards in this region, in places they stretch as far as the eye can see. Each time we eat out, we discover a new bottle of wine from a local vintner we didn't even know existed. In some villages, the streets get sticky from juice that has poured off the trailers.

"The River Orb is busy with canoeists and swimmers. As I write, a midday silence blankets the village as everyone, locals and visitors, succumbs to the tremendous heat that is sweeping across the country right now. Lucky Cessenon-sur-Orb to have the river running through it! Yesterday we canoed down the Orb from one of the most gorgeous towns in the area, Roquebrun. The houses are perched up on a cliff overlooking the River Orb, and cobbled streets weave up to the ancient tower dating back to the year 900.

"As the heat of the sun dies down, the village will come back to life. Local musicians will play outside the village bar, families will gather to eat out on the main square, swallows will swoop over the ancient tiled roofs, and the older generations will gather to play petanque or boules. It's so idyllic and, well, so French..."
Autumn In Cessenon-Sur-Orb
"I'm in Cessenon-sur-Orb in the Languedoc region of France savoring the beautiful fall weather during this All Saints vacation. The daytime temperatures hover around 68 degrees, the air is crisp and clear, and the views across the Orb Valley to the Haut Languedoc National Park are breathtaking.

"On my last visit, at the end of summer, the grape growers were hard at work gathering in the crop and zipping around on tractors loaded to the brim with juicy grapes. Now the vine leaves are just about clinging on and the rolling countryside looks like an artist's palette loaded with russet, burgundy, ochre, and green. There is a peace about the countryside, as the land sits quietly and the locals settle down for a well-earned rest; many restaurants and shops are closed until April when the early visitors will return.

"We went to the village wine co-operative to sample the first wine from this season-Le Primeur, a wine sold before it is bottled and often bought as a 'future' (investment). Delicious roasted local chestnuts were served and there was a buzz about the whole place. This is a glorious time of year in this part of France..."

Winter In Paris
"The sales are on! Continuing through the month of January, prices are discounted, reduced, and slashed.

"Unlike in most of the rest of the world, where sales are staged throughout the year and at the retailer's discretion, here in France, the retail industry is permitted to hold sales (soldes) only when the government says it's ok. Stores are allowed to mark down prices but twice a year, every January and every July. These twice-annual soldes are big deals, indeed. Many tourists time their travels to be in the country to take advantage of them... and the French themselves are out en force, especially over the opening days. It makes for a shopping frenzy like nothing you've ever seen.

"Allez, shoppers!"
Getting Down To Brass Tacks—
What Does It Really Cost To Own In France?
(You Might Not Believe The Answer)
If you're ready to go small, you could own right now in the beautiful south of France for as little as 30,000 euros.
..
"There is a great diversity of property for sale in the region of France where we've chosen to settle," reports Euro-Correspondent Lucy Culpepper. "I've just discovered a lovely stone barn that has been converted to a three-bedroom house on offer for 150,000 euros... a typical local farmhouse with outbuildings available for 150,000 euros... and a 60,000-euro renovation project..."
If you are prepared to go small, then you could own right now in some parts of southern France on a budget of as little as 30,000 to 40,000 euros (that is, about US$50,000).
And you could maybe even own for a little less. We've just found a one-bedroom duplex/apartment in a lovely French country town on the market for 28,000 euros…
Or how about a three-floor, one-room-wide ancient stone townhouse in need of renovation. The price is US$42,700 at today's exchange rate, including the agency fees!
Also on offer as of this writing are...
A small two-bedroom village house for sale furnished, asking price US$70,419...


A two-bedroom village apartment in good condition, possible rental, asking price US$96,000...


A typical stone house on three levels, possibly dating to the 12th century, in need of renovation, asking price US$151,200...
We'll discuss many of these kinds of opportunities to own the French country house of your dreams during this year's Live and Invest in France Conference. Whether you're looking for something fully fitted out and ready to move into or are in the market for a labor of love, a renovation bargain set amidst the sunflowers and the lavender... we'll showcase your best current choices.
We'll tempt you with appealing Paris pied-à-terre options, as well… introducing you to the chicest Parisian addresses... the most up-and-coming arrondissements... and the most affordable places to own in this country right now...

In France, Financing Is An Option
Plus, our experts will walk you through the property purchase process... and even help you consider all your options for arranging financing in France.
Yes, this is possible.
At our Live and Invest in France Conference, we'll introduce you to our favorite France mortgage broker, who can help you shop your best financing options.
Our top financing contact in the country reports that French banks, which had pulled back a couple of years ago and become more restrictive in their lending policies, especially toward foreign buyers, are loosening up. If you qualify, you can borrow up to 90% LTV in the current market.
Lief and I have borrowed locally to buy in Paris ourselves, and, when we meet in Paris in October, we'll share details of our own experience.

Everything You Need To Know About Renting In France
Renting can be a challenge in France (if you want to rent legally and not off the books... our experts will discuss the pros and cons of each approach), because a French owner will require lots of proof and guarantees that you are able to pay. Remember, when in France, it's all about the paper, the paper, the paper. They'll drown you in documentation and paperwork if given half a chance.
In Paris, you find yourself in a setting of architectural delights... historic landmarks... manicured gardens... well-tended parks...
But we won't let that happen to you. Again, the experts and friends we will introduce you to at our Live and Invest in France Conference in Paris in October will walk you through the process of renting, both in Paris and elsewhere throughout France.
They will arm you not only with the step-by-step details of how to rent an apartment or a house in this country... but they will also suggest creative solutions and workarounds. All completely above board, of course! We don't want to get anyone into any trouble. But one thing you'll learn about doing business in France is that you have the protocols and the procedures... and then you have strategies for how to get things done. Everyone understands this, especially the French themselves. Our experts and expat friends will discuss all your creative options.
How much to rent? In rural France, in the region of the country Euro-Correspondent Lucy Culpepper so loves, you could rent a small apartment for as little as 250 euros per month.
In Paris, again, if you're willing to go small and you don't need to be at a super-chic, center-of-the-city address, you could rent for as little as 700 euros per month... maybe even a little less.

La Belle Et La Bête Of La Vie Française
Beast: All but the big food stores close at Noon. Shop assistants begin to get misty eyed at the thought of lunch at about 11:30. Don't try to make any big buying decisions around that time. Lunch is sacrosanct.

Beauty: Between noon and 2 p.m. is a great time to do your grocery shopping. Or do as the French: Stop and eat!

Beast: Don't do your grocery shopping on Friday mornings, unless you want to join the ranks of French retirees for a good natter. They really do park their carts in the aisles, blocking the flow of other shoppers, and chat.


Beauty: Friday food shopping is a lot of fun... if you're not in a hurry. It's when the local farmers come into the supermarkets to sell their farm-produced cheeses. It's when the fishmonger shouts out the day's best catch and buy. It's when the bakery counter has lots of samples and great deals; 10 fresh buttery croissants for 2 euros. And it's when the local cherry growers dress up in their jaunty Basque berets and give out handfuls of sweet cherries. This is at the huge national supermarket, not a small Farmer's Market.

Beast: Retail stores are closed on Sundays. Really.

Beauty: Retail stores are closed on Sundays! I see this as a beauty, unless you've forgotten an essential ingredient and your new French neighbors are coming over for lunch.

Sundays in the country in France are different. You go into the center of town and enjoy the beauty and the history of the place, rather than the squish of retailing madness. The main road is closed to traffic, the cafés spill out onto the streets, people stroll through the parks. Sunday is for leisure, family, and friends.

Beast: Smoking. Despite the fact that smoking is banned in airports, railway stations, hospitals, schools, shops, offices, restaurants, and bars, it is still common to see people puffing in the street and at outdoor cafés. Company employees can still smoke at work but only in special rooms that are often located around the entrance.

Beauty: There isn't one... unless you're a smoker, in which case, welcome to the land of chic smokers.

Beast: French drivers. They use their signals oddly, they often beep after something has happened so no one knows who the beep is meant for, and they cut back into line on the freeway, after passing, as if there were a chase on.

Beauty: Compared with other south European drivers, who seem to do everything but concentrate on driving, French drivers are on the ball and considerate. They let you out if you are waiting to enter traffic, and, as with everything else in life, they are generally courteous (Parisians excluded!).

Beast: French people are proud and arrogant.

Beauty: It's a myth or at least an over-generalization. Here in southern France, the people certainly are not arrogant. Proud, yes, but that can be a good thing if you have a lot to be proud of.

Beast: Strikes. It is true that the French are constantly striking about one thing or another... and costing the taxpayer millions of euros in the process.

Beauty: Sometimes you get a day off work or school.

Beast: Learning French. It is a tricky language to master; there are so many ways to say the same thing and so many ways to say the wrong thing. How many languages use three vowels for one sound? For example, the word for water, "eau," sounds like "o."

Beauty: French is a beautiful, sexy language to listen to.

Beast: Opening a bank account. Be prepared for the third degree. You will be asked a lot of questions abut your financial situation. If you are uncertain where you stand vis-à-vis your tax, residency, etc., status, be careful.

Beauty: After a long and complicated bank manager meeting, I stepped out onto the town square, into the middle of the Farmer's Market, bought some smelly cheese, a long crusty baguette, a bunch of home-grown Lily of the Valley, then sat to contemplate life as I sipped a café allongé.
One Of The World's Most Proven
Rental Investment Markets
France is the most-touristed place on earth. This country attracted almost 83 million foreign visitors in 2016, maintaining its ranking as the world's top tourist destination, and France's tourism sector continues strong through the first half of 2017.
As a result, Paris is perhaps the world's most proven rental market. If you're considering a real estate purchase in the French capital, think about a place you could use yourself from time to time and long-term... and then rent out when you're elsewhere.
"None Of Your Competitors Compare"

You are so much better than the others out there writing on these same topics. I receive this kind of information from many other sources. None of them compare. They're all sales letters pitching their next seminars or books or secret stock tips. Anyway, just wanted to let you know you are on the right track. Anyone who makes the comparison between you and the other resources available will choose you.



-- Stephen S., United States
When we moved from Paris to Panama City nine years ago, we didn't sell our Paris digs. We knew they figured in our long-term retirement plan and that eventually we'd be returning. That time has come, and Lief and I are counting down the days until we return to our little pad in Paris' 7th arrondissement.
We kept our apartment when we moved to Panama both so we could eventually reposition to the City of Light and also so we could return as often as possible in the meantime. Over the past nine years we've enjoyed many extended stays in our favorite city on earth in our own apartment.
Those were the overriding reasons not to sell our Paris pied-à-terre nine years ago. The other, more pragmatic reason was provided by the Paris rental manager we met with when we were preparing for our move to Panama.
When Linda told us how much we'd be able to rent our Paris place out for and what occupancy rate we could expect, Lief and I were sold on the idea for sure!
Lief and I have been long-distance landlords in many countries around the world. We've had delightful and profitable experiences... and we've had disastrous and costly ones. The difference, we've learned, is the rental manager. A good one is both the key to success and often a very difficult thing to find.
And, in fact, you need not only a rental manager, but a property manager, too, if you're not residing locally yourself. That is, you need someone to find renters for your rental, but you also need someone to look after the place while you're away. Someone to manage inventory and cleaning (if you're renting your place out furnished). Someone to pay local bills. Someone to deal with repairs and maintenance. Someone you trust to look after your property as if it were his (or her) own.
Crime? What Crime?
"Living here, I almost forgot the issue of crime altogether--because I haven't heard of any!
"There's virtually no police presence (except the occasional traffic police), no graffiti or vandalism, and generally a feeling of a time gone by..."
-- Euro-Correspondent Lucy Culpepper on another of the big advantages of French country life
Again, not always an easy thing to find.
In Paris, I'm delighted to report, the lady we found just before moving to Panama has acted as both property and rental manager for us and has done a bang-up job on both fronts. Linda has kept our place rented and has made sure, these past nine years, that our Paris home has been well taken care of in the process.
Right now Linda is having the place painted in advance of our return. That's what an excellent property manager can mean for you… someone who both safeguards and enhances the value of your investment.
Bottom line, an apartment in Paris can be one of the smartest things you could do with your money right now. It's a hard asset that can double as a yield-producing one, as well, in a market that will always see renters. A Paris pied-à-terre can be a solid part of your long-term portfolio, a wise buy with both personal and financial upsides.
We and our France team will share all the details for where, how, and for what return you should consider buying a rental investment property during our Live and Invest in France Conference in Paris, Oct. 23–25, 2017.

Getting To Know Other Expats...
It Really Is Easy!
The International Women's Club (known as "The Wick") is a 120-member group of women who meet once a month in St. Chinian. Many nationalities are represented in the group, including French, English, German, Dutch, American, and Danish.
Some of the activities organized include walks, outings (e.g. to Spain, Toulouse), group lunches, sewing, handicrafts, and painting. The monthly meetings are conducted in English and French, and the annual membership fee is US$38.
The husbands of the WIC members also go on excursions and have organized their own group…
The Best Living On Earth...
But Is It For You?
France is the good life defined. The food, the wine, the art, the shopping, the history...
This country boasts the most beautiful and romantic city on earth plus the best of country living and dramatic Mediterranean and Atlantic coasts. On top of all this, France is home to the world's best health care, the world's best infrastructure, top international schools, and, in some regions, zero crime and a wonderfully relaxed way of life...

Plus, in some parts of the country, the very good life can be very affordable, as well… especially right now thanks to a very down euro.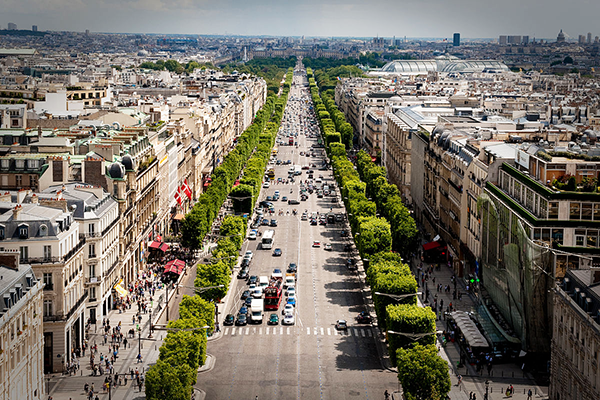 France is the good life defined. The food, the wine, the art, the shopping, the history...
If you've ever day-dreamed about la vie française, here's your chance to make that dream come true.
France is a land of superlatives... including, perhaps, most bureaucratic nation on earth. Meaning that, no matter what form your French dreams take, you'd do well to enlist some help making them come true.
I've been spending time in France for more than 30 years. In that time, I've also spent time in more than 70 other countries. For me, nowhere else compares. France gets under your skin. It captures your imagination in a way that is impossible to ignore.
Eventually, I was able to realize my own French dreams and to make a home in Paris. My family and I spent four years savoring the charms of this city. During that time, we made many contacts and friends, including French attorneys and notaries, real estate agents and property managers, bankers and finance brokers, residency experts and tax advisors, doctors and logistics experts, architects and antique dealers, plumbers and cabinet-makers...
Plus, of course, we got to know other expats, not only fellow American expats, but also people from all over the world who have sought out new lives in this appealing country.
If you dream of joining them, again, you'd do well to engage some help.
And that's what I'm writing today to offer: Help.
Meet Me In Paris…
And We'll Have A Grand Time
During this year's Live and Invest in France Conference, taking place Oct. 23–25, 2017 in Paris, Lief and I will open our Rolodex and introduce you to our top resources in this country. This is your chance to have every one of your France questions answered by people who know from firsthand experience what they're talking about...
Should you become a legal resident? What are the pluses and the minuses... and how would you qualify?...


What is required to open a bank account?...


What are the options for health insurance?...



Paris is a never-ending feast of gallery openings and special performances, museum exhibitions and seasonal celebrations, many available for little cost…

What about public medical care? It's the best in the world and can be free. Would you qualify to use it?...


What are the options for financing as a foreigner? How much could you borrow... how would you qualify... what terms are available? (Our program includes a special presentation from our favorite France mortgage broker.)...


Don't the French hate Americans? (We get this all the time. The answer, of course, is no... but we and our team will give you further insight when we get together in Paris…)...


What are your best options for learning French? I'll share details of the French immersion program I've used...


Where should buy today for investment?...


What return could you expect from a rental in Paris, arrondissement by arrondissement?...


What about French taxes? (They can be diabolical... but you need not necessarily deal with them.)...


How would you undertake a country house renovation? What would it cost? (Our program includes presentations from expats who have undertaken country house renovations and who will speak from personal experience about the joys (?!) of making this kind of investment and undertaking this kind of adventure.)...


What are the opportunities for you to connect with the expat communities in Paris and elsewhere in France? (Many!)...
In short, when we meet in Paris in October we will provide everything you need to know about residency and taxes... bank accounts and mortgage financing... rental management and health insurance… shipping, cell phones, decorating an apartment, furnishing a house, enrolling your children in school, learning French, and becoming part of your new community…
We'll introduce you to your many and varied opportunities and options for savoring la vie française. If you're dreaming of a new life, either full- or maybe part-time, in France, you need to know about the cost of living, health care, renting, buying, paying your utility bills, opening a bank account...
Those things are all important. However, we want to make sure that, while addressing them, you don't lose sight of the big picture.
For, when it comes to France, the big picture is pretty appealing. The big picture is a chance to make all your French daydreams come true... to make a new life in France, full-time, part-time, or maybe just now and then...
I've enjoyed life in this country, and I'm here to tell you: It's everything you imagine it to be and so much more. You might even say it's the best this world has to offer…
Who else do you need to know?
This One-Of-A-Kind France Event Will Feature Everything You Need To Know
France boasts the most beautiful and romantic city on earth plus the best of country living and dramatic Mediterranean and Atlantic coasts…
Our Live and Invest in France Conference will include everything you need to know about medical care and health insurance in France... current real estate markets, both for purchase and rentals... obtaining a visa and qualifying for residency... opening a bank account... shipping your household goods to the country... everything right down to how to have the electricity turned on in your new home, how to arrange for cable and a cell phone, and how to go about furnishing your new France digs...
Plus, during this special France event, we will walk you through a detailed and fully itemized budget for living in France, both as a property owner and as a renter. In fact, we'll present you with more than one budget, for the cost of living in Paris, for example, would be quite different from that in the other South of France that we'll introduce to you.
Live And Invest In France
Oct. 23–25, 2017
Paris, France

This Unique, Value-Packed Event Is Only Available
For A Short Time At These Prices
Here's How To Sign Up…

The 2017 Live and Invest in France Conference is an exclusive opportunity to get to know France in a way that's simply not possible by any other means. We'll have experts on hand from around the country.
The conference is action-oriented. Based on past experience, some attendees will begin the visa process during the event… or open accounts… or even buy a home.
The full-price cost of admission for the Live and Invest in France Conference is only US$1,095 per person, only US$1,595 per couple. (That's right... the second half of a couple attends for less than half-price!)
But there's no need to pay that much...
When you sign up now, you qualify for the Early-Bird Discount.
This will slash the cost of admission to just US$845 for one person, and only US$1,095 for two. In other words, your guest attends for only US$250.
And you may be eligible for an even better discount, on top of these Early Bird discounts.
If you're one of our All Access Pass or Private Access members or a Personal Consulting client your admission is free, as is that of your spouse or guest.
Overseas Living Letter subscribers will save $50.
Overseas Retirement Circle members and subscribers to Simon Letter or Global Property Advisor save $100.
To sign up, just send an email to Valentine Fouché, or call her toll-free at 1-888-627-8834 to get your name on the list. You can also register yourself online.
Call or write today while the deepest discounts are still in effect.
Here's what's included with the price of admission:
Admission to all presentations


Complete access to the restricted exhibit area


Expert personal consultations


Formal and informal Q&A sessions, breakouts, and workshops


Introductions to reliable real estate sources, business contacts, fellow expats, and professional legal resources


Access to attendee-only (optional) pre-conference and post-conference real estate tours


Access to (optional) cultural, craft, and sightseeing tours


Coffee breaks and snacks


Welcome cocktail reception and all sponsored lunches and events


Seminar materials, notebooks, and handouts


Downloads of all conference presentations after the event is over


A complete set of professionally produced conference recordings
You can register online here. If you have any questions about the event, you can contact Valentine by email or call her at 1-888-627-8834.

Free, Exclusive VIP Service:
The Biggest Incentive Of All To Sign Up Today
We'd like to offer the perks and privileges of first-class, VIP service to the first 30 readers who register for our Live and Invest in France Conference.
Here are a few of the benefits you'll enjoy:
VIP wine tasting session: Join me and my team of experts and expats for a private wine tasting and Q&A, during which we'll be available to answer all your questions and to speak one-on-one, about your own overseas plans...


Reserved, VIP front-row seating: Get the most of all presentations with exclusive, front-and-center seating in the event room.


Elite, VIP Concierge Service: We'll take care of your every need, from the moment you register until the closing ceremonies. Whether you want to see the Louvre or arrange a trip to Versailles, we can get you there.
As a VIP, we'll put our conference staff at your disposal for the entire event, to make sure you get the maximum value out of every minute. VIP status brings an unparalleled level of support.
And your VIP service will start today. We're right here to assist with hotel bookings and airfare recommendations, and will help you lay the groundwork for whatever you want to do or see while you're in France.
This VIP offer is a first-come, first-served opportunity, strictly limited to 30 people. So I urge you to sign up now, to be among those first 30. Send an email to Valentine Fouché, or call her toll-free at 1-888-627-8834, to get your name on the VIP Registered Attendees List.
Or you can register online here. Either way, feel free to contact Valentine with any questions about your VIP status.
The Discount Period Is Ending Soon, And This Event Is
Selling Fast
Bottom line, here's our promise to you: Join us in Paris in October, and we'll introduce you to France, from Paris to the coast, from country villages to mountain hideaways. The real France. The good, the bad, the ugly, and the workarounds. This is the real deal, based on real firsthand experience.
No place is perfect. This may be the land of "la vie en rose," but, even here, we understand that a rose-colored view does you no favors.

There are reasons why the folks you'll hear from during our Live and Invest in France Conference have chosen to spend their time and their money in this country. They're smitten. But they're not fools. They recognize not only the pluses, but the minuses, too, of day-to-day life and of trying to do day-to-day business in this country. They're enjoying the advantages... and they're reconciled to the downsides.
An important part of our agenda during our Live and Invest in France Conference will be to show you these downsides... so you can decide whether you could live with them, too.
Our first-ever Live and Invest in France Conference is a one-of-a-kind program conceived to help you to experience France, not as a tourist, but with the help of long-time residents... while, at the same time, making every connection and contact you'll need to make your own France dreams come true.
And you can reserve your seat in the room now as a VIP and taking advantage of the special Early Bird Discount, saving you as much as US$500 off the regular price.
I very much look forward to meeting you in Paris, the most glorious city in the world.
Sincerely,



Kathleen Peddicord
Publisher, Live and Invest Overseas

P.S. If you dream of la vie française, you owe it to yourself to take this exciting step toward making that dream come true.
Our first-ever Live and Invest in France Conference will deliver all the support you need to launch a new life enjoying what qualifies in many ways as the world's best quality of life.
P.P.S. Remember, you'll need to sign up now to get the Early Bird Discount and, importantly, secure your complimentary VIP status! Follow the link to secure your seat now!

We have learned so much here… We came here with SO MANY questions, I would say all of which were answered! This EXCEEDED my expectations!



-- Heidi Gray, California, United States


It exceeded my expectations. I was resistant to the idea but came to please my spouse. I became very engaged with your help… I am now ready to move forward with a move.



--

Barbara Saffle, Oklahoma,

United States


My brain is overflowing. Not only did I hear good speakers, learn important information, etc., but I also met wonderful people who were attending the conference.



-- Janet Hammerlund, California, United States


It keeps getting better the more conferences we attend. Last year we were overwhelmed by all of the info. Now it's becoming a bit clearer.



--David Grobe, Colorado, United States


Excellent information. Speakers are very knowledgeable and engaging in their presentations. My attendance at this conference is of genuine value and very worthwhile. I commend your tireless efforts to bring this knowledge to your members. Thank you.



--Marilyn Ahuna, Arizona, United States


Well presented and highly informative and organized.



--Scott Humphrey, California, United States


We have been looking into overseas living for several years. This conference is answering the questions we've been asking as a couple.



--Kay Hollingworth, Utah, United States


Great fun!.



--David J. Hall, Arizona, United States


Wow! Information Overload!



--Devora Safran, California,

United States




I have been wonderfully overwhelmed. My goodness what a production! I am so very glad that we were able to be here for these presentations. You have really jarred me. I have begun thinking in broader terms and I thank you for that.



--

Aleta Jorgan, Michigan, United States




The conference far surpassed our expectations. All of the presentations were structured very well and the presenters were very knowledgeable. We left with a wealth of information that would have taken us months or years to gather on our own. We recommend the conference to anyone interested in living and/or investing overseas.



--Judy Humphrey, California, United States


Reach us with questions and comments at CustomerService@liveandinvestoverseas.com