Could this be where you call home?
Dear Live and Invest Overseas Reader,
You awake to a view of golden beaches… the sea rolling out from them like a giant bolt of turquoise silk.
You linger in bed… then step out onto your terrace to feel the warm sun on your face.
Before you the sea… behind you wildflower-covered mountainsides.
It's springtime, and the gently rolling hills are alive with lavender, daffodil, iris, and crocus blossoms… with cherry trees ablaze all around.
Between the mountains and the sea lie seemingly endless vineyards and olive groves… the region's signature landscape.
You want to pinch yourself. This can't be for real… this can't really be your life now… this can't be where you call home…
But it is.
Where Is This Secret Haven?
No overcrowding, no heavy industry, no pollution, no traffic, no stress…
Hidden away down the winding roads of this unique region are castles, vineyards, and villages of stone and memory.
Life in this glorious corner of the Old World hasn't changed much over the centuries…
In many ways, life in this glorious corner of the Old World hasn't changed much over the centuries. Sure, you've got all the modern conveniences of 21st-century living… but arriving here is like waking up in a kinder, gentler yesterday... a time with little or no crime and neighbors who watch out for each other.
Old ladies in pinafores bring their chairs outside and sit in groups to chat and string onions into plaits…
Young boys play soccer outdoors… not computer games on their living room couches…
Families shop at open-air markets, not hypermarkets—and if they don't produce their own wine, they buy it from their neighbors' vineyards…
Relatively unknown to foreign visitors, this sparsely populated region is where central Italy merges into the languid realms of the deep south. Even though many parts of the area are only an hour or two's drive from Rome, this undiscovered land clings to its secret feel.
Swim And Ski In The Same Day
This region of Italy is also a place where, come wintertime, you can ski lazily down a gentle slope, the sun on your face… while enjoying the view ahead, in the distance, of the glittering Adriatic coastline.
Here you find one of the most glorious city beaches anywhere in Europe… backed by high mountain ranges that attract weekend skiers from Rome. They come for the excellent skiing in a beautiful setting… the delightfully uncrowded slopes… and the temptingly low cost of it all. A daily lift pass is all of US$23.
In spring, it's possible to combine a morning shushing and sliding down the still-powdery Apennine slopes with an afternoon sunning on the beach and swimming in the sea…
How many places in the world is that possible?
Yet very few from outside the country even know the region by name.
We Love Tuscany, Too…
In this region you can have the best of a Tuscany lifestyle… the rolling hills… the landscapes… the classic Tuscan architecture… But at a fraction the cost…
Have you long daydreamed of la dolce vita in Tuscany?
A burnt orange countryside sprinkled with crumbling villas with stucco walls the color of old roses… fields of sunflowers… and silvery olive groves…
Some of the world's most celebrated art… architecture… and cities… from Florence and Pisa to Siena and San Gimignano…
Tuscany is a delight, no question… but Tuscany doesn't work for everyone's budget.
However, you don't have to live in Tuscany to embrace a Tuscan lifestyle…
If you don't have a Tuscany-friendly nest egg, simply adjust your compass ever so slightly east… and then a little south…
And you discover:
Abruzzo.
The Greenest Spot In Europe
Abruzzo is a region of unspoiled national parks, pristine sandy beaches, Roman ruins, and quiet villages that has been called "the greenest spot in Europe."
By all rights, Abruzzo should be as well-known as Tuscany. Yet even regulars to Tuscany, Umbria, Puglia, and the rest of the bel paese have never set foot in it.
Here in Abruzzo you can have the best of a Tuscany lifestyle… the rolling hills… the landscapes… the classic Tuscan architecture…
Indeed, Abruzzo has everything Tuscany has—but at a fraction the cost.
A couple could live here comfortably on US$1,430.70 a month or less.
Here… take a look… we've done the math for you:
Item

Cost

Notes

Rent

US$467

For a comfortable house in the countryside or a townhome in a small town.

Electricity

US$54

With air conditioning.

Telephone and internet

US$54

Cable TV

US$9

US$107 annual.

Gas

US$74

For cooking and heating.

Water

US$13

For a house or apartment with no land or garden; expect to pay more if you have to irrigate.

Transportation

US$36

For public transport and taxis. (A one-way, intra-city bus ticket is US$1.40; those of 65+ years get a discounted rate of US$6 per day for public transport.)

Entertainment

US$358

Weekly dining out; drinks twice a week; monthly visit to movie theater.

Garbage collection

US$7.70*

Based on size of dwelling and number of inhabitants; typically around US$1.20 per square meter per year; rates change per city.

Groceries

US$358

Basic items for a couple; increase to US$596 for a family.

TOTAL

US$1,430.70

This chart represents the average expenses for a couple that rents their apartment or house. Home owners can expect to pay less, with an average monthly budget of US$963.70 per month.





(All budget figures are based on euro exchange rate as of May 2018)
Better Than Tuscany…
This Is The Real Italy
Abruzzo is a region of unspoiled national parks, pristine sandy beaches, Roman ruins, and quiet villages that has been called "the greenest spot in Europe."…
In fact, we'd argue that Abruzzo has Tuscany beat… at least on some scores.
In Abruzzo, for example, you find something that Tuscany has lost…
Abruzzo represents the real Italy. This is a traditional region where life remains slow-paced and low-key…
Making it the perfect escape for would-be retirees… and anyone else yearning for a return to the values of what, in much of the world today, can seem like a long-gone yesteryear.
Italy's Abruzzo offers a chance to step back into a simpler time… to a lifestyle that you might have been able to enjoy in 1950s America… but with lots more wine and pasta!
Far, Far From The Madding Crowd
With fewer than 1.5 million inhabitants, Abruzzo feels deliciously remote, far from the madding crowd. When the shadows deepen and the village lights go on at last, it can seem as though someone has dusted the hills with fairy glitter.
Here you find spa towns whose thermal waters are reputed to relieve a range of ailments... as well as wonderfully preserved hill villages with medieval piazzas and Romanesque churches… the stuff, again, of fairy tales.
No Tourists Here
You know our position on tourists. We say…
Never go where tourists go… never shop where tourists shop… never eat where tourists eat…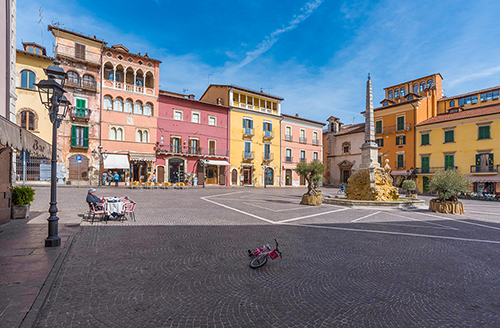 This is the real Italy… Without the tourists…
Here in Abruzzo you don't have to worry.
And, for us, this is another way Abruzzo could be said to better Tuscany.
In Tuscany and Umbria, for example, tourism has had a huge impact… and not necessarily for the better.
In Abruzzo tourists are few and far between.
Life in Abruzzo isn't a tourist sideshow. In Abruzzo, shops don't sell cheap souvenirs and beach kitsch. Shops here offer useful, everyday things…
I have to admit… tourist traps like San Gimignano in Tuscany make my heart sink.
This once-charming town with so much history and culture doesn't have a real shop left. And the locals have been driven out of their bars and trattorie by inflated prices and the dreaded "menù turistico."
Not so in Abruzzo. At lunchtime, many places offer an US$10 to US$12 pranzo di lavoro. The phrase means working lunch, and it's a great value… two or three courses of authentic Italian specialties… plus, usually, a beer or small carafe of wine.
Abruzzo is even a place where, if you've a mind for it, you could embrace something of a self-sufficient lifestyle. You'd be in good company. Many families in the region live this way, keeping chickens, making their own wine, and growing olives for their own oil made at the village's communal olive press.
Some even raise pigs—the source of the region's succulent hams, salamis, and sausages.
Pleasures Of The Italian Table
This is Italy after all. Food is a way of life… and part of the scene everywhere you look…
Food is a way of life… and part of the scene everywhere you look in Abruzzo…
In late summer, house balconies are festooned with scarlet peperoncino chili peppers. Hung to dry in the sun, the reds are brilliant against the stone backdrops. I can never decide whether I most want to paint them or eat them.
Every town and village celebrates feast and festival days… including sagras, or food festivals with music and fireworks. Chestnuts, garlic, red peppers, olive oil, truffles, sheep's cheese, wild boar, or tripe… Abruzzo latches on to any excuse to throw a local party—and to feast like there's no tomorrow.
If you haven't tasted plump little pillows of ravioli stuffed with walnuts and farm-fresh ricotta cheese, you haven't lived. In most trattorie, everything is home-cooked and just like nonna (grandmother) used to make. In fact, sometimes, nonna still makes it.
You find every manner of fish dish and rich fish broths on the coast, for sure. But venture inland, and the cuisine becomes heartier. Roast kid, baby lamb, and wild boar… scamorze and pecorino cheeses… wild asparagus and sweet red garlic.
Many dishes sound gourmet, but this is simple, hearty food for farmers and shepherds. And it's produced from deceptively simple and always local ingredients.
Organic fruit and vegetables aren't some new and expensive fad in Abruzzo. In this region, organic is simply the traditional way of farming.
Every region in Italy has its own pasta specialty. In Abruzzo, it's maccheroni alla chitarra. The name means "guitar pasta." It's made from sheets of egg dough cut on a wooden box with strings… like guitar strings.
Aromatic zafferano (saffron) makes a regular appearance in risottos (rice dishes), but you'll also encounter it with pasta, grilled lamb, green tomatoes, and ricotta cheese.
Although most of Europe's saffron is now grown in Spain, Abruzzo still produces its own. In fall, it is harvested in the highlands from the stamens of purple crocuses.
And if it's not saffron in dishes, it's those hot red peppers. In many restaurants, they're served as a side… like a salsa.
Wine? You bet! The local favorite is Montepulciano d'Abruzzo—a deeply colored red, scented with blackberry and cherry undertones.
Four Delightful Seasons
Abruzzo is a land of four seasons. It gets cold in the mountains in winter—you couldn't go skiing without snow—but the coast stays milder. Average temperatures range from around 37°F in January to 82°F in July and August.
Super Accessible
Daily flights on Ryanair make the Abruzzo region super-accessible from elsewhere in Europe… making it a great base for discovering the Continent.
In summer, regular flights connect you from New York and Toronto to nearby Pescara.
Or fly to Rome. Abruzzo is only an hour's drive away…
Properties To Make Your Imagination Sing… For A Song
Of course, bottom line, a main attraction of the Abruzzo region is how undervalued it is. Everything here is a bargain… including the real estate.
And, right now, not only can you buy cheap in Abruzzo… but you can also buy special…
Everything in Abruzzo is a bargain…
including the real estate…
Near the 16th-century thermal spring town of Caramanico, for example, is a pair of 200-year-old apartments, one partially restored, the other not restored but also special… with vaulted ceilings. The price for the pair, with 200 square meters between them, was recently reduced from US$98,935… to US$77,499.
That's US$387 per square meter.
The properties boast features like fireplaces, large Majella stone slabs (these, from the nearby mountains, that today would cost US$417 apiece), a garden, and a terrace.
What charming places to call home… what great rentals…
Or how about an old watermill, characteristic of the region but difficult to find for sale today.
This one currently on the market is about 100 years old, nestled in an extraordinary setting, private and surrounded by nature, but only 5 minutes from the nearest restaurant and 10 minutes from the nearest town.
Ideal for a B&B project.
The property is about an acre in total, with a small river running along one edge, and, in addition to the brick and stone mill, contains various outbuildings and other stone structures that could be converted to guesthouses. The price has been reduced from US$184,782 to just US$160,939.

The Healing Waters Of
Caramanico Terme
The healing virtues of the warm and sulfur-rich waters of Caramanico Terme were first noted in 1576, when a Dominican preacher visiting the area wrote of people with skin problems bathing in the natural springs.
Today, the town's modern spa offers wellness and beauty treatments… with massages starting at just US$23…
Home to around 2,000 people, Caramanico Terme is the largest spa town in Abruzzo. Forty minutes' drive from big city Pescara and the coast, it perches in all its medieval splendor on a hill… making for fabulous views down the valley…
C'è Sempre Il Tempo Per Un Caffè…
In Italy, there's always time for a coffee.
Nowhere else in the world do people take their coffee as seriously.
Always offer a coffee to any guest or visitor to your home or office. And always accept a coffee when offered.
Even Penny-Pinchers Will Want To
Pinch Themselves
Not only the real estate… but, again, everything in Abruzzo is fantastically cheap… up to 80% cheaper than comparable items in Tuscany.
You can eat like royalty here on a pittance. So much—the pasta, the produce, the oil, the wine, etc.—is produced locally, helping to keep prices seriously low.
And shopping here isn't a chore but a pleasure. You shop for meat at your neighborhood butcher… for bread from your local bakery… produce from the greengrocer down the street…
There are supermarkets, of course, but you can forego them to get the best quality products at the best prices.
Rent For As Little As US$400 Per Month
Likewise, housing is cheap, whether you're looking to buy or to rent. In the country, you can rent for as little as US$400 or US$500 a month, usually including a small garden.
The climate is mild enough that's it's possible to go without heating or cooling most of the year… though there will be days in summer when you'll appreciate air conditioning and nights in winters when you'll want heating. Most homes come with one or more fireplaces that help heat the house—and many have wood-burning ovens built into the kitchens.
Entertainment can be mostly free. It costs nothing to visit the national parks or to spend a day at the beach. Movie tickets are US$5 to US$8, depending on discounts…
Città Sant'Angelo… Città Slow…
A ninth-century medieval town nestled between two rivers, Abruzzo's Città Sant'Angelo boasts magnificent palazzi, piazzas, churches, and monasteries…
So much impressive architecture that the city earned the title "Borgo" a few years ago, joining the ranks of "I Borghi più belli d'Italia," Italy's association of towns of historical interest.
Città Sant'Angelo is also known as "Città Slow," thanks to its commitment to remain the charming town of tradition it is and to resist modernization. The mayor is serious about controlling development and keeping his city authentic.
Each year, one of the town's most popular festivals is devoted to traditional health care to show how these old remedies can be as or more effective than modern medicine.
Certainly this would be a healthy place to call home. Maybe it's all the locally produced wine and virgin olive oil…
This city is a little gem that also packs a practical punch. Here you find one of the best hospitals in the country, several assisted-living facilities, and an institution specializing in Alzheimer's care and treatment.
Of Course, Abruzzo Is Only One Of
Italy's Many Tempting Faces…
What About A Dream Life In
Venice… Florence… Rome…
For us and Abruzzo it was love at first sight.
It really is the under-the-Tuscan-sun dream come true… for a fraction the cost of the same kind of lifestyle in other, more trumpeted corners of this glorious region.
Abruzzo is only one of Italy's many
tempting faces…
That's why we've decided to base our first-ever Live and Invest in Italy Conference in this unsung and undiscovered region.
More on this in a moment…
First, I want to acknowledge an important point that likely has occurred to you as you've been reading about the charms and benefits of a new life in Abruzzo…
This is hardly the only option for living or retiring in Italy!
I figure, though, that if you've been dreaming about a new life—full- or maybe part-time—in Italy… you already know a lot about most of the rest of this country.
I don't think you need me to remind you of the romantic appeals of Venice… Florence… or Rome, for example…
These are all places that you should see if you can… and that could, indeed, be the place for you to base your new life in Italy.
Real estate values in Venice rival those of Paris—US$4,769 per square meter out-of-the-way to more than US$23,844 per square meter overlooking the Grand Canal. On our most recent visit, we noticed one "student rental" advertised for US$954 per month… and, from the photos and description, I wouldn't say this would be a place where most retirees would want to live.
If you're an art-lover, perhaps it's Florence that features in your Italian daydreams. And, yes, living here (maybe part-time… decamping when the summer tourist mobs descend) could seem like heaven…
Like Venice, Florence would be an expensive place to call home. You could, though, base yourself in more affordable (and homier, in my experience) Pisa and visit Michelangelo's home town as often as you wanted. Florence is but an hour from Pisa via autostrade…
Living in Rome, surely, you'd never run out of fun and interesting ways to spend your time… and, if you're a city-lover, this could be the choice for you… one of the world's most historic, most cultured, most recognized cities… and more affordable than Paris or London…
Venice, Florence, Rome… and many other less-well-known choices in Italy from Pisa to Ravenna… and, of course, Abruzzo…
So many tempting options!
Here's What You Need To Do Right Now
I'd say, though, that if Italy is calling you, you really have just one option right now.
If Italy is calling you, join us this Oct. 17–19 for our first-ever Live and Invest in
Italy Conference…
Pull out your calendar and mark down these dates:
Oct. 17–19, 2018.
That's when the entire Live and Invest Overseas Italy team will be convened in one place for three days to introduce you to all of your best current options and opportunities for living, retiring, owning real estate, starting a business, earning an income, reinventing your life in Italy… and finally realizing la dolce vita adventure of your dreams…
At our first-ever Live and Invest in Italy Conference our team of on-the-ground experts and expats will showcase every appealing face of Italy… and then walk you through everything you need to know to make your new life there a reality… whatever shape you imagine that new life to take.
"I enjoyed this seminar very much. I don't know how you got so many knowledgeable people in one place. It exceeded all my expectations."

--V.R., United States
Our team of pros will address and answer every question to do with everything from establishing residency and finding a place to live to opening a bank account and learning to parla italiano...
Buying a home... renovating an historic property... shipping your household goods... shopping health insurance... and every other kind of insurance you might need...
Registering a new business... prospects for finding a job...
Making friends... getting involved in your new community...
Bringing your pet with you... or maybe adopting a new Italian pet once you've settled in!
Like every conference we host, this one will be the Full Monty. We'll cover the good, the bad, the challenging, and the maddening of living, investing, and doing business in this country…
"I especially appreciated the nuts and bolts, especially the cost of living, the financial considerations and strategies, and the businesses that you showcased were interesting and enticing."

--Barbara Leicht, United States
While introducing you to every professional you need to know to make your move safely and with confidence…
And many current expats in Italy eager to help the next ones in line.

Live And Invest In Italy
Oct. 17–19, 2018
Pescara, Italy
This Unique, Value-Packed Event Is Only Available
For A Short Time At These Prices
Here's How To Sign Up…

The 2018 Live and Invest in Italy Conference is an exclusive opportunity to get to know Italy in a way that's simply not possible by any other means. Expats will be there to show and tell you what life is really like in Italy.
And experts will be on hand to inform and reassure—and to guide you to whatever next steps might be right for you.
"I think the info and people I've met are super high quality and in the first day has more than paid for the expense of the trip."

--Scot Cave, United States
Based on past experience, I can assure you that this will be an action-oriented conference… and that some attendees will begin the visa process during the event… or open financial accounts… or even buy a home.

The special price for the Live and Invest in Italy Conference is only US$1,095 per person, only US$1,595 per couple. (That's right... the second half of a couple attends for less than half-price!)
Sign up now, and chances are you'll be eligible for an even-better price:

If you're one of our All Access Pass or Private Access members or a Personal Consulting client your admission is free, as is that of your spouse or guest.
Overseas Living Letter subscribers will save US$50.
Overseas Retirement Circle members and subscribers to Simon Letter or Global Property Advisor save US$100.
To sign up, just send an email to Valentine Fouché, or call her toll-free at 1-888-627-8834 to get your name on the list. You can also register yourself online.

Call or write today while the deepest discounts are still in effect.

Here's what's included with the price of admission:
Admission to all presentations
Complete access to the restricted exhibit area
Expert personal consultations
Formal and informal Q&A sessions, breakouts, and workshops
Introductions to reliable real estate sources, business contacts, fellow expats, and professional legal resources
Access to attendee-only (optional) pre-conference and post-conference real estate tours
Access to (optional) cultural, craft, and sightseeing tours
Coffee breaks and snacks
Welcome cocktail reception and all sponsored lunches and events
Seminar materials, notebooks, and handouts
Downloads of all conference presentations after the event is over
A complete set of professionally produced conference recordings
You can register online here. If you have any questions about the event, you can contact Valentine by email or call her at 1-888-627-8834.



The Discount Period Is Ending Soon,
And This Event Is Selling Fast
Bottom line, here's our promise to you: Join us in Pescara in October, and we'll introduce you to Italy from the Alps to the Mediterranean coast, from country villages to mountain hideaways. The real Italy. The good, the bad, the ugly, and the workarounds. This is the real deal, based on real firsthand experience.
No place is perfect. This may be the land of "
la dolce vita,"
but, even here, we understand that a "good life" view does you no favors.
If you dream of
la dolce vita
, you owe it to yourself to take this exciting step toward making that dream come true…
There are reasons why the folks you'll hear from during our
Live and Invest in Italy Conference
have chosen to spend their time and their money in this country. They're smitten. But they're not fools. They recognize not only the pluses, but the minuses, too, of day-to-day life and of trying to do day-to-day business in this country. They're enjoying the advantages... and they're reconciled to the downsides.
An important part of our agenda during our
Live and Invest in Italy Conference
will be to show you these downsides... so you can decide whether you could live with them, too.
"The absolute finest conference I ever attended (and that number is in the hundreds). Topics were great. Presenters were wonderful. Your staff was outstanding."

--Bob Seligman, United States
Our first-ever
Live and Invest in Italy Conference
is a one-of-a-kind program conceived to help you to experience Italy, not as a tourist, but with the help of long-time residents... while, at the same time, making every connection and contact you'll need to make your own Italy dreams come true.
I very much look forward to meeting you in Pescara.
Sincerely,

Kathleen Peddicord
Founding Publisher, Live and Invest Overseas
P.S. If you dream of la dolce vita, you owe it to yourself to take this exciting step toward making that dream come true.

Our first-ever Live and Invest in Italy Conference will deliver all the support you need to launch a new life in this forgotten corner of the Old World.



"Sophisticated And Thoughtful"

"I have to say that you seem to dig deeper into the feel of a particular place and to do comparative analysis between alternative places. Your approach is more sophisticated and thoughtful and therefore more useful than that of other information sources covering these same subjects."

-- John W., United States
"Experience, Knowledge,
And Competence Are Top Shelf"

"The level of experience, knowledge, and competence is top-shelf.
Primarily, I appreciated the sincere and honest approach of the organizers and all the presenters, as well as the obvious desire to give participants complete, accurate, timely, and appropriate information and to answer questions thoroughly."

-- Andrew F., United States
"Honest, Tell-It-Like-It-Is Approach"

"I particularly appreciated your information today about the joys (?) of international rental property. What I admire is your honest, tell-it-like-it-is approach. A lot of people have been hurt by nothing but glowing reports about offshore living from various sources. Your honest, direct approach is a real service."

-- Arlean K., United States
"You Have Made A Lot of Dreams Come True"

"Thank you for all your hard work. You have made a lot of dreams
and a lot of dreams come true. I enjoy all the emails from all your staff living all over the world. I am always telling people about you and how you started your publications years ago. In fact, I just today told my banker about how honest and smart you are, letting us know where to go. Wish I had listened to you more years ago..."

-- Marlene M., United States