Belize's coronavirus case and death counts have remained low throughout the pandemic, with only 23 confirmed cases and 2 deaths. After the arrival of the first two cases, the country went into a state of emergency on March 25, imposing a nation-wide curfew from 8 p.m. to 5 a.m.
Schools were closed and borders were restricted, with all flights grounded as of March 23. On Ambergris Caye, residents underwent a two-week mandatory quarantine, with only health workers allowed to move freely, as the government tried to restrict the movement of people who may have come into contact with the original patient.
Since April 13, the government has relaxed restrictions on movement, allowing hotels, retailers, call centers, beauty salons, and government offices to reopen. Restrictions were further lifted on May 4, allowing shops to be open from 8 a.m. to 7 p.m. Though the state of emergency was extended until the end of June, things will likely continue to relax over coming weeks.
On June 25, Prime Minister Dean Barrow, officially announced that Belize's international airport—the Philip Goldson International Airport—will be reopened on August 15. This is part of the country's five-phase reopening strategy.
Before Traveling To Belize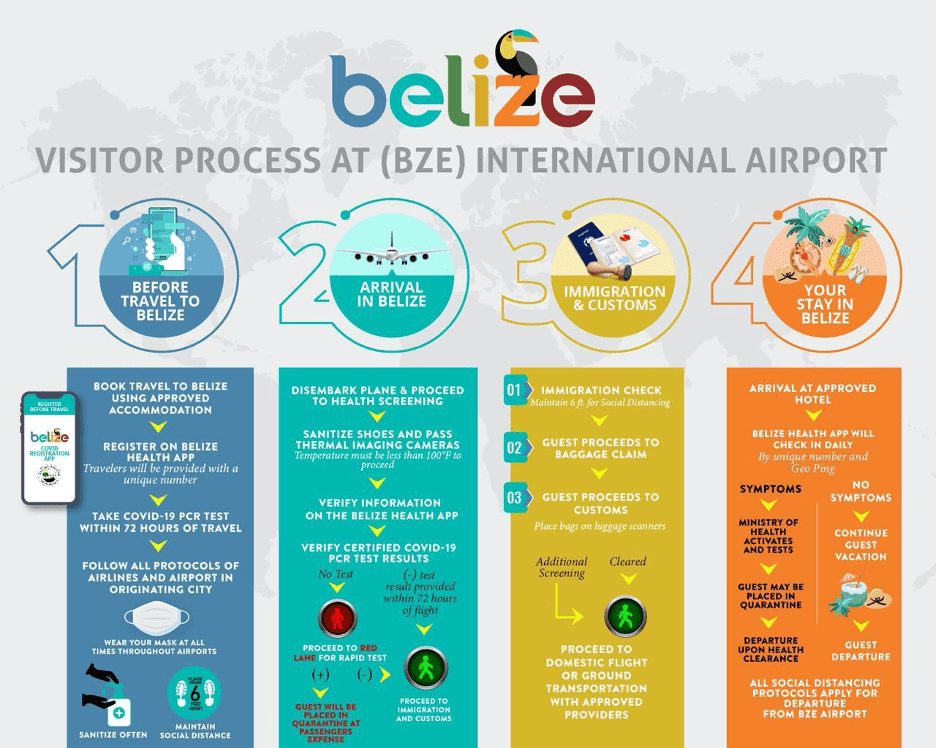 It's mandatory for all visitors to download the Belize Health app on their mobile phones previous to the date of arrival.
Your hotel confirmation and travel information should be registered in the Belize Health app. The app will provide you a unique QR code ID which will be requested upon your arrival in Belize.
Visitors who bring a certified negative test (within 72 hours previous to the date of arrival) will be allowed immediate entry through the fast track arrival lane at the airport. Your test results can be uploaded to the Belize Health app.
Visitors arriving without a certified test are required to take one upon arrival. If testing positive, the visitor will be placed in a 14-day quarantine at a government-approved facility. Both test and stay (if testing positive) are at the visitor's expense.
Arriving In Belize
Upon arrival at the airport, visitors will undergo a health screening, temperature checks, and verification of their specific ID from the Belize Health app. Health and safety protocols, wearing of face masks in public, use of hand sanitizing stations, and social distancing rules must be followed during the trip.
Where Can I Stay In Belize?
Hotels are being reopened by phases and visitors will only be allowed to stay at approved locations. Hotels with the Gold Standard Certificate of Recognition (which means that the hotel has enhanced their safety and sanitation measurements) will be the first ones allowed to reopen. A list of the Gold Standard approved hotels will be available here.
Those with full services and amenities such as pick up and drop off to the airport, isolated tours packages, in-house restaurant and entertainment will also be able to operate in this first phase.
For official updates, click here to visit the Belize Tourism Board website with the latest Covid-19 updates for travellers.