Living in Belize as an expat offers a surprisingly wide range of lifestyles. Belize is much more than just white-sand beaches, warm Caribbean waters, and swaying palm trees.
These things are all here of course, but there's more. Belize has lush jungle that covers much of the country. Jungle living offers a completely different way of living. At altitude it also offers cooler temperatures.
Belize also has grassy plains. There are rolling hills and fertile valleys where almost anything that you plant will grow.
In these areas you can find off the grid communities where life wouldn't change one bit if the modern world collapsed.
Getting To Belize
Technically it's possible to drive to Belize from the USA, but it's a long and difficult drive. The roads in Belize are not always great, and you will need to pay to import your car.
What looks like a short trip on the map, could end up taking a long time. If you have a 4×4 and lots of time to spare, then by all means go for it.
Belize benefits from regular daily flights to the United States. The best plan is usually to fly into Belize City. From here you can fly onwards to your next destination.
Living In Belize As An Expat
At the risk of stating the obvious, living in Belize as an expat is hugely different from visiting as a tourist. Tourists often come on all-inclusive deals. The big decisions are what to choose from the lunch menu, and whether to snorkel or walk along the beach.
Some of the challenges you will face as an expat might take you by surprise. Take shopping for example. In Belize, you need to buy your fresh produce from the market. Supermarkets stock fresh produce, but it is often pas its best. The freshest and best value deals are found at local markets.
Another thing to consider is how reliant you are on imported goods and your favorite US brand names. These are hard to come by in Belize, and very expensive. Get used to eating according to the season.
Belize has good transport links to the USA. This is important for a few reasons. The first is that health care in Belize is not great. As an expat in Belize you can quickly and easily fly back to the States for medical treatment. This close proximity also makes it easier for friends and family to visit.
Reasons Not To Live In Belize
Belize is not for everybody. In fact, for some people moving to Belize could be a disaster. Here are some reasons that you may not enjoy life in Belize.
1. Health Care
Health care is not great. In rural areas it is practically non-existent. If you have an existing medical condition Belize is not a good call.
2. Belize Operates On A Different Speed To The Rest Of The World
People show up late for appointments, parties and everything else. Queues are slow moving to the point of not moving. If you like to live life by a timetable, moving to Belize might be enough to drive you insane.
3. Humidity And Creepy Crawlies
The humidity and bugs are another part of life in Belize. At lower altitudes the humidity is higher but there are less bugs. At higher altitudes and in the jungle areas, the temperatures are lower. But there are more bugs.
You can do things to combat both these problems, but they exist and how you handle them will impact your life here.
4. There Is No Traditional European-Style Culture
Belize doesn't have much of a culture scene in the traditional sense. There are lots of local festivals and productions. But European style theatre or opera isn't an option.
If you are open minded and enjoy taking in new music styles then you can find lots of things to do.
5. Infrastructure
Belize is improving, but infrastructure is still a long way behind the States. Roads are bumpy and often contain huge pot holes. There are few public services and little desire for them, especially in rural areas.
How Is Life In Belize?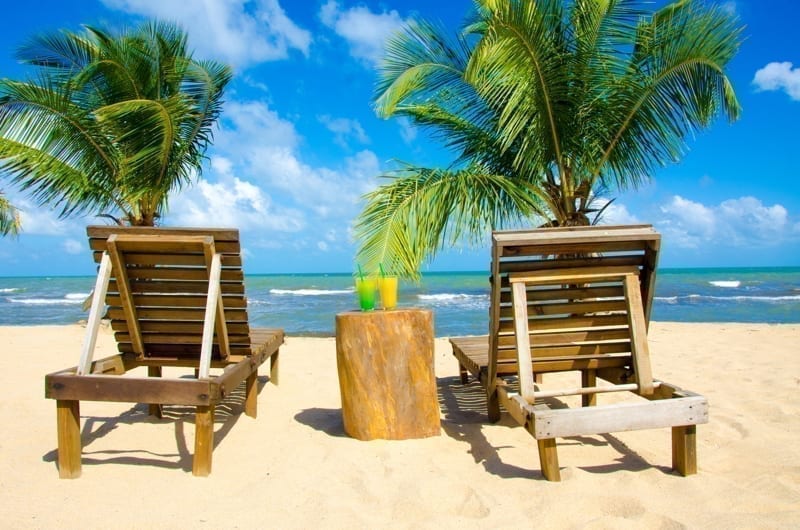 Everywhere you go in Belize you will see signs saying "Go Slow". This is a way of life in Belize. In general, nothing is worth rushing for and nothing is worth stressing over.
Lots of expats who come to Belize report that their stress levels fall dramatically after a while living here.
Government interference in Belize is minimal. The excessive surveillance and taxes are low. Many of the traditional American values such as resourcefulness and freedom are alive and well here.
The flip side to this is a lack of public services. This will suit some people and not others.
It's a well-worn cliché but the people here really are friendly. There is a warmth and community spirit that you can find throughout the country.
It's only fair to point out a couple of the negatives. Petty crimes are a problem, in the tourist areas. Be careful leaving belongings in your car. Or on the beach while you go for a swim. In fact, anything that you leave lying around is likely to go missing.
You should also take care using credit card machines in tourist areas.
Belize Expat Communities
Ambergris Caye And Caye Caulker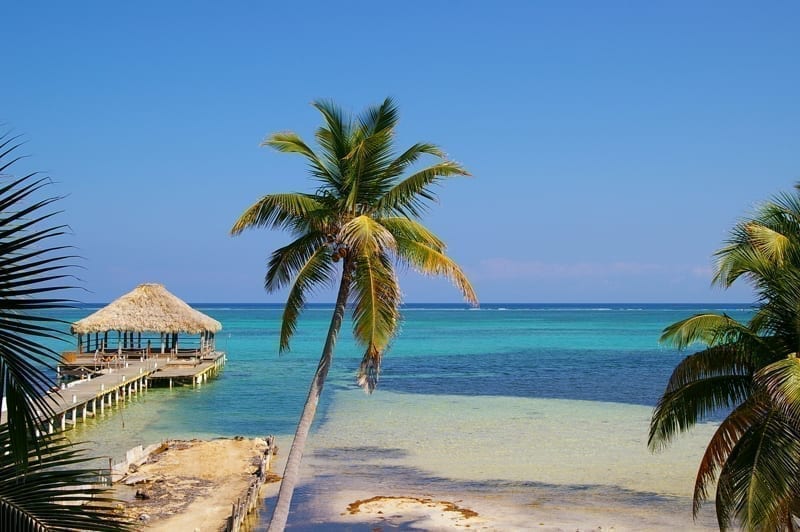 Living by the Caribbean Sea is always a hit with expats. The prices in both these locations are continuing already expensive and continuing to rise. However, if you can afford to live here there's a lot to love.
The expat community is established and there's always something going on. The Caye's have the best expat social scene in Belize. Bars, restaurants, live music, BBQs. There are classes and volunteering opportunities too.
Ambergris Caye is the bigger of the two islands. There are over 20,000 people who live here compared with less than 3,000 on Caye Caulker.
Ambergris has the bigger town, San Pedro, which is the center of the Cayes. Life on Caye Caulker is quieter.
Cayo District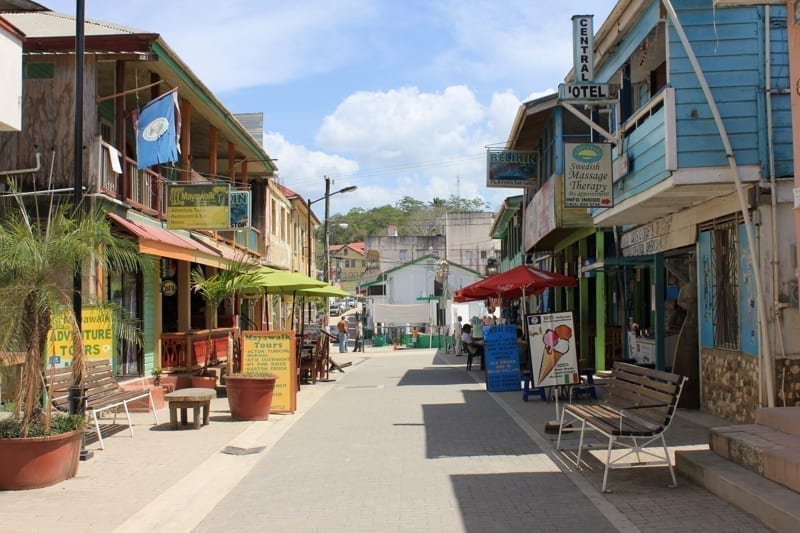 Expats can be found throughout Cayo, but the social scene is not as bus as the Cayes. Expats here are more likely to keep themselves to themselves. Village life here is certainly appealing. There is almost no pollution and fresh produce grows easily.
Volunteering opportunities and initiatives to help the local community are a couple of the best ways to meet fellow expats.
The main square in San Ignacio is home to a lot of the most popular expat restaurants and bars. This is another good place to hook up with your fellow expats.
Corozal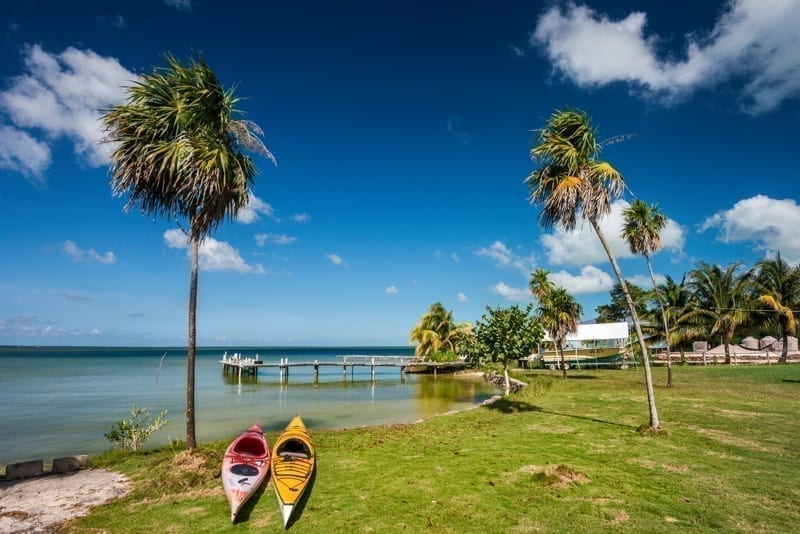 Corozal is both a town and district. It is home to a strong expat community. The expats here mix well with the locals, more so than anywhere else in Belize.
Corozal also benefits from a few regular expat haunts. One is the
Jam Rock Restaurant
. The Wednesday night darts games draw a big crowd. As do the Friday Happy hours. Every third Saturday there is an Art in the Park event. This sees local artists meet up to display and sell their work.
Expats have a lot to do in Corozal with sailing, horseback riding, fishing and hiking popular pastimes. Property here is more expensive close to the sea, but still affordable compared to the Cayes. Inland property costs less and is perfect for farming.
Living In Belize As An American
As an American you will appreciate the fact that they speak English in Belize. This is one of Belize's biggest selling points against other Central American countries.
American's also make up the majority of the expat community here. Although there are an increasing number of Canadians and Europeans moving here too.
Getting used to a bad internet connection can take some getting used to. Things are improving but the super-fast connections available in the USA are a long way off.
There are also no big department stores. Trips the mall will become a thing of the past (unless you live close to the Mexican border).
Belize is a third world country. Even living in a luxury gated community you can't escape this fact entirely. Americans who come here looking to create another USA are going to find it difficult.
Moving To Belize
The first thing to do is to scout around the county and visit as many places as possible. The places you enjoy spending time might be a surprise to you.
Once you have somewhere in mind, spend some time there living as a local. 3-4 months as a minimum.
If possible, try be there out of season as well. The rainy season is not for everyone. Spend time living as a local. Do your shopping at the local markets and give yourself the best understanding you can of what your new life will be like.
Decide what you want to ship to Belize. If you are taking a lot of things with you then a shipping container is a good idea.
Alternatively you can load up a truck and drive down. If you are not bringing many things, you can consider bringing your things gradually via plane.
To move to Belize, you will need to show that US$24,000 passes through a Belizean bank account in your name, each year. Belize offers some enticing benefits for expats. To learn more about them and whether you should apply for the QRP program, click here.
Oliver Lovett