Life In Ancient Lijiang
"Vicki and I are in Lijiang's lovely ancient city," writes intrepid Correspondent Paul Terhorst, "in Yunnan province in southwest China. We're staying at a popular backpacker's guesthouse, Mama Naxi's, for US$11 a night, including free Internet. A sign on the wall says, 'Please try to return to Mama's by Midnight. It is easy to get lost, and the staff at Mama's will stay up worrying about you. At the very latest, be back by 1 a.m.'
"Mama means it. She (see picture) refers to herself in the third person, passes out tangerines and bananas, and races around the courtyard like a brash, loving Queen among her subjects.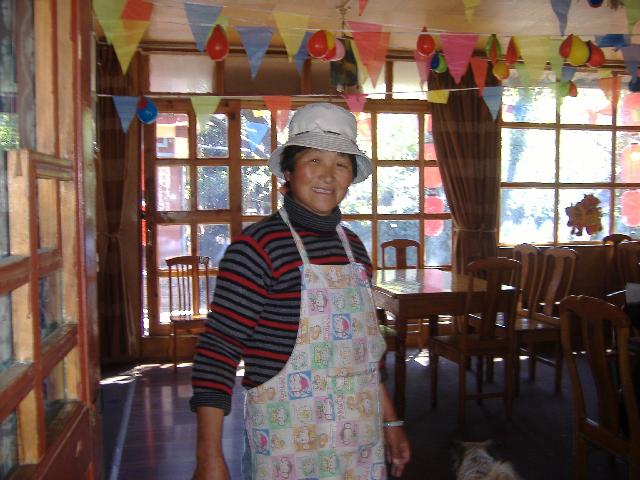 "Queenship comes with the territory here. Mama's Naxi tribe gives females nearly total control over children, property, law, and finance. Even the language reflects this matriarchy. As Lonely Planet puts it, 'Nouns enlarge their meaning when the word for 'female' is added. For example, 'stone' plus 'female' conveys the idea of a boulder; 'stone' plus 'male' conveys the idea of a pebble.'
"Another tribe here carries matriarchy even further, practicing what the locals call 'walking' marriage. Walking marriage means that women take whatever lovers they feel like taking, without ever marrying. Children are raised by mothers, often without anyone (Mom included) knowing who the fathers are.
"Ancient-city Lijiang is a pretty maze of winding, narrow paths (no cars) with red wooden buildings restored to perfect condition. Canals provide water from a lake above town. Think cute, clean, lucky red, small-scale, old-style Chinese, and you'll get an idea, but really you need to see the place.
"Chinese tourists from Shanghai and Beijing, from Hong Kong and Taiwan crowd the streets. At night the clubs, bars, and restaurants explode with music and dance, fireworks, and strobe lights. We're here during the low, winter season. I'm told that in summer Chinese tourists escaping the heat farther east pack the place shoulder to shoulder.
"Even with the crowds, Lijiang charms and delights. My Chinese friend David tells me that Chinese and even Western tourists spend several months a year here, just to enjoy the special setting. Vicki and I might do the same one day.
"At first, we were taken aback by the crowds and the souvenir shops; Lijiang's only industry today is tourism. But, after hanging around a few days, the souvenir shops somehow receded into the background, and we felt the indigenous Naxi culture come through.
"The Naxis play cards and tile games, wear tribal dress, shop at an immense outdoor market, sit in tea shops, and dance tribal circular dances in the town's central square.
"They eat yak yoghurt (we tried peach-flavored, delicious) and over-the-bridge noodles: thick rice noodles with ground meat in a spicy soup with half a dozen ingredients tossed in, all for about a dollar.
"One morning, as I ate breakfast in the Lijiang market, Vicki stood up to take a picture (see picture), and the woman next to me promptly put her arm around my neck and posed. Later she said, 'I…Shangri-La.'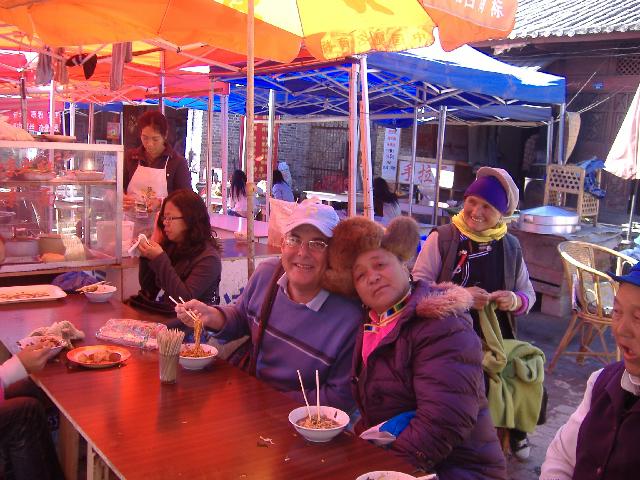 "Shangri-La, a city about two hours drive north of Lijiang, has a largely Tibetan population. She was telling me she was proud to be Tibetan, taking her place alongside Yi, Naxi, Mosu, and other ethnic groups in this part of the Yangtze valley.
"Signs around Lijiang tell tourists how to behave. My Chinese friend David says the originals use Chinese poetry and metaphor to get the point across, thus presenting a translation problem. I can figure out some signs–'Green the ancient town and promote the civilization everywhere.' But others–'Another bright scenery rational shopping'–seem more challenging.
"Yesterday we took a two-hour drive to visit a spectacular Yangtze River gorge, called the Tiger Leaping Gorge by locals. We walked 3 kilometers along the gorge's rocky southern wall, with gushing water and rapids below, mountain peaks above. Again, you need pictures to appreciate the beautiful setting.
"The gorge offers stunning natural beauty, yet some Chinese would prefer to dam it. Plans called for maybe a dozen dams on the upper Yangtze, flooding thousands of square kilometers of picturesque Naxi villages, terraced fields, and ancient temples. Such a shame.
"Then again, the Chinese desperately need the power for the Yangtze valley's growing population. For now, we're told, the dam is on hold, but the authorities could change their minds.
"Get here before they dam the Leaping Tiger Gorge. Or after, if that's the best you can do. But do come. You'll love Lijiang's ancient city and the Yangtze valley, with so much color and natural beauty."
Kathleen Peddicord
"You wrote recently, Kathleen, about the exodus of the middle class from New York City," writes our friend and international tax attorney. "I thought you might be interested in what's going on in California along the same lines.
"California is not allowing loss carry-forwards for 2008 or 2009. This can make a very big difference for a company that had a prior loss and was planning to use that to offset current gains.
"Another big issue is the California Limited Liability Company tax. A California LLC used to pay an US$800 annual fee. Now, in addition to that fee, an annual tax based on income is charged…up to US$11,790 per year.
"I am getting calls regularly from people who want to move out of California as a result. One client has calculated his California tax at 16% for 2009, compared with 9% in 2007. Add that to a federal rate of 33%, and there goes 50% of your net income, meaning 50% of your effort is for the government!
"I've been reading you for a long time, but I fear you're just a vehicle to hawk the investments of you and your friends. I remember the chateau in France, then the wonders of Ireland, the opportunities in Nicaragua (would you really invest there in the current political climate?), and now Panama. Ms. Peddicord, while no doubt knowledgeable, is, in my view, hardly an unbiased source.
"I spend a great deal of time in Panama and have considered moving there. But there are numerous issues in Panama City, which is overbuilt, especially in the high-rise condo sector, has growing problems with crime and traffic, and is not the bargain your publication suggests.
"El Valle is wonderful but too far from essential amenities to suit most retirees.
"In any event, while I applaud you trying to open the eyes of Americans to opportunities overseas, your organization's views and recommendations in my judgment are colored by factors other than the actual pros and cons of the areas you tout."
— James C., United States
This long-suffering reader, indeed, has me pegged. I've been putting my money where my mouth has been…and writing about it…for about two-and-a-half decades.
Indeed, I told readers to buy in Ireland in the 1980s and 1990s…and, finally, I bought myself. We sold our Georgian stone house six years after we bought it for about four times what we had invested in it. Again, I encouraged readers to do the same–that is, to take their Irish profits, for that market, I reported often at the time, had reached its top. I hope that, if you bought, you sold when I suggested you sell.
We still own in France…and, if you do, too, I'd say hold on to what you've got. France is struggling along with the rest of the world, but its real estate has more intrinsic value than most…and Paris is one of the most recession-proof markets on the planet. The property market is softening in the City of Light but not dramatically so.
We still own in Nicaragua, too, though we've taken some profits over the years (of 250% and more).
We're happy to continue to be invested in this country. We return as often as we can…and we day-dream about the pleasures of life in Nicaragua when we're away. It's one of our favorite places to spend time, and that's one of the best reasons of all, in my view, to own property anywhere.
Now Panama…where we've been urging you for some time to avoid buying a Panama City condo (unless you want to live in one)…and where (we're right there with you, dear reader) we've been bemoaning the chaotic traffic, the shortage of taxis, the constant construction noise and mess, and all the other growing pains this little city is suffering through right now.
Don't come to Panama City, we've been telling you, to slow down, and I don't recommend this city as a "retirement haven," not in any conventional sense. This is a place to come to do business and to seek adventure.
For retirement, you need to look outside Panama City, where the options are many. El Valle, we agree, dear reader, is idyllic…and sleepy.
But Panama is far more than Panama City…and El Valle is only one retirement living choice outside the capital. This country today is a land of opportunity. One place you should be paying attention to.
I say that not because I'm invested here and want to promote my own interests.
I'm invested (and investing further all the time) in Panama because I believe this is the best place in the world this 2009 to be focusing time and capital.
And I'm telling you about it because I believe you'd do well to think about investing along with me.
Markets move up, settle out, and slide down. Ireland saw a phenomenal run over the past two decades that distorted the country's property market beyond all sense. That situation is now correcting itself.
Here in Panama, the run is still on, and, I believe, still has considerable course to cover. While Panama City has ballooned and bubbled (and is now seeking some correction), other pockets of this country have a lot of upside still to realize.