The best countries for digital nomads is a fast changing list. But then again, we live in fast changing times.
When the internet gained mass adoption during the early 2000s, something seismic happened to the job industry. New ways of earning a living were born. Working from anywhere in the world became a reality. The established path of going into an office for 40 years, was no longer the only route available.
The first people to take advantage of this new paradigm were bloggers, and travel writers. Lots of these early adopters had no idea they could make money from their blogs. Their blogs were simply a hobby, or a way to keep in touch with friends and family back home. Today, Digital Nomads are limited only by their imagination. The range of businesses being run over the web is staggering. If the business doesn't need bricks and mortar, someone is running it online.
Becoming a Digital Nomad is a lifestyle as much as a way to make money. Digital Nomads revel in their freedom. There is no office dress code, and no office politics. If they want to start work at 2pm and finish at 8pm they can. Likewise, if they want to take a day off to go surfing, or visit a museum. Providing the work gets done, a fixed schedule isn't necessary.
The best countries for a Digital Nomad have a few things in common. The most important one is fast and reliable internet. Low cost of living, cultural attractions, nice weather and co-working spaces are highly prized.
Colombia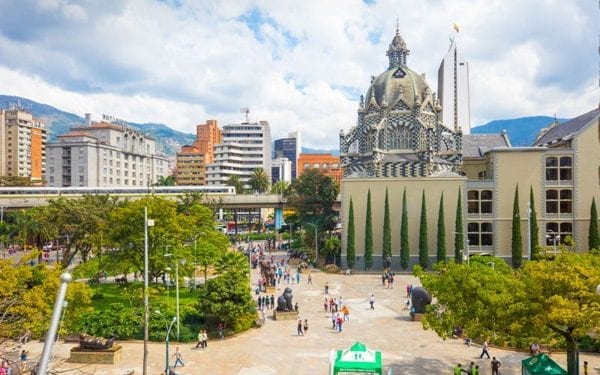 With its reputation as a dangerous place consigned to history, the world is waking up to joys of Colombia. Digital Nomads have been part of the first wave of people coming to explore life in Colombia. Without a doubt, this is one of the best countries for digital nomads.
Most Digital Nomads focus on the cities of Bogota and Medellin. These cities have the best cultural attractions, bars and internet connection. The cities have excellent public transport, you can get around with here with ease. In Bogota you have the option of travelling by bike.
Medellin is the more popular, and most Nomads stay in El Poblado and Ciudad de Rio. El Poblado is popular with tourists and expats, and one of the more expensive areas of the city. Cuidad de Rio is close to El Poblado, but cheaper, and not yet as inundated with expats.
The other option is Laureles and Estadio, two up-and-coming neighborhoods in west Medellin. Previously a more authentic area of Medellin, tourists have discovered it over the last couple of years. Prices haven't caught up yet.
Cost of Living
Colombia is affordable, but not the cheapest destination on this list. You can find a one bed apartment in a decent part of town for around US$650 a month. Negotiating is part of the Colombian culture and especially important for Nomads. Landlords will sometimes try to take advantage of gringos, who they assume are universally wealthy. If you are staying for longer term, you can find better prices.
Public transport is reliable and inexpensive. Taxis and Uber are also cheap by U.S. standards. Be aware, though, that Uber is illegal in Colombia. Use at your own risk, and be sure to sit in the front seat, so you don't draw any unwanted attention to your driver.
A plate of food at a restaurant will cost anywhere from US$4-$20 depending how upscale you want to go.
Nomad Communities
Colombia is full of Digital Nomads. In Bogota and Medellin you will find Nomads working in coffee shops and bars, taking advantage of the fine coffee and free WiFi.
The Selina co-working space offers private or dormitory accommodation for a reasonable price. You can take advantage of their co-working facilities without the accommodation. You can pay for one day, seven days, or one month. Selina also offer tours of the cities attractions to help you get the most out of your down time.
How Long Can You Stay
Colombia grants citizens of America and Europe, a tourist visa for 90 days. This can be extended for another 90 days. You can stay in Colombia for a maximum of 180 days per year on a tourist visa.
Vietnam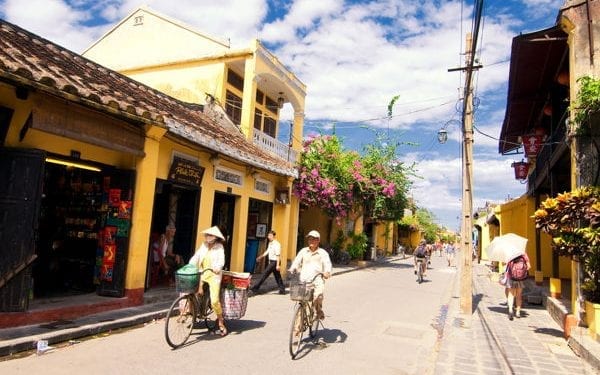 Vietnam has some of the fastest internet in Asia. WiFi is well-integrated with most shops and restaurants offering WiFi. You can even find WiFi on the local busses. The country is developing rapidly, with investment pouring in from across the globe. Many young Vietnamese are forward thinking, optimistic about their chances in this growing economy. Lots are keen to learn English which is increasingly spoken by the younger generations.
If you prefer a quiet and relaxed atmosphere, Koh Phangan welcomes Digital Nomads and a small, friendly community. The nomad community is called Beachub. You can set up your laptop a stone's throw from the water and send the type of photo's to make office workers all over the world envious.
Ho Chi Minh City is a busy, noisy town. There is always something happening, and something new to see or do. The economy is growing fast and people from across Asia are heading to this developing city.
Some of the co-working spaces are tailored to local free lancers. The combination of this, and the size of the city, means you don't get the kind of community spirit you find elsewhere in Vietnam.
Cost of Living
Vietnam is one of the cheapest destinations for Digital Nomads. You can rent a high end apartment for US$700 per month. A nice apartment in a safe area of the city can be had for as little as US$300 per month. Most apartments are furnished and rental properties are easy to find from the street. Lots of Digital Nomads choose to rent a motorbike as the best way to get through the heavy traffic. You can expect to pay around US$70 per month.
Street food is tasty and inexpensive. Expect to pay US$2 for a meal at a food truck. You can eat an array of delicious meals at restaurants and canteens for under US$5. Fine dining can be had for as little as US$30 per person.
Nomad Communities
Vietnam is popular with Digital Nomads, but doesn't have the same community feel of other countries. There are a few message boards and meet ups, but you are unlikely to bump into other nomads like you would in Colombia, for example. Saigon has lots of shared workspaces for Digital Nomads. In smaller cities and towns you need to make other arrangements.
How Long Can You Stay?
Vietnam offers a one year tourist visa that can cost up to US$500 once you have paid the agency fee. Otherwise you can stay for 3 months. People wanting to stay longer do 'border runs' to Cambodia so they can leave the country and get a new 3 month stamp. It is possible to stay almost indefinitely using this method.
Thailand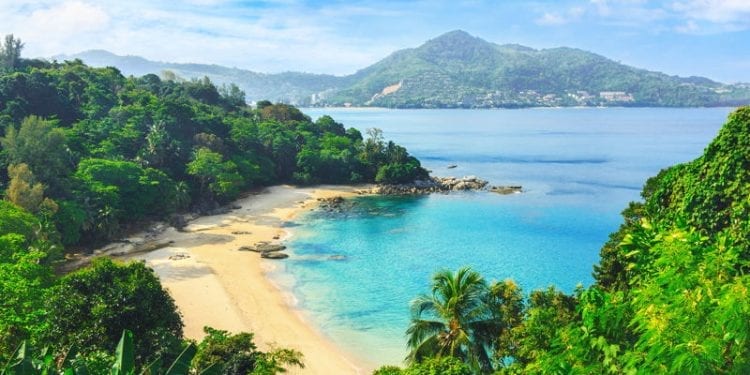 The legendarily low cost of living, combined with hot weather, have made Thailand a favorite with expats over the last few decades. Digital Nomads are now making the same trip and working online from Thailand.
Internet coverage is strong through most of Thailand. If you are based in one of the big cities you can work easily from any number of places. Free WiFi is common in most of the cafes and restaurants in the city.
The type of experience you will have in Thailand will depend on that city you visit. Thailand has something for everyone. Whatever you want from your stay you'll be able to find it. Although areas like Patong attract masses of tourists, and everything that goes with it, you can find quieter towns and cities easily.
Nomad Communities
Chiang Mai regularly finishes top of lists on best Digital Nomad communities in the world. The big tourist destinations all have co working spots. In Thailand, these provide reliable internet and a friendly, relaxed workspace.
Cost of Living
The prices in Thailand are similar to in Vietnam. Expect to pay US$300 for a furnished apartment in a safe area. As in Vietnam, street food is delicious, varied, and best of all cheap. For US$2 you can eat almost any meal from a food stall. You can eat at a decent restaurant for under US$15 per head. More upscale options are available at reasonable prices.
How Long Can You Stay
The Thai government is positioning Thailand to be at the front of the Digital Nomad revolution. Last year they passed a Smart Visa allowing nomads to stay for up to four years. If you meet the government definition of a highly-skilled professional, you're in luck. Previously, workers in Thailand needed to report to the government every three months but on the Smart Visa you only need to report annually.
The standard way of Digital Nomad working in Thailand is via a three month tourist visa. Those wanting to stay longer will need to do a border run and get a new visa stamp in the passport.
Indonesia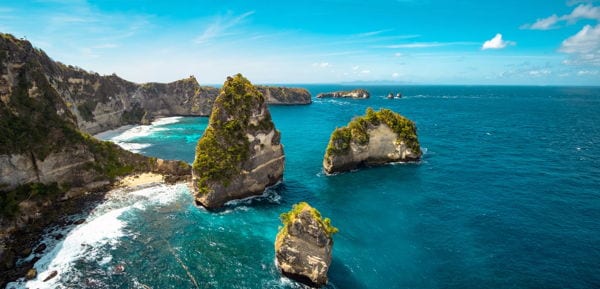 Indonesia and especially Bali, is arguably the most popular Digital Nomad destination in the world. Most cafes and hostels have (slightly slow) WiFi, but house and co working spaces are usually equipped with fibre optic broadband. Indonesia is one of the most iconic countries for digital nomads.
Bali has plenty to do and see. The beaches are a mecca for surfers, from quiet breaks for beginners through to the reef breaks where the professionals hang out.
There is a busy nightlife, bars and nightclubs on the west coast are lively and plentiful. Bali has options for eating out, and lots of healthy eating and vegan choices available.
Bali has a rich spiritual history. There are well preserved temples, t are surprisingly empty and make for a relaxing afternoon. The Buddhist culture is strong, and gives Indonesia a peaceful feel, despite hustle and bustle of life here.
Nomad Communities
Hubud was recently named among the 10 best co-working spaces in the world. It is a high-end option offering co-working and co-living. Hubud encourages social activism and volunteering as a way of giving back to the local community. 100 hours per month costs about US$220.
Cost Of Living
You can rent a 2 bedroom house with a swimming pool for under US$900 per month. A more basic 2 bedroom house will cost around U$300 per month. Rates vary at guesthouses, but you can expect to pay around US$30 per night. Supermarkets carry imported goods plus other staples, but the best fresh produce is at the markets. Set an alarm, they open at 4am and after 6am they generally stop selling fresh produce and start selling souvenirs and trinkets. Indonesian coffee is excellent. Fresh and cheap, it fuels much of the nomad productivity on the island. Lots of the prices are aimed at tourists and you will need to spend some time to seek out places where you can pay local rates.
How Long Can You Stay
If you aren't planning on a long stay, a 60-day tourist visa is your best bet. You will US$35 for the first 30 days and another US$35 if you choose to stay for the full 60 day period. People looking to stay longer usually go for the Sosilal Budaya Visa, essentially a six month visa. It is important to note you aren't technically allowed to work using this visa. It is a visa for people doing voluntary work or visiting friends a relatives. When the visa expires you are welcome to reapply on the same day.
Mexico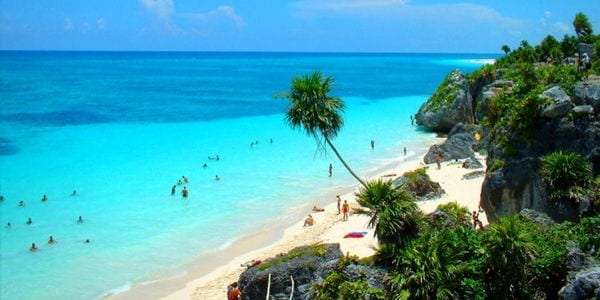 When the internet revolution happened, Mexico City was one of the cities Digital Nomads flocked to. Mexico City was early in establishing a reliable internet connection. This led to a growing Nomad population. As the internet expanded through Mexico, more new cities became available to Digital Nomads.
Groceries and eating out are cheap, as is alcohol. Public transport and taxis won't eat into your budget. In the smaller cities and towns you will find the downtown areas to be compact. Although sightseeing will take you further afield, you can easily walk to most places you want to go day-to-day.
Nomad Communities
Mexico City is a favorite with Digital Nomads. It has plenty of air-conditioned co-working spaces that you can rent at short notice. Most of the boutique coffee shops have free WiFi. You won't have to stay long before someone comes in and sets up their laptop to do some work.
Cost Of Living
Cost of living in Mexico ranges from affordable to bafflingly cheap. Mexico City is the most expensive place to live. In smaller cities, and towns, you can find a 2 bedroom apartment in a nice area for under US$350 per month. Mexico City costs around US$1,000 per month, cheap for a major capital city.
How Long Can You Stay
Mexico allows visitors to stay for up to 180 days on a tourist visa. If you are from the U.S., Canada, U.K. or a country in the Schengen Space, you don't need a visa to enter Mexico. The tourist visa forbids you from taking on any employment while you are in Mexico.
Portugal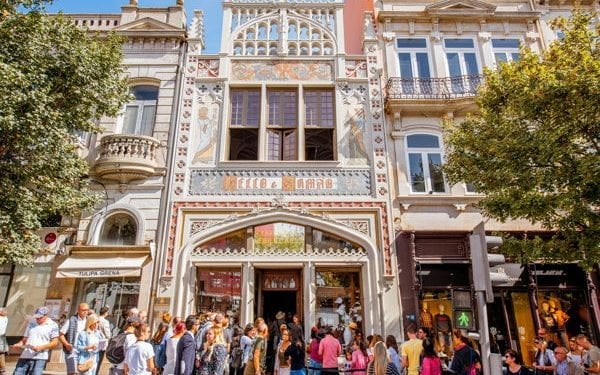 The cost of living has prevented most European locations from becoming true Digital Nomad havens. Despite the fast internet, beautiful buildings and vibrant nightlife, prices have kept the Nomads away.
Portugal however is bucking the trend. The country manages to combine affordable prices with historical buildings. Not to mention a range of cuisine and fast internet. It has only been on the scene for a handful of years but Portugal is now one of the world's top Digital Nomad locations.
Nomad Communities
Lisbon has a busy Nomad community, the co-working spaces are usually bustling. In Lisbon most of the co-working spaces offer you the first day as a free trial. Lots of nomads prefer to work from home, and the co-working spaces are dotted across the city. Facebook groups the best place to contact fellow Digital Nomads.
Cost Of Living
In Lisbon you will need to set aside US$1,500 per month to live a basic life. Restaurants aren't expensive and there is lots of fresh sea food available. You can find a cup of coffee for under 60 cents. The ever present custard pastry known as the pasteis de nata is a perfect accompaniment at one euro.
How Long Can You Stay?
If you stay in Portugal for 8 months per year, and can prove you earn at least 20,000 euro per year, you qualify for a Portugal Passive income visa. As well as being able to live and work in Portugal, you can tour around the Schengen area as well. The standard tourist visa allows for 90 days out of 180. So you can stay for 90 days but need to leave for the next 90 days.
Hungary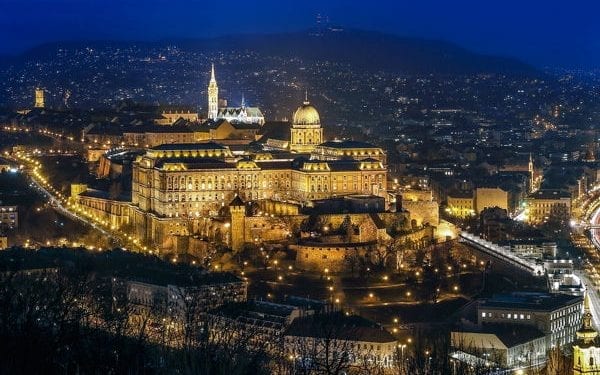 Budapest has some of the finest architecture, and one of the best public transport networks in Europe. Every summer Digital Nomads descend on the town like migratory birds. Like migratory birds most Nomads leave in the autumn, before the cold weather sets in.
Budapest has some of the fastest internet in the world, and WiFi is everywhere. Lots of restaurants, most shopping malls, and even some parks, have free WiFi. Most apartments have stable, quick, WiFi.
Budapest is a safe city to spend time in, and the architecture is stunning. Many people choose to walk around the city so and take in the magnificent buildings first hand. There is a busy cultural scene. Budapest has some magnificent opera houses and there are regular performances. Unlike in some other cities, the prices are affordable. You can find live music, theater and exhibitions across the city.
Nomad Communities
Budapest has a few co-working spaces. You won't find Nomads in every coffee shop like in some countries, but their numbers are growing each year. Nomads tend to leave for the winters that can get cold.
Cost Of Living
You can rent an apartment in a nice part of town for 400-500 euro per month. You may be able to rent a room in an apartment for around 75 euro per month. Public transport is a cheap and efficient way of getting around the city. The trams run 24 hours and cost one euro per ride.
How Long Can You Stay?
As a member state of the European Union Schengen visa rules apply. European citizens can stay in Hungary as a tourist, or to work for 90 days out of 180. Citizens from the United States and Canada can stay in Hungary for up to 90 days.
Chile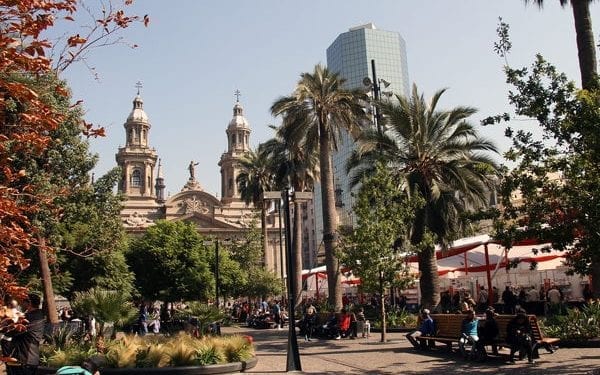 Most Digital Nomads in Chile gravitate towards its capital city, Santiago. This sprawling city is home to around 6 million people, and is considered the hub of South America. If you want to head off the beaten path you can work almost anywhere in Chile thanks to the reliable internet you can find in much of the country. Chile is a new addition to the best countries for digital nomads.
Valparaiso is a more bohemian city that has been modernizing over recent years. There is super-fast internet and rental properties are cheaper than in the capital. Valparaiso offers a more traditional Chilean experience. Multi colored buildings and street art let you know you are in Latin America. The air quality is better than Santiago, a city prone to suffering from heavy smog at certain times of the year.
Nomad Communities
There are Nomad Communities throughout Chile, made possible by the fast internet throughout the country. Regus has a co-working space in Santiago, and there are Chilean companies offering a similar service in other places.
It's not only the big cities offering offices to Nomads. Even some tiny, out-of-the-way, towns have co-working hubs. As with most cities, message boards and coffee shops are the best way to find fellow Digital Nomads. Chile's legendary surf breaks are another place Nomads are drawn to.
Cost Of Living
Expect to pay at least US$750 for an apartment in one of the nice parts of Santiago. Slightly more will get you something with an ocean view and balcony. Outside of the capital costs are much lower. It's possible to possible to find apartments for under US$500. Canteen food is cheap and plentiful. Restaurants cater to most budgets but aren't a bargain. Chile has lots of fresh fruit and vegetables and cooking for yourself is an affordable option.
How Long Can You Stay?
Chile will give tourists from most countries a 90 day visa. You will need to show proof of a return or onward ticket before they let you through customs.
We hope you enjoyed this article on the best countries for digital nomads. Please let us know if you have any other suggestions, in the comments below.
Oliver Lovett