After living in Medellín, Colombia, for a few months, I grew tired of wearing the same clothes that were becoming more faded and outdated every day. Wanting to fit in with the rest of the paisas, who always look so stylish, I was ready to throw myself to the shopping giants and experience the malls that this city is known for.
Coming from Britain I am used to seasonal trends—bright clothes in summer and toning it down for winter with fluffy boots and wacky Christmas jumpers. But with the same season year-round in Medellín, the fashion seems to be always the same—tight tops and even tighter jeans. For the ladies anyway.
That's something that I love about this city—the fact that women here embrace their curves and wear the tightest clothes they can, regardless of their shape. I've even seen a store especially for the curvaceous woman called Gorditas Sexy (and Big Johns for the men).
So I set off on my mission to find the perfect outfit for Christmas, not realizing that one of the traditions here is that every lady in Medellín should have a new outfit for Christmas Eve. I wasn't shopping alone!
If it was tight clothing that I was looking for, Palacio Nacional definitely offered lots of choices. Not just a shopping mall, Palacio Nacional is a unique shopping experience within a former government headquarters with mirrored escalators that I couldn't help but go up and down more than once. But after not spotting anyone over the age of 30 years old and being unsure if I could still get away with this type of clothing, I decided it was time to move on. I hopped a bus to the Golden Mile.
This is my favorite area of the city. Though it is very commercialized, Avenida de los Poblados has so many restaurants and shops that I can easily lose myself here for hours, especially on Sundays when they close the road for people to walk, jog, and cycle along it. Today my destination was Centro Comercial Oviedo, the oldest mall in Medellín. This used to be the place to shop back in the day before bigger and better Centro Comercial Santafé was built on the other side of the road.
As most everything else in Colombia is cheaper than in England, I was surprised to find that most of the clothes in this mall were similar in price to comparable things back home. I guess that's because most of what's on offer here is designer brands—such as Guess and Diesel—which are the same prices no matter where in the world you're shopping. I found a cute camisole top for 61,000 pesos (US$26) and a pair of stylish and comfortable pants for 113,000 pesos (US$48).
For bargains, you have to go to the outlet shops, where a pair of jeans can cost less than half that… say 50,000 pesos (US$21).
After lunch in the food hall, I took the short walk across the street to the competition, Centro Comercial Santafé, which is spread out over 10 floors and boasts 380 stores. Past underwear stores, candle shops, and trinket stalls I wandered until I spied Payless Shoes with this offer in its window: "Buy one get 50% off everything."
Yes, everything.
So I began my search within the rows of boxed shoes arranged in size order. But what size was I? Were these sizes the same as those in the UK? In my poor Spanish, I tried to ask for help. The shop clerk was cheerful and accommodating, as everyone in Medellín seems to be. Trouble was, I couldn't understand anything she was telling me. Undaunted, I chose two pairs of shoes and some insoles (in case they rubbed).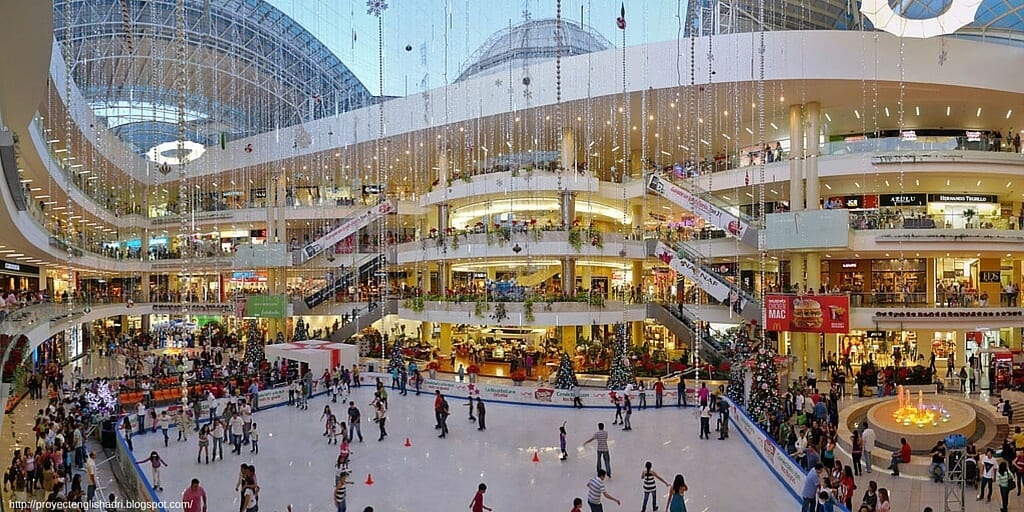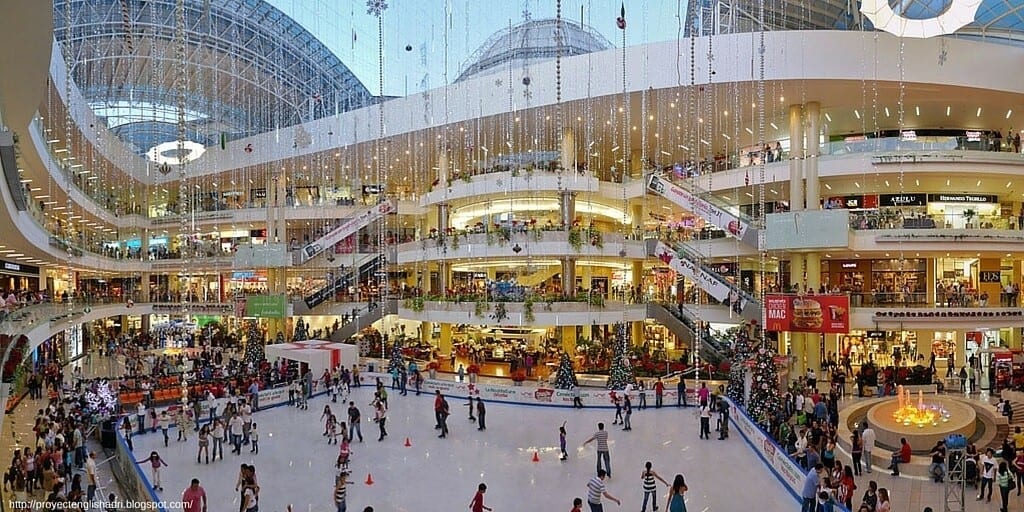 Exhausted from my shopping spree, I found an empty table on the top floor under the retractable roof, where I sat down to have a coffee and watch the indoor ice-skating rink and giant Christmas tree below me. Colombians know how to celebrate Christmas, and December is the best month to be here. The lights displays are huge, Christmas trees are everywhere, and there are ongoing fireworks shows at night.
Two days later, with blisters on the backs of both feet, I was back at Centro Comercial Santafé, this time to return my new shoes. Turns out, the sizes aren't the same.
Lisa Eldridge