"We are not Swedes, and we do not want to be Russians. Let us be Finns."
We heard that refrain again and again while traveling in Helsinki. Finns are proud folks and independent.
Originally, they were part of Sweden. Then in a bold 13th-century land grab, Russia took the easternmost region of the country known as Karelia for their own and that little arc of land has been fiercely fought over ever since.
For centuries Karelia has been a battlefield between East and West, trading hands again and again and at one point being renamed the Grand Duchy of Finland in the Russian Empire. The history of the population of Karelia is among the most tumultuous in Europe, and Finns today speak openly of their continued hope of reclaiming the whole of Karelia someday.
Meantime, they carry on working hard to continue the evolution of their capital city. Helsinki is a young town for this part of the world. It dates to the 16th century but became what you see today in the 1800s, when Russia named it the capital of its newly formed grand duchy.

It's not those 19th-century government buildings, though, that Helsinki is becoming increasingly recognized for but the city's commitment to all things cultural. As one guide put it, "Helsinki is the Scandinavian capital that went to art school."
The city boasts a great density of theaters and museums per capita. It's clean and green, modern and eclectic, open-minded and forward-thinking, quirky and fun-loving.
Finland is one of the richest countries in the world but struggling still to recover in the wake of Nokia's fall to Apple. Nokia was 10% of the country's tax income. In this land where tax cash supports and subsidizes everything and everyone, that loss has been keenly felt.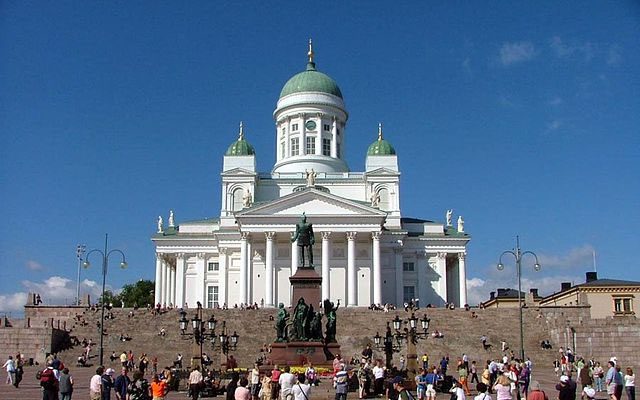 Senate Square with its art-nouveau structures is pleasant and should be on every grand tourist's list, but my favorite part of Helsinki was its waterfront, where many of the country's tax dollars have been invested to great effect.
We took advantage of the uncommonly warm sun during our visit and dined harborside in the open air. I recommend the moose meatballs and reindeer burgers.
Kathleen Peddicord
P.S. Between Tallinn, which I told you about yesterday, and Helsinki, we visited St. Petersburg.
When Lief and I planned this summer's Grand Tour itinerary, St. Petersburg was the city I was most excited to see. In the end, that leg of our trip disappointed.
Conceived and built to compete with the capital cities of Western Europe, St. Petersburg has all the requisite pieces of a great city but none of the heart. The churches, palaces, and monuments are big but often gaudy, generally worse for wear, and somehow soulless.
Copenhagen, Tallinn, Helsinki, and our final port of call Stockholm, though, cities with complicated histories working hard to make places for themselves on the modern global stage, all captured our imaginations, often for unexpected reasons.
Stockholm, for example, was founded as one of the world's first tax havens.
More tomorrow…