"Read what it says under the picture," my 4-year-old son demands, unflinching, as our eyes are fixed on the enlarged photo of a rhino, sans horn, kneeling in a pool of blood.

For a sleepy village on the banks of the River Aff—on the eastern edges of Brittany's Morbihan département—La Gacilly sure packs some punch.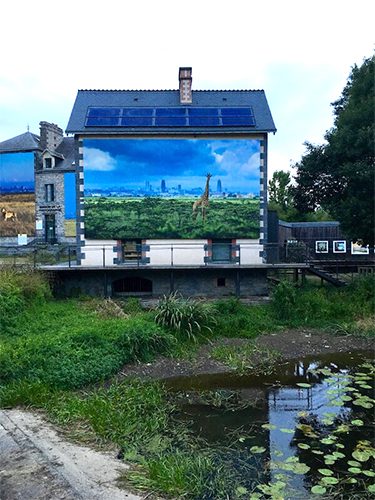 We're following the trail of the annual "Festival Photo de La Gacilly" that winds through public gardens, along cobblestone streets, and pops out around hidden corners. Deemed the world's biggest outdoor photo festival, the event that began in 2014 now draws 400,000 visitors to the streets of La Gacilly from June through September. 

In this village of 2,600 inhabitants, it's a surprise to find such a treasure. Hundreds of photos—ranging from small (many around 24″ x 36″ mounted on wood or metal) to those spanning stories of buildings (and, sometimes, entire buildings)—will stop you in your tracks. 
Every year, the festival adopts a new theme, always keeping Mother Nature close to heart. The theme for 2017 is "I Love Africa," and, apart from our unexpected but welcome education on Africa's rhino-horn poachers, its subjects ranged from teams of African athletes in the 1950s to students studying by streetlamp on the streets of modern-day Addis Ababa to family-friendly headshots of African wildlife. Captions are in both French and English (hence I had no trouble understanding the fate of my son's rhino friend).
Arriving in La Gacilly on a Monday at noon, there is barely a sign of life. Or human life, at least. Through the streets, window boxes overflow with red geraniums… bushes of blue and purple hydrangea conceal doorways… while giant willows spill over the weir. It's a good time to stroll the streets and soak up the painstakingly arranged window displays of chocolate, macarons, nougat, wooden toys, and handmade soaps. Even at lunchtime the streets are deserted. It may be high season, but, in true French style, many shops and restaurants stay firmly shut on Monday.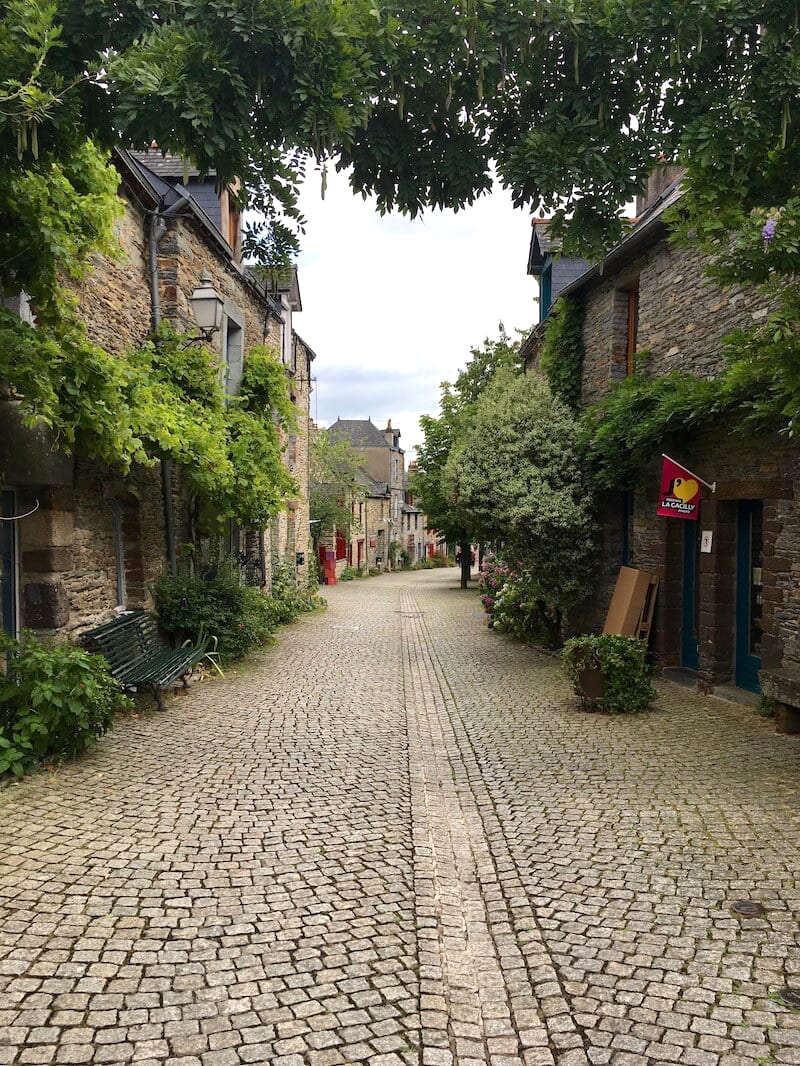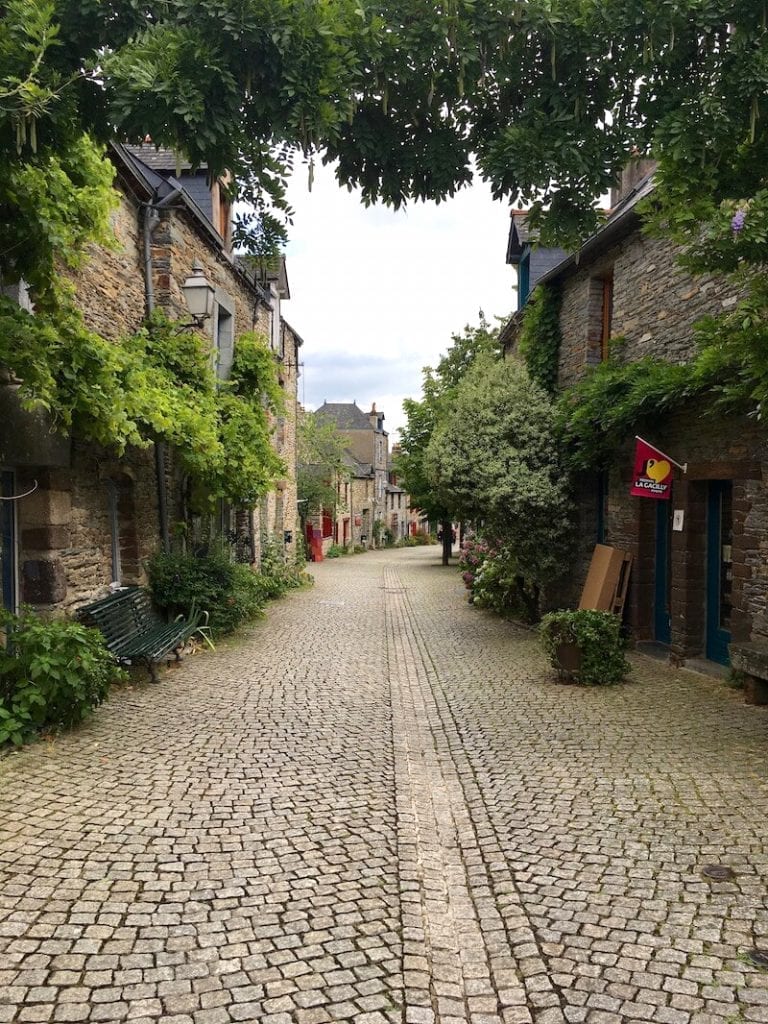 By Wednesday, the area buzzes with dozens of visitors following the photo trail and wandering through the Yves Rocher botanical gardens. The late Rocher—who served as mayor of the town for 30 years—is synonymous with La Gacilly. It was here, in 1959, that he began commercially trading his plant-based ointments and cosmetics. Rocher, a pioneer in both natural cosmetics and mail-order sales, turned his grassroots business into a global player. Today, the business is headed by Rocher's grandson Bris and continues to keep its headquarters in town.
Inspired by its natural surroundings, La Gacilly is home to a strong community of artists and craftspeople. English artist Anne Smith has a studio and gallery in town, while, over a blowtorch, glassmaker Rhénald Lecomte produces a glass sailboat before his visitors' eyes. Potters, iron forges, dressmakers, and woodturners all keep studios here—many of which are dotted along pedestrian Rue Saint Vincent.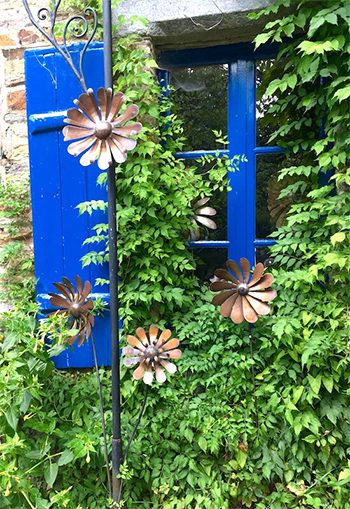 Our stay across the river from town was a welcome change of scenery from our earlier adventure on the Morbihan coast. Staying at the Rives Nature campsite—with its quirky wagon-style cabins, safari tents, and plain old pitches—was a true escape into tranquil, French rural life. That said, after a day or two spent strolling the cobbles or kayaking on the Aff, you may find yourself looking for more action. Fortunately, La Gacilly is located halfway between the old walled town of Vannes and Rennes (the Breton capital)—lying 60 kms from each. It's also an ideal base for exploring Brittany's enchanting forest…
The village of Paimpont, gateway to the Forêt de Paimpont—the Brocéliande forest of Arthurian legend—is 30 minutes away. Patchwork roads through fields of corn give way to roads tunneled by trees as you enter yet another world… and feel as though you've skipped back a number of centuries. These 40 square kms around Paimpont are all that remains of the grand forest that once covered ancient Argoat (inland Brittany).
Brittany works hard to preserve and market its natural treasures, but some of the Paimpont landmarks may raise an eyebrow. "Merlin's tomb" is little more than a haphazard pile of rocks and pebbles—between which some visitors slot their hand-written wishes. And, the "Fountain of Youth"—where Merlin was allegedly bewitched by his beloved Vivian—is dried-up in summer.
On the upside, going on a hunt for these gems is part of the adventure and takes you through the best of the woods. Past the painted stump that is the "golden tree"— commemorating a 1990 forest fire that ravaged part of the woods—a rocky climb leads to a viewing point over valley and forest below. (If I were on the Brittany tourism board, I'd be pushing to "relocate" Merlin's remains to below the mighty rocks up here.).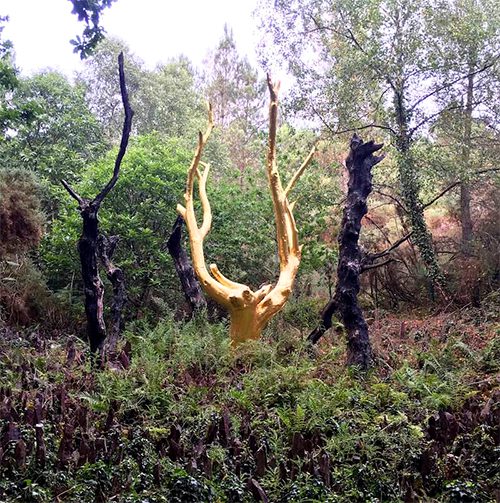 The French verb errer, as I recently learned, means to wander. And, in Brittany, the best experiences are found by carefree strolling and taking that spontaneous detour… or simply getting lost. From its striking photo festival to its ancient woods, this is a region that will draw you under its spell.
Lynn Mulvihill