Vicki and I spent last Christmas in small-town Taiping, Malaysia.
I was Santa Claus.
We've stayed many times in Taiping, a former tin-mining town set in a rainforest.
About 150 years ago the mine ran out, and someone flooded the pit and turned it into a beautiful lake garden. Huge rain trees line the road around the garden. We love that park. I've looked at birds in the spacious garden, while others jog, exercise, stroll, row boats on the lake, take wedding pictures, and picnic.
Last year we stayed for the first time at what used to be the English officers' club, very near the lake garden. Think colonial days, gin and tonics, Kipling and Orwell, dark wood and leather. Now the club welcomes members from several ethnicities.
While at the club last year, we'd noticed hall posters announcing a children's Christmas party. On the day of the party, Vicki and I went downstairs and greeted the porter, Freddie, as usual.
I said, "Santa Claus is coming tonight."
Freddie's face showed a pinched, frazzled look. "Santa Claus canceled on us. We promised the kids Santa, and we don't have a Santa."
I said, "I'll do it."
Freddie raised his eyebrows. "Really? You'll do it?" He was delighted.
"Sure. I'm a trained Santa Claus. I'm a professional."
Becoming A Professional Santa
Back in my college days, I worked for the North Pole Santa Claus company. My training consisted of a one-hour audio tape.
My first Santa Claus job turned out to be five days at a McDonald's.
One long afternoon I faced 50 kids in line. I desperately needed a bathroom break, but our Santa training never covered the point.
Suddenly the next mom in line held her kids back. She said, loudly enough for me to hear, "I think Santa needs to feed his reindeer."
I raced away.
To this day I thank that wonderful woman. I used the feeding-reindeer excuse again and again.
Over the years I've helped out friends at their parties, in different countries, in different languages. While I was in Argentina, I was a Spanish-speaking Santa Claus on TV. I said I was thinking of moving to the South Pole, it was so much closer.
So last year when I talked to Freddie, I knew what I was doing.
What Being Santa In Taiping Was Like
On the day of the party, local friends came by to help me suit up. Santa Claus is fatter than I am, so we experimented with stuffing pillows, towels, and clothes. By the time we were finished, I was hot and uncomfortable under that costume.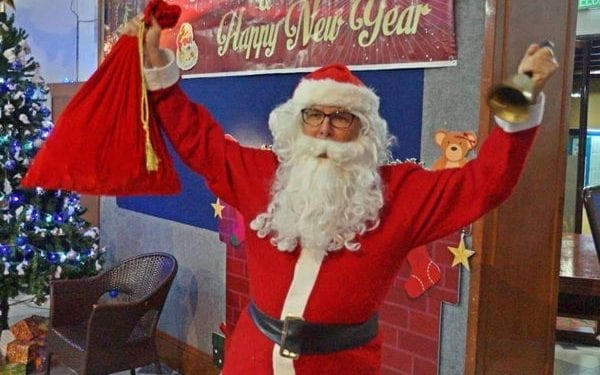 I said I knew what I was doing, but my Malaysia gig differed from the others.
For one thing we were in a jungle, a rainforest. We were way more likely to see monkeys—we saw them every day in Taiping—than reindeer. Whoever designed Santa's outfit paid more attention to European snow storms than to tropical heat and humidity.
Another difference was language. I was told some 70 kids would show up, from homes that spoke Malay, Hokkien and Mandarin (China), and Tamil (India).
The club had settled on English as the common language, but Santa would likely be the only native English speaker in the house.
At the McDonald's so long ago, I discovered that nearly all little girls want dolls, nearly all little boys want guns.
In Malaysia, boys and girls seemed thrilled just to get candy, a small treat rather than a Black Friday or Cyber Monday import. They seemed thrilled with a North American Santa Claus who'd traveled such a long way to be with them.
So at the event I gave away candy, and the kids gathered around for pictures.
Then it was over, such a fun way to bring joy into lives, especially into my own.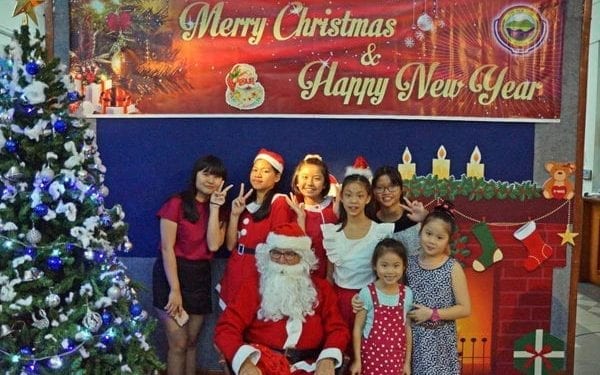 This year Vicki and I again find ourselves in Taiping for Christmas. We arrived in early November, and, shortly after, Freddie asked, "Could you be Santa again?"
I said I would be. After all, I'm a trained North American Santa Claus, come all this way to be with Malaysian children at Christmas.
Paul Terhorst
Global Correspondent