Gran Pacifica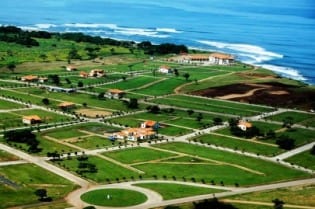 I received a phone call yesterday from a friend who is the CEO for a development company in Central America. His flagship project, one that Live and Invest Overseas has been promoting for some time, is Gran Pacifica, in Nicaragua.
As I've written (and as I'm sure you know), Nicaragua has been a slow market for the past four years or so, hit, as it was, by both the downturn in real estate markets across the globe and the re-election of Daniel Ortega as president in 2006. We're a few years away from finding out whether Ortega will be successful in getting himself elected again (he has succeeded in getting his supreme court to overturn the one-consecutive-term-only law that had been in place in this country).
Meantime, Nicaragua continues to be a good option for retirees on a budget, and tourism numbers have held, thanks to the low cost of traveling and spending time here.
Bottom line, while Nicaragua real estate values have taken a hit, this country remains one of the most affordable comfortable retirement options in the world right now.
Which brings me back to my friend. Sales have been slow on Nicaragua's Pacific coast for the past couple of years. Things have been improving, but he'd like to kick-start 2011 and is making a handful of lots in this beachfront retirement community available at a very deep discount. Specifically, he's offering to reduce the price of five lots by 50%.
Note that he hasn't chosen five particular lots to discount. Instead, he's leaving it to the buyer to choose the lot (or lots) he'd like…and then applying the discount. You can buy any lot in the development right now for 50% off. The discount is good until five lots have sold.
It's a straightforward offer that, right now, is being extended to Live and Invest Overseas readers only.
From an investment point of view, Nicaragua carries a high risk these days. Bottom line, the big risk is that any property asset you invest in in this country is likely to remain very illiquid for some time.
I own six pieces of property in Nicaragua, including a couple that I wouldn't mind selling. However, I haven't made any effort at trying, as I'm not desperate to sell, and I'm not interested in selling at fire-sale prices.
Buying at fire-sale prices is something else. Fifty-percent off in a fully master-planned development community where infrastructure is already installed qualifies.
As this amounts to speculation, given the current market risk, you should expect to hold on to this asset for at least five years. Buying for 50 cents on the dollar means that, even if the value increases only to the developer's current retail list price, you'd double your money.
From a second home or retirement point of view, this makes even more sense. Saving 50% off the lot price means the other 50% could be used to build a small retirement or second home.
You can contact Kent Payne, Sales Manager for Gran Pacifica, for more information here. Tell him you're interested in the Live and Invest Overseas 50% off lot offer.
Remember, it's good for any available developer lot…but only for the first five sold.
Yes, I would like to learn more about
Gran Pacifica in Nicaragua.
Please have someone get in touch!