…v. Nicaragua
If you're considering Panama and Costa Rica…you may also be considering Nicaragua.
Years ago, we ran tours that allowed you to get a firsthand impression of all three countries, generally recognized as the top options in this part of the world, at once. You spent four days in each one, comparing and contrasting, sizing up the pluses and the minuses according to your personal situation, as you moved along.
While Panama's appeals have developed and deepened…and Costa Rica has taken itself out of the running, no longer wooing foreign retirees or their investment dollars… Nicaragua has fallen out of favor.
In fact, Nicaragua scared everybody away. You see, at the end of 2006, the Nicaraguans went and re-elected Sandinista Danny (Ortega) as their president.
On the one hand, ok, good, I thought at the time. We'll get this out of the way. Ortega's specter had been hanging over this country ever since he'd failed to win re-election in 1990. What would happen if Ortega were ever put back in office, investors would ask. Is it safe to buy a home in the country, retirees couldn't help but wonder, when there's the chance that the Sandinista could retake power? What might the guy do, given the chance to run the country again?
When Daniel Ortega, in fact, got the chance to run Nicaragua again, starting in 2007, I thought, well, now, at least, we'll find out. No more postulating or crystal-balling. Now we'll know what a re-elected El Presidente Ortega would get up to.
Nearly two years later, what's the story? Well, to get to the point, Ortega has continued to support foreign investment and to protect private property rights. That was investors' biggest concern. And, to date, Daniel has done nothing to indicate that he has plans to interfere with foreign property ownership.
Still, the retirees and the investors, both, are holding their sideline positions.
The tourists, on the other hand, continue to come. In fact, Nicaragua's tourism figures are rising. January through May (peak travel season) this year saw a 13% increase in visitors from the U.S. and Canada and 6.7% growth overall. This country saw more tourists during the first five months of 2008 than it did during the entirety of 2006, the year prior to Ortega's re-taking office.
I say, forget the Sandinistas. When you do…when you put the country's politics aside…what do you have?
I made the point yesterday that the Pacific crashes as dramatically along the shores of Panama as it does along Costa Rica's coast. Of course, the same is true in Nicaragua. These three countries share a lot of geographic similarities, one reason, I guess, so many people consider them together and try to choose among them.
Lief and I have thought about Nicaragua. And if we were at a different point in our lives, we might have chosen it over Panama for this current relocation.
Right now, though, for us, infrastructure is everything. Not only roads and bridges. The truth is, we don't mind potholes, dirt roads, or, even, you-can-barely-make-it-through thoroughfares. What we can't do without, given our current circumstances, are reliable telecommunications, international banks, and a developed, English-speaking labor pool.
Nicaragua has none of those things today.
Right now we also need a good international school for Jackson, one that will prepare him for the International Baccalaureate (IB) program. Panama beats out Nicaragua on this score, too.
What Nicaragua has in spades, on the other hand, in addition to beautiful, diverse countryside and coastlines, is a warm, welcoming population with a lot of heart.
Readers ask often, "How will I know if a place is right for me?"
You know a place is right for you (or not) when you visit. Often, within days or even hours of landing in a country, you know if it's a fit. It feels right…or it doesn't.
Nicaragua felt right to me from the start. When I traveled to the country for the first time, 15 years ago, I was won over immediately.
In Panama today, you feel the money in play. The investment being made in this country, by both Panamanians and foreign investors, is palpable.
In Nicaragua, you sense the underlying strength and resolve of the Nicaraguans. These people have struggled and fought, and they're ready for things to be better.
In Panama, you see the potential being converted to an improving way of life before your eyes.
In Nicaragua, you see the potential.
I'm a romantic. For me, that counts for a lot.
Kathleen Peddicord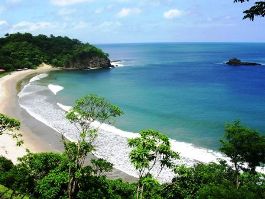 Playa Marsella, Nicaragua
P.S. Lief and I are invested in Nicaragua, are happily holding on to our investments during this Everybody's Afraid Of The Sandinista period, and would, in fact, invest further today if the right opportunity presented itself. Ortega can't run for re-election again in 2011, when his current term is up. He'll be out…and this beautiful country will move on. I'll be happy to be around to witness the further progress along the path of peace and prosperity.
Meantime, a developer friend in Nicaragua has gotten in touch to let me know he'd like to extend a special, private offer to Live and Invest Overseas readers. I'm planning a trip next month to confirm the details. Stay tuned.