Teak Reforestation in Panama–
Residency with an Upside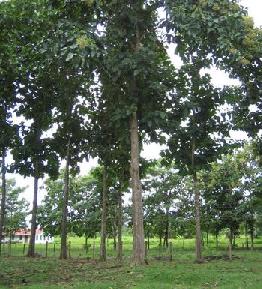 A longtime colleague has recently presented an opportunity that allows you to purchase a plot in a Panama teak plantation for US$12,200.
Specifically, for this price, you can purchase 1,000 square meters (about one-quarter acre) of planted teak that will be ready for harvest in about 11 years. This is an extremely attractive offering that not only qualifies you for the Specific Countries Visa Program but also gives you a productive land investment (of titled land, in your own name).
Annualized returns for the teak, once it's been harvested, are projected to be between 5.45% and 11.62%. The actual returns will depend on teak prices at the time of harvest as well as whether the trees are sold as logs or lumber (making the initial rough cut to lumber can add value). The lowest projected return of 5.45% is based on today's teak prices.
This is a fully turn-key opportunity. The plantation owner will continue to manage the land and trees. They'll organize the harvest and sell the trees.
The investment cost of US$12,200 is the lowest we know of for any investment residency program currently available from any country. The other (still valid) investment residency options in Panama range from US$80,000 (for the official Reforestation Visa) up to US$300,000. And, none of the other options (with the exception of the pensionado program) result in immediate permanent residency.
Here's the catch:
No one expects this Specific Countries residency program to last beyond President Martinelli's term in office. When his successor takes over (mid-2014), this program likely will go away entirely.
If Panama residency is something you've been contemplating…or if you're shopping for an easy back-up residency to have on the shelf "just in case," I can't imagine a better current option if you don't qualify for Panama's pensionado program.
Even if you do qualify for the pensionado option, this one is worth consideration. A teak investment is relatively low-risk. The downside is the time it takes for the trees to mature. In this case, however, you're buying into an already planted farm. In fact, you're buying trees past the halfway mark to harvest. You're also well past the danger stage (for fire or insects). Teak is relatively impervious to these risks after three years of growth.
And, as the residency is the real end-game here, the potential return on investment is gravy.
If you're interested in learning more about how you can take advantage of this low-cost option for obtaining quick, turn-key residency, fill out the form below.