Spain has long been a popular destination for casual visitors and retirees alike. A convivial culture, generally agreeable climate, reasonable cost of living, and superb food are just a few of the reasons for Spain's perpetual popularity.
And, while Spain isn't as cheap as Southeast Asia or parts of Latin America, the cost of living is quite reasonable. In addition, Spain today is a modern, developed country—nothing Third World about it.
But Spain is quite diverse—really more a loosely-knit group of largely autonomous and disparatecomunidadesmore than a single country. Faced with such diversity, where should you begin your explorations?
I say start with
the country's Mediterranean coast, specifically lovely little Alicante, home to a small but solid expat community.
Madrid, with 3.2 million inhabitants, is Spain's largest city. Barcelona is about half the size of Madrid. Valencia is about half of Barcelona, and Alicante about half of Valencia, with fewer than 350,000 in the city proper. But with each step down in size, nothing is lost. Rather, the essence of Spain becomes more distilled.
Alicante—known as Alacantin Valencian—sits on the Costa Blanca of Spain. Although its roots are ancient, Alicante is a modern city, with a bustlingcentrofilled with chic designer shops and department stores, chic people, a harbor crowded with envy-arousing yachts, and a sleek tram/light-rail system.
And yet Alicante retains the feel of Old Spain. Most businesses continue to observe the afternoon siesta. Friends who meet by chance on the sidewalk stop to chat, and the conversation often is continued over a leisurely cup of coffee.
And then there is the castle…
Castillo de Santa Barbara sits atop Mount Benacantil, watching over Alicante and its harbor, as it has for centuries. The castle's exact age is unknown, but some sources trace its origins back to the ninth century. It's a great place to take in the layout of the city. While you can walk to the top, you might instead want to splurge and pay the 3 euros to ride the elevator. (Tip: If you are 65 or older, the ride is free.)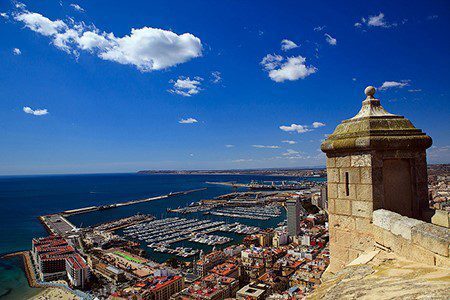 Lovely from any angle, Alicante is perhaps loveliest from above. Parks are sprinkled liberally about, and the broad Explanada de España runs along the exquisite harbor. Alicante is a city designed to be enjoyed.
Whereas Valencia can feel smaller than it is, Alicante feels larger, perhaps in part because of the staggering number of restaurants here. One expat told me with assurance that there were 631 restaurants within the city. While I can't confirm this number, neither can I refute it, and I can promise you won't ever have to go far in search of a good dining experience. The food is good wherever you go. A poor-quality restaurant doesn't stay in business long.
The city center is strikingly clean and vibrant and safe for walking, even in themadrugada—the wee hours. In the shops here you can find virtually everything you might need. Indeed, you might not need to look any further than the multistory Corte Inglés department stores—there are two in the downtown area.
It's little wonder many expats choose to live in
el centro
.
But, really, you can live anywhere in the city and get where you want to go easily, as the public transit is excellent. Buses (1.50 euros) are modern and air-conditioned and integrate with the tram system, which comprises 5 lines, 71 stations, and 78 miles of rail. The tram system (3.75 euros one way, 6 euros round-trip) covers not only the city proper but also extends to outlying areas such as Benidorm and so is a great way to explore. Living here you definitely would not need to own a car.
The Alicante lifestyle is easy to fall in love with, but you likely will have to reset your internal clock to get in sync with the local rhythm. Alicantines have learned that it's best not to battle the afternoon sun and still observe the daily siesta. Most shops open at 9 a.m., close at 2 p.m., reopen at 5 p.m., and then remain open until about 8 p.m. Dinner is taken late by North American standards. Before or after dinner, people enjoy walking along the Explanada de España, stopping off perhaps at one of its many bars and cafés.
Though the schedule may initially seem odd, if you relax and give in to it, you'll soon find that these folks really are on to something.
If you have a boat fetish, Alicante is made for you, as yachts, sailboats, and sea craft of all sorts moor in its harbor. If you aren't ready to shell out for your own boat, you can charter one or take a day tour to nearby islands.
The climate is ideal for boating—or any type of outdoor activity. Even in winter, daytime highs are usually in the low 60s (Fahrenheit). In the summers, highs often climb to 90 degrees, but these days air conditioning is common.
There's a lot to like here, but the food tops my list. I never tire of paella, which comes in so many varieties. And there's shrimp, squid, and octopus. If you aren't a fan of seafood, try theolla churra, which is a hearty meat-and-veggie stew. A custom I love is that most bars and restaurants give you atapa—a little snack—free when you order a drink.¡Una cerveza más, por favor!
For breakfast, I suggest you order amedia tostada con tomate. It's basically bruschetta, but oh so fresh and zesty. Give me one, a fresh cup of strong coffee cut with milk, and a view of the Mediterranean, and I'm in heaven.
John Clites
Full-Time Expat