Ireland Country Retirement Reports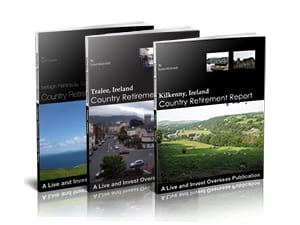 Ireland makes more sense for the would-be foreign retiree right now than it has in nearly a decade. Thanks to the worldwide financial crisis, the costs of both real estate and of living on the Emerald Isle have fallen dramatically, making a new life in the Auld Sod a more realistic option than you may have been thinking. In addition, of course, Ireland offers all the Old World charm, beautiful countryside and coasts, and welcoming hospitality you could hope for.
In this special Retirement Report, Ireland Correspondent Lynn Mulvihill introduces the charms of the Copper Coast, a stretch of dramatically beautiful coastline in an overlooked part of Ireland that boasts a particularly rich history and heritage.
[bs-embed url="https://www.youtube.com/watch?v=JDFu66uiIu4″ title="Kilkenny, Ireland" show_title="1″ bs-show-desktop="1″ bs-show-tablet="1″ bs-show-phone="1″][bs-embed url="https://www.youtube.com/watch?v=14PPVAW4LUw" title="Duiske Abbey and Graveyard, Ireland" show_title="1″ bs-show-desktop="1″ bs-show-tablet="1″ bs-show-phone="1″]
[bs-classic-listing-3 columns="3″ show_excerpt="1″ title="More from Ireland…" hide_title="0″ category="3562″ count="6″ featured_image="0″ ignore_sticky_posts="1″ tabs="" pagination-show-label="0″ pagination-slides-count="3″ slider-animation-speed="750″ slider-autoplay="1″ slider-speed="3000″ bs-show-desktop="1″ bs-show-tablet="1″ bs-show-phone="1″ paginate="more_btn_infinity" override-listing-settings="0″]