If you're a U.S. citizen over the year of 18 or older living abroad, you're eligible to vote absentee for office candidates in U.S. primary and general elections.
Requesting Your Ballot
You can request your ballot and register to vote through a Federal Post Card Application (FPCA). It is a must to submit a new FPCA each year if you're an American living overseas and want to vote in U.S. elections. To allow time to process your request, this is generally done at the beginning of each calendar year, or at least 45 days before an election.
The Federal Voting Assistance Program website is the official U.S. government site and counts with tools to help you fill out and submit your request and registration. They will confirm your eligibility to vote, and once approved, put your name on a list of voters to receive absentee ballots, and send you a blank absentee ballot (digitally or by mail).
Another helpful website is Vote From Abroad, which is a nonpartisan site created by Democrats Abroad, and allows you to capture digital signatures and send your form electronically.
In almost every state, it is allowed to request your ballot online, and deadlines are as early as Oct. 3, so if you haven't already done so, now is the time.
The good news is that every state is required by law to make ballots available electronically upon request to voters overseas.
Returning Back Your Ballot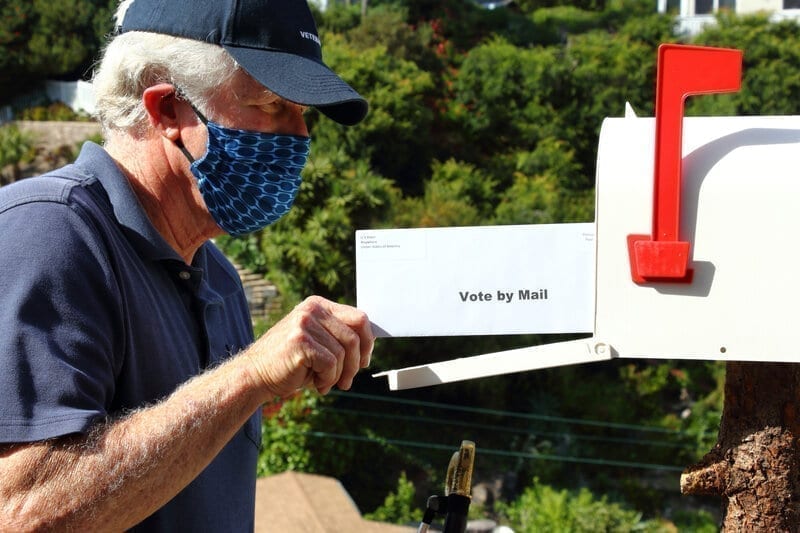 On the other hand, returning your ballot back is another story. Americans living overseas generally vote in the state where they last lived.
Most states allow to send your ballot back via email or fax, but there are 20 states that require overseas voters to mail it back:
Arkansas
Connecticut
Georgia
Idaho
Illinois
Kentucky
Maryland
Michigan
Minnesota
New Hampshire
New Jersey
New York
Ohio
Pennsylvania
South Dakota
Tennessee
Texas
Vermont
Virginia
Wisconsin
It is imperative that voters from mail-only states send in their ballots ahead of time before Election Day on Nov. 3.
If using international airmail is a concern, use express delivery services like FedEx or DHL. It is also possible to send your ballot by diplomatic pouch through your nearest U.S. Embassy or Consulate, although not every embassy offers this service.
To make sure you know the exact deadlines and requirements of each state, click here for more information.
What's Next?
Follow up with your election officials for the state in which you will be voting if you have sent your ballot request and haven't received an answer from them. Do the same when you return your ballot back. Following up is key.
The Federal Voting Assistance Programwebsite has a comprehensive list of local election offices. They are the best equipped to answer all of your concerns as an American voting overseas.
If you haven't received your ballot in time to send it back before Election Day, you can vote with a backup ballot using the Federal Write-In Absentee Ballot (FWAB), and send it by mail, fax or email, depending on your state rules.