The other day I walked along the local shopping avenue, where all the stores displayed large signs proclaiming "Big Winter Sale," "50%+ Discounts," and so on.
People were rushing in and out of stores, standing in long lines in front of the changing rooms, and arguing with one another over who had grabbed items first.
Fascinating. How quickly we can forget our manners and fight with a stranger over something so trivial as a cheap piece of clothing.
It made me wonder…
How is it that people are willing to behave this way just to buy something at a discount, even when the item is of poor quality?
And how is it then that, when it comes to investing, they behave exactly the opposite… buying expensive stocks and avoiding those trading at a discount…
I guess not everyone is meant to be a successful investor… or shopper, for that matter.
It's easy to preach "buy low, sell high," but not always so easy to remember this fundamental in practice.
Right now, a number of quality stocks are trading at low valuations… and they all have one thing in common.
They come from emerging markets.
Last year's trifecta of U.S. policies caused these markets to decline. Rising interest rates and the tax cut have strengthened the Greenback, which made the cost of U.S. dollar-denominated debt, popular in emerging markets, expensive to service. At the same time, President Trump imposed tariffs on goods coming into the United States and, consequently, slowed global trade.
However, I expect the story to be different in 2019.
We Haven't Seen These Kinds Of Discounts In Years
The events of last year created a wide valuation differential between emerging markets and the developed world. As a result, many markets are now trading at substantial discounts.
If you look at the most popular valuation multiple, the price-to-earnings (PE) ratio, of the iShares MSCI Emerging Markets (EEM) index, you see that it trades at 11.80… while the S&P 500 trades at 21.28.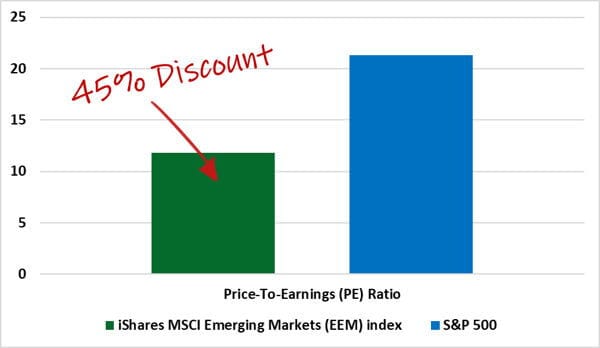 That's a 45% discount.
The gap is just as wide when you look at price-to-sales (PS) ratios, another traditional investing multiple. EEM trades at a PS ratio of 1.26, while the S&P 500 trades at a PS ratio of 2.14.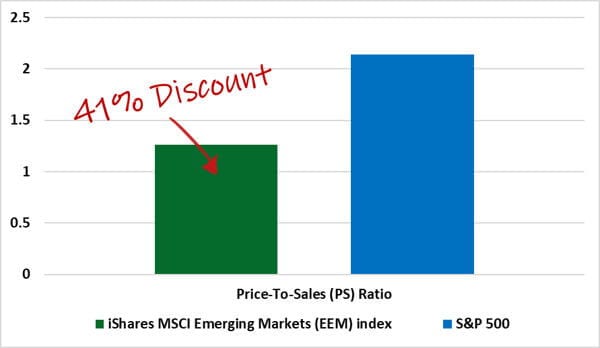 That's a 41% discount.
But the most substantial difference is when you look at price-to-book (PB), the quintessential value investing ratio. For the S&P 500, the PB ratio is 3.29, while for EEM it is only 1.59.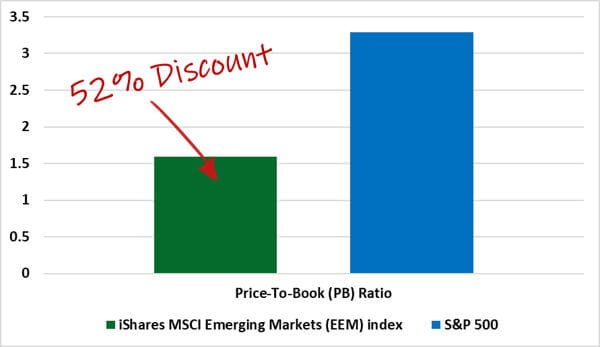 That translates to a stunning 52% discount.
Emerging Markets Are Staging A Comeback In 2019, And They Are Not Going To Wait For You
Investment sentiment surrounding emerging markets has soured in the last 12 months, but I believe this is changing.
The forces that have caused emerging markets to decline are now changing their direction, and l expect a rally to follow immediately.
First, the Federal Reserve (Fed) is signaling a slowdown in policy tightening. Chairman Powell has turned from a hawk to a dove in the wake of the stock market tumble. Based on his statements, I don't see more than one 25 basis points rate hike this year.
Then there's the strength of the dollar. For months, I've been pointing out that there is no scenario under which the value of the Greenback can increase further. Even if the economy continues to expand, any decision by the Fed will be viewed negatively for the currency. Should the Fed keep tightening the money supply, the market will perceive it as dangerous for the economy and the dollar will drop. Should it ease the money supply, the Greenback will react as it always has; it will fall as a response to the lower interest rates.
Either way, I expect a major sell-off in 2019.
The final element weighing down emerging market stocks in 2018 was the U.S.-China trade dispute. Washington has announced that a recent trip to Beijing was a success. With both countries' economies suffering from the tariffs, I think it's safe to go against your basic instinct and believe the government's words this one time.
The fact that the forces behind the emerging markets decline are reversing is a buying signal in itself. But when you add to that the China liquidity boost, it becomes a perfect storm.
The People's Bank of China recently lowered the required reserve ratio for lenders by one percentage point. The move will release around $117 billion worth of liquidity into the economy and the stock market. As I explained in "The One Indicator To Watch For Profits In 2019," liquidity is the most critical driver behind stock market booms and busts.
And The Winner Is…
I would be cautious about investing in the red-hot U.S. stock market. It is too expensive for its own good, and on shaky legs besides.
And with the Fed turning dovish in 2019, the floodgates for emerging markets investments are now open.
But all stocks won't benefit equally.
In emerging markets, foreign investors often flock to household names with proven business models and healthy balance sheets.
I've identified seven such companies in seven different emerging markets, giving you a rare opportunity to invest in the best of every market positioned to benefit.
The discounts won't be on the table long.
Good investing,
Leon Wilfan