We're now fully into Panama's rainy season, and sometimes expats get the rainy-day blues this time of year… From October to January, the sun truly is a fair-weather friend to Panama!
Many people new to the tropics think we living on or near the equator enjoy a climate of perpetual heat with little or no seasonal variation… While, yes, the heat is par for the course year-round, we do indeed have seasonal changes that residents or potential newcomers must prepare for. The temperatures may not vary much between seasons, but the climate most certainly does.
From April or May to December or so, the rainy season (also called the wet season) sets in. During this time—the majority of the year—you can safely expect a downpour per day; drenchings may last mere minutes but could also last a couple of hours. Early months, say, from April to August, may not see rain at all… but you'd be wise not to count your sunny days before you see them. Storms usually occur in the afternoon, and often the sun shines bountifully before and after.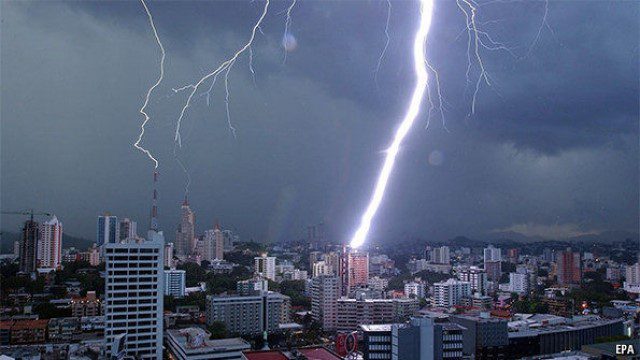 At the height of the season, though, around November and December, you can almost set your watch by the thunderstorms, and entire days tend to be overcast. You might even see the occasional all-day storm during these months—a true rarity in the tropics.
Nearly all storms in this part of the world are thunder and lightning filled: It's much rarer to see a light sprinkle or a simple rain storm. In fact, you may experience lightning storms without even getting a downpour. Especially over the Pacific just off the coast, but all throughout the country, electrical storms are a regular occurrence.
Average daily temperatures won't change all that much during the rainy season, but cooling winds die down and a blanket of humidity settles over the country—truly, the rise in humidity is not something to underestimate. At times, the air can be akin to that of a hammam… a simple stroll around the block can seem like a sweat-soaked tour of duty on cardio equipment. The humidity this time of year can be oppressive, no getting around it. Keep in mind, though, that the climate is also highly changeable… one hour feels like wading through a steam room, the next may be much lighter.
And then, of course, there's the rain. It often comes down hard and fast with little warning. Many a jogger or biker has been caught out in a storm… you can try to plough through it, but often you're forced to stop for at least the worst 10 or 20 minutes of it—unless you've got goggles and decent skin protection. The drops can be so fat and come down so heavily that trying to power through becomes painful and even dangerous.
Once you learn the tropical seasonal patterns and get used to them, life becomes less a crapshoot and more just a thing to prepare for. Carry an umbrella and spare shoes at all times for the rainy season. If you go out running, carry a Ziploc to protect your phone and money from the water. And know that the skies are going to open up at some point in the afternoon, meaning you should do your outside chores in the morning, and try to stay within sprinting distance of shelter in the hours between lunch and dinner.
Most people, like anywhere with seasons, find things to love and look forward to in each change of climate. If you're a fan of epic thunderstorms, then you may enjoy the rainy season as much as the dry…
By no means should you let the wet season rule your life—there's no reason to hibernate for these overcast and unpredictable months. Plus, thanks to Panama City's well-developed infrastructure and public transportation systems, you can easily navigate the city and environs without risking a shower.
Wondering what all there is to do that won't get rained out? Fear not, there's still plenty to discover, explore, and participate in here, no matter the weather. Here are a just a few suggestions…
Join a club; make new friends…
With dozens of interest groups, expat get-togethers, conversation groups, and volunteer programs, there's a club or organization for every kind of person in Panama City and, to a lesser extent, throughout the country. There's even a chess and classical board games group.
Get fit; learn a new activity…
Panama is home to a number of gyms, both franchise and boutique, as well as a variety of fitness or wellness classes from yoga, gymnastics, and Pilates to boxing, Jiujitsu, and Hapkido—and everything in between. One equestrian center near Panama City offers two covered arenas (the only ones in the country). Even golfing can be done indoors in Panama! (Check out iGolf Panama, or head to the driving range to shoot balls out into the torrent.)
Use the little gray cells; expand your mind…
Take a language class, learn to cook, try your hand at pottery or painting… all these are easily available. If you're in the city, you can also take a cultural afternoon and hit the museums. Frank Gehry's Biomuseo, the Museum of Contemporary Art, Museum of Modern Art of Panama, Spanish Cultural Center, and the Panama Canal Museum are the biggest and best of Panama's art scene—but don't forget the galleries–there are plenty, mostly in Casco Viejo.
Earn your twinkle toes; shake your booty…
Dancing is more than popular in Latin America—it's a way of life! In Panama you could learn classic ballroom dancing (try Let's Dance Panama—great teachers for English and Spanish speakers alike), jazz, ballet, hip-hop, and just about any other kind of dance you can think of. Even the trendy pole fitness and belly dance classes have come to Panama.
Go old school; enjoy the classics…
Bowling, movie theaters, arcades, and casinos are all time-tested ways to kill a few rainy hours, and they're all here in Panama, too. You can even opt for VIP cinemas featuring lounge chairs and wait service. And, of course, you can always stay dry at a bar or restaurant, with no shortage of either throughout the country. Live music, karaoke, trivia nights, billiards, pool, and happy hours abound.
Bed in; have the world come to you…
Panama City has a plethora of delivery options. You could get food from any restaurant in the city, whether directly through the restaurant or through a third-party delivery service. You can use third-party delivery services to have just about anything brought to your door… cigarettes, beer, toilet paper… you name it!
Kat Kalashian
Panama Insider