The Caribbean: Endless sunshine, islands, and outrageous prices, right?
Not so fast… it's all about the discount in Panama. Bocas del Toro province is a mosaic of islands and cays teeming with vegetation, parrots, and people that faces a long, sand-fringed shore. On the mainland, towns burst up from vast tracts of jungle and banana plantations…. Bocas is a small slice of paradise where building your dream home on a tropical island won't cost more than US$10,000.
Maybe it's the radios blasting reggae tunes in mom-and-pop shops or the ubiquitous hibiscus tea in homes and restaurants, but you breathe in the Antilles when you stroll through Bocas Town, the capital.
Backpackers love it. See them stepping off a pier, as if washed up by the waves, lured in by sun, surf, and sail. Then they stay longer than planned thanks to the friendliness… and language chops of the locals.
You'll hear bocatoreños speak in English about as often as in Spanish. Bocas del Toro is a mishmash of cultures and languages.
Stack Banana 'Til De Mornin' Come
In some ways, Bocas del Toro is still reeling from the "Panama disease." The deadly fungus battered Panama banana plantations for the first quarter of the 20th century. When the banana companies couldn't bear the losses anymore, they upped sticks, leaving their English-speaking, Afro-Caribbean workers stranded.
With Bocas' main source of income gone, it became a backwater. It's still considered one in the popular imagination despite economic development and a tourist boom. Few bocatoreños remember Bocas' golden age or the bumpy road in the lead-up to it.
People have been coming to Bocas' shores from all over the Caribbean for a long time. Before the Spanish, Arawaks sailed from the Greater Antilles to trade with local groups. Indigenous revolts, disease, and unforgiving jungle turned more than one colonial town into a heaping ruin throughout the 16th and 17th centuries. Pirates also took refuge on this neglected shore.
Central America threw off Spanish rule in 1821, allowing Nicaraguan, Costa Rican, and Colombian fishermen to set up shop throughout the Bocas del Toro Archipelago in safety. The area remained firmly in Costa Rican hands until Colombia decided to snap it up in 1836.
Bocas del Toro's economy went bananas when the Panama Railroad was completed in 1855. Jamaicans, Trinidadians, Haitians, North Americans, and more came to Bocas to work in the banana boom of the 1880s, swelling the economy until Chiquita Brand—then United Fruit Company—left in 1926.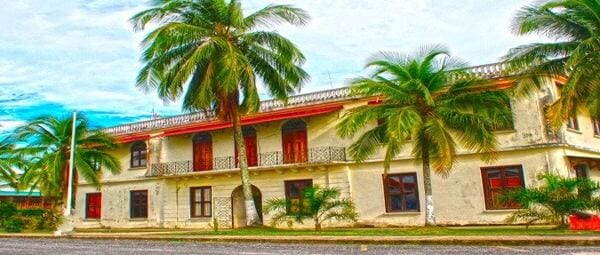 A Songlike Panamanian Creole
You can hear this mixed-up Caribbean history in the languages of Bocas: Spanish, English, and Guari-guari.
Guari-guari is a type of creole… with a simple grammar born of a linguistic and ethnic clash and the need to communicate.
Guari-guari can be traced back to 1827, when a group of rich settlers arrived from Jamaica with their households, slaves included, and kick-started the region's economy. By 1889, when United Fruit Company set up a branch in Bocas Town, the province faced huge communication issues.
Picture this: The native Ngöbe coming down from the mountains to trade for salt and seafood only spoke their Ngäbere mother tongue and some Spanish. Peasant farmers and fishermen selling their harvest only spoke Spanish. Island people, rich in dollars and poor in goods, only spoke English and some French patois. The resulting combination of pared-down Caribbean English with patois and Spanish and Ngäbere words eventually synergized into Guari-guari.
Like all minority languages, Guari-guari struggles. It's not recognized as a language in Panama and often looked down on as a bastardization of English (it's not), yet true bocatoreños freely speak Guari-guari peppered liberally with English and Spanish.
Guari-guari is unique thanks to its musicality, vibrant non-verbal cues, and idioms. It's a living oral tradition; it has no standard written form and its grammar is ever in flux, changing with each generation of speakers, not unlike the waves lapping Bocas' shores.
Don't take my word for it. You can experience Guari-guari's Caribbean flavor for yourself…
Our friends at Bocas TV kindly sent a short video to say "Hi" and share the real Bocas del Toro with you, dear reader.
Follow along with this transcript:
Ey, welcome to al' our lover lectors from Live and Invest Oversea'. From Bocas Town, this beautiful paradise, we talkin' in Guari-guari, the dialect of our region. Come, visit us and partake this wonderful paradise. We waitin' for you.
Bocas TV is an independent, online news network focused on Bocas del Toro. Currently, all their content is in Spanish… but it's a young, growing station located right in the middle of English-speaking Bocas Town.
For anyone interested in exploring this corner of Panama, Bocas TV could be a great resource—check them out here.
Daylight Come And Me Wan Go… Cook
Bocas' amalgam of cultures means amazing cuisine. The cooking is not only flavorsome; it's so good for you bocatoreños are the healthiest people in Panama.
According to the Panamanian government, less than 20% suffer from high blood pressure—in contrast to over 30% of Americans. Diabetes is present in 10% of Americans; halve that for bocatoreños.
A Bocas Banana Smoothie
To cool off from the Caribbean heat, people in Bocas del Toro traditionally drink the smoothie-like bebida de mogó, a warm and creamy mixture of banana and coconut milk.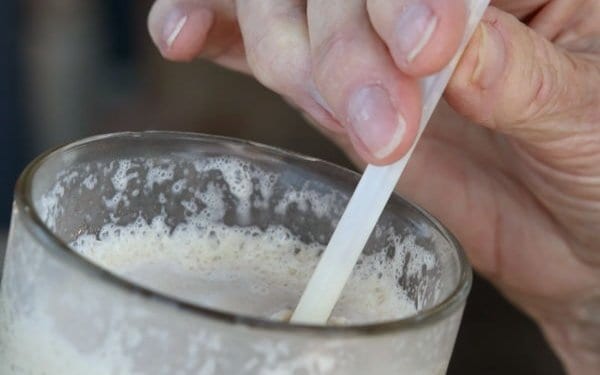 Ingredients
3 greenish bananas
3 cups coconut milk
1/2 cup cream
1/6 cup sugar
1 tablespoon vanilla extract
Cinnamon to taste
Nutmeg to taste
Directions
Place whole, unpeeled bananas into a pot of water. Bring to a low boil and cook for 15 minutes until soft. If your pot is small, turn your bananas once in a while to achieve a uniform texture.
Peel and return bananas to the pot, adding the remaining ingredients.
Bring to a boil and simmer gently until fragrant—about 20 minutes.
Whisk the mixture until it's smooth and creamy. Serve warm.
No measurements are needed here. The recipe is very forgiving, so feel free to experiment and enjoy.
Hasta luego.
Edith Cantilo-Paz