Much has been touted about the town of Boquete in Chiriqui's highlands—stunning scenery, excellent homegrown coffee, springlike weather year-round, lush forests, and a profusion of vivid, glorious blossoms.
Conversely, not much has been written about the astonishing number of volunteer organizations that flourish in this small, close-knit community. Panamanians and expats toil together selflessly, making life better for all.
Initially, all of the charitable groups began with an idea that eventually came to fruition, constantly assisting and enriching the lives of the poor and less fortunate, such as the local Ngäbe-Buglé indigenous. Whether they're permanent residents whose families have lived here for centuries or migrant workers, they all strive to eke out a meager existence.
One such organization was the brain child of an expat named Brandy Gregory. A lover of knitting, when she and her husband relocated to Boquete the idea struck: Why not indulge her passion and meet new people with that common interest? In doing so, her love for knitting could benefit the children who reside in the cool mountainous areas and cannot afford warm clothing.
Flying into action, she called for volunteers and, within the first week, six like-minded women arrived. The rest, as they say, is history. The group has grown and each year they knit baby blankets, caps, sweaters, and booties, as well as warm toques for the older children. Since then, they have expanded to include talented quilters. And so began the Boquete Knitters and Quilters.
The group donates their items to local charitable organizations and health associations. They also supply the pediatric oncology department in David with soft knitted caps for children and teens who lose their hair during chemotherapy.
Initially, only expats participated in the group, but eventually Panamanian women became intrigued with the process of knitting and asked to learn. The women in the club happily gathered and, once trained, eagerly joined the group. Then, Ngäbe-Buglé women requested entry.
"This is a way that we create community," Brandy explained. "We now have all three cultures: expat, Latina, and Ngäbe-Buglé working side-by-side for a common cause."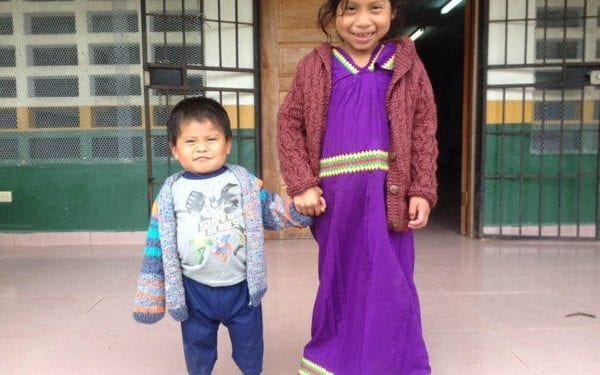 This spontaneous idea has blossomed into a beneficial organization, enabling the poor and unfortunate to be cozy and warm. Just one delivery included 11 knit baby wash cloths, 18 pairs of booties, 27 sweaters, 55 baby blankets, 60 baby quilts, and 103 hats. This didn't include the items sent to the hospital in David, or the ones sent directly to the comarca (reservation).
Other Boquete groups also aid the poor and handicapped. Buenos Vecinos de Boquete (Good Neighbours of Boquete) provides non-perishable food on a monthly basis to over a hundred needy families in the community. Single moms, the elderly, the handicapped, and the unemployed all benefit immeasurably from these compassionate volunteers and donors.
Rice, cooking oil, beans, pasta, canned goods, and powdered milk are some of the staple items purchased each and every month and then delivered to the client families.  Generous members of the community donate funds. Fundraisers include a food drive, cook-offs, wine tasting, a cookbook sale, and the multi-charity venta de patio (patio sale)—a huge and popular flea market.
To ensure donations are ethically and correctly dispersed to the most needy, volunteers and translators make home visits to assess housing conditions, health issues, income, and other relevant factors. In addition, volunteers establish relationships with relevant government departments, clinics, and other charities.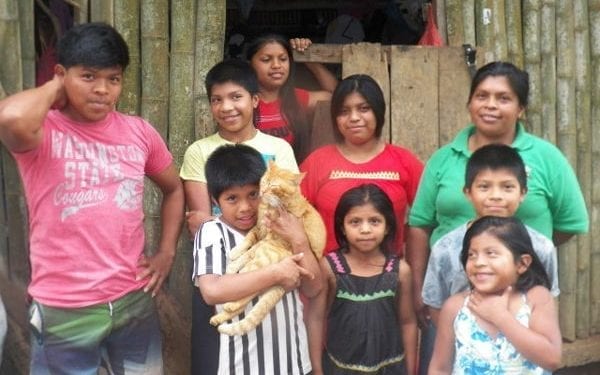 Benilda's family (pictured above) is one of the recipient families. Benilda earns only US$50 per month cleaning houses and ironing clothes—US$32 of which is designated for rent and water. Alexander, 18, is now in a trade school to become an electrician to help his family out. Yamileth is in high school and wants to become an accountant so she also can contribute. Yaneth, 14, says her vision is to own a beautiful dress.
Fundación Pro Integración (The Handicapped Foundation) operates throughout Panama and has a branch in Boquete. Their mission statement is as follows:
"We strive to support handicapped members of our community, especially those with minimal economic resources. We provide an open, welcoming social environment. We provide wheelchairs, walkers, crutches, canes, and hearing aids. There are funds to transport individuals to special education classes, physical therapy, and doctor appointments. Medications and treatments not covered by social security or public health are provided. We also assist those families with handicapped members to become more economically self-sufficient and to become aware of the laws beneficial to the handicapped community."
This organization is a participant in the venta de patio sales and receives part of their operating funds from the proceeds.
Boquete Health and Hospice is another group of volunteers, mostly from medical caregivers who are aiding the elderly and the infirm. They provide caregiving services to the dying and support to their families, as well as to those suffering from dementia and other debilitating infirmities. Meals, transportation to doctor appointments, emotional support, and caregiver relief are offered freely and generously.
There is no blood bank in the area so, consequently, the Hospice members, led by Charlotte Lintz and Mary Lynah, have developed a blood donor list and coordinate donors with recipients.
After discovering that wills, powers of attorney, living wills, and other necessary documents issued in other home countries are invalid and mean nothing in Panama, these caring people set up a course that teaches the nuts and bolts of such documents, and liaised with doctors, lawyers, and translators in order to have all the necessary paperwork up-to-date and legally binding for expats.
To veer off from health care charities, an organization known as Alto al Crimen (Crime-stoppers) aims to protect the community by investigating each crime committed. They work with local police enforcement to expand their capabilities and, similar to a neighborhood watch, are the eyes and ears of expat communities.
Boquete animal lovers have opened two excellent organizations to alleviate some of the recurring problems with the animal population here due to neglect, poverty, or both. The first is Amigos de Animales (Friends of Animals) which focuses on feeding unwanted pets to eliminate hunger, and spaying and neutering street animals and pets. The other group, known as Salvadores de Animales (Animal Rescue), provides medical treatment to rescued, abused, and injured animals, and finds them lifelong loving homes.
These are merely a sampling of the charitable groups flourishing in Boquete. Other groups include Club de Leones, the Rotary Club, and ecological organizations, such as the recycling program and the Sea Turtle Conservancy.
It's heartwarming to see the tremendous effort, time, knowledge, and passion that goes into each one of these organizations. Every one of those volunteers, who give of themselves so generously, adamantly agrees that they get out as much as they put in through the form of gratification, satisfaction, and pure love. These folks give the Boquete community hope, help, and heartfelt compassion, thus making it an incredible place to live. If you're looking for a fulfilling, joyous retirement, Boquete is the place for you.
Robin Post