Once again, Panamanian coffee has proven best in show. Last year, a top Boquete, Chiriquí, coffee plantation, Hacienda La Esmeralda, was rewarded at a worldwide coffee auction. A pound of their geisha specialty coffee was purchased for the astounding price of US$601, the highest price ever paid for a pound of java anywhere in the world.
On May 27, 2018, at a prestigious coffee-tasting event, several Boquete growers were once again honored. Hacienda La Esmeralda as well as Kotowa were recognized, but the top winner was Lamastus Family Estates who came away with the title of Producer of the Year.

Merely uttering the word coffee stirs the senses; the rich full-bodied aroma that fills the air, the steam rising up from a fresh cup, and the mouth-watering flavor loved by so many. In Boquete, you can sample some of the best coffee varieties in the world…
Boquete coffee producers take their craft seriously and continually strive for the best. Both Boquete and nearby Volcán provide ideal conditions for growing coffee beans. High elevation, cool nights, brisk winds, and volcanic soil all contribute.
Over five varieties of the delicious brew are produced here. While driving around the winding back roads, you can gaze upon acres and acres of lush green coffee bushes loaded with vivid red coffee cherries that look succulent enough to pop into your mouth. Waiting for them to be processed is worth the effort… the beans are dried, toasted, and ground to create that rich, delicious, and satisfying flavor.
Coffee fincas (small farms) in and around Boquete run the gamut from small, one- or two-person "hobby" farms to huge multi-acre commercial establishments that export their product all over the world. They provide employment opportunities for countless indigenous Panamanians, as well as both skilled and unskilled workers.
The heritage of this industry starts with the Ngäbe-Buglé indigenous tribes who, since the Panamanian coffee industry began, have been involved in each and every facet of its production. And so they continue today… In addition to the watering, weeding, and tending to the plants, they see to the crucial picking schedule. Geisha in particular needs to be picked at the perfect moment and processed immediately, following meticulous methodology.
Credit for this industry must first go to a retired sea captain in the early 19th century, who brought the very first coffee plants here. As more and more growers began developing their coffee farms, very little focus was put on flavor until the influx of expats to the area. They became interested in the coffee process and experimented with crossbreeding plant varieties. Quality became the focus, rather than quantity, causing Panama to receive much-deserved recognition as a coffee-producing country.
By far the highest-quality, most specialized variety is geisha. Originating in Ethiopia, samples of the seeds were sent to several other countries including Kenya, Tanzania, and Costa Rica for experimentation, finally arriving in Panama in the 1960s. Not until 2004, however, were geisha's qualities recognized. Always blended with other coffee varieties, the wonderful taste and aroma did not stand out until unblended geisha was presented to an international panel of tasters. Needless to say, it made a huge impact, resulting in Panama's recognition for its exceptional coffee quality.
Every year since its inauguration in 1996, a prestigious event is held in Boquete. Known far and wide as The Best of Panama, it is an international coffee-tasting event organized by the Specialty Coffee Association of Panama. Their goal is to rank the talented coffee producers here. Arriving from coffee-growing countries worldwide, the experts observe 18 judges as they test for taste, aroma, body, and consistency. Every year is different but always exciting for coffee producers. Records are waiting to be broken and new coffee varieties are ready to shine.
Proudly, Panama is strongly associated with geisha coffee, but the Boquete region offers many other attractions to the international visitor. Another well-known event hosted in the area is the Boquete Flower and Coffee Festival.
The Boquete Flower and Coffee Festival
Boquete offers far more than just excellent coffee… Each January, the Boquete Flower and Coffee Festival takes place, attracting nationals and tourists in hordes to sample the myriad of colors and aromas on offer.
Running for over 50 years now, it attracts bigger and bigger crowds each year (2018 saw upwards of 150,000 attendees). For the 10 days of the festival, the entire town of Boquete takes on a joyous and festive ambiance.
Agricultural exhibitions that introduce you to Panama's local produce (including potatoes, strawberries, cabbage, and lettuce) are on display. Coffee also plays a role, with demonstrations illustrating the sowing and harvesting process… It's not all educational, though—sampling the fresh brews is an added bonus.
The more than 35,000 flowers, planted in colorful and unique patterns, are also a major attraction. One of the most popular displays features orchids from Australia, Japan, the United States, Costa Rica, and, of course, Panama.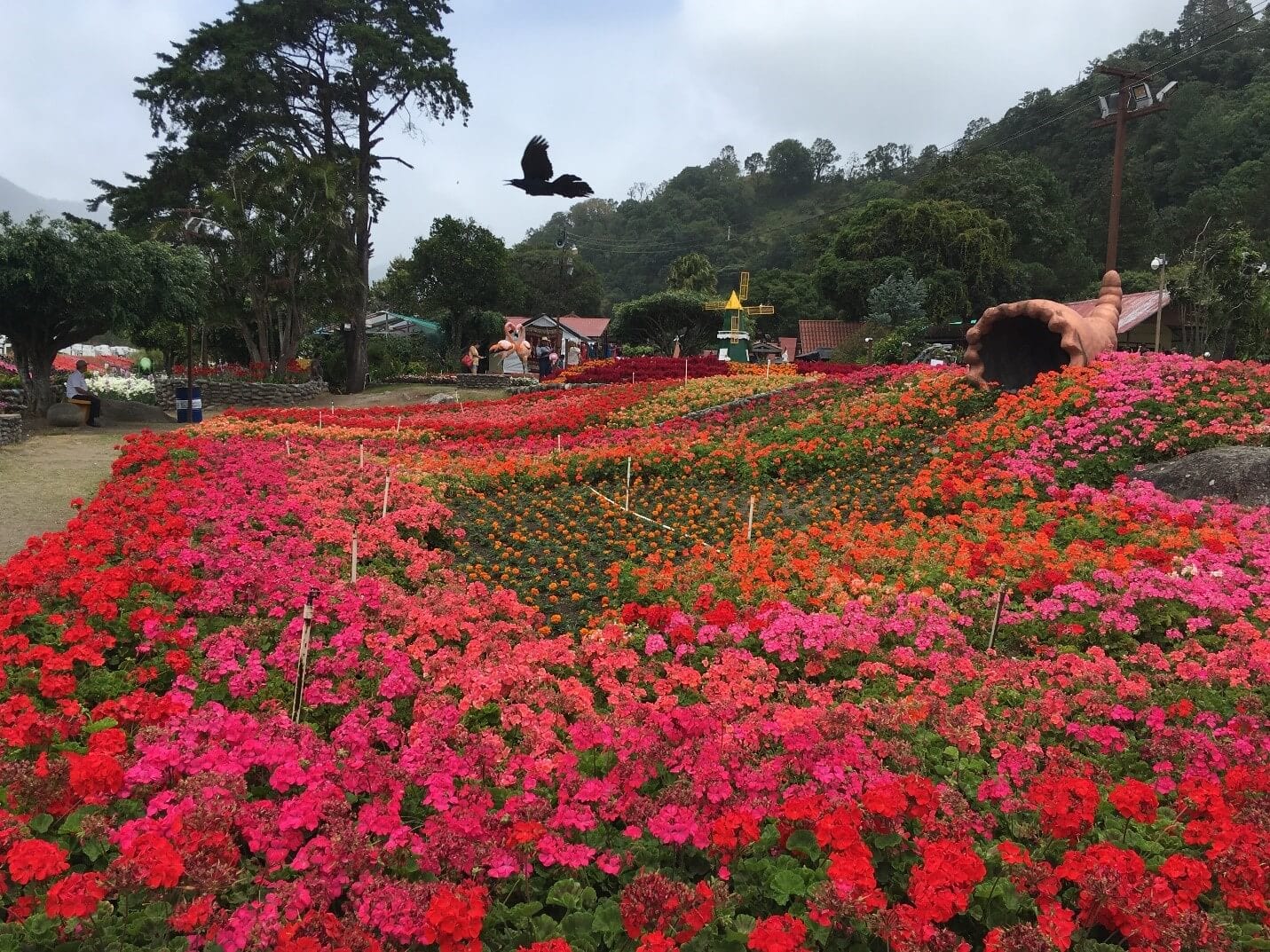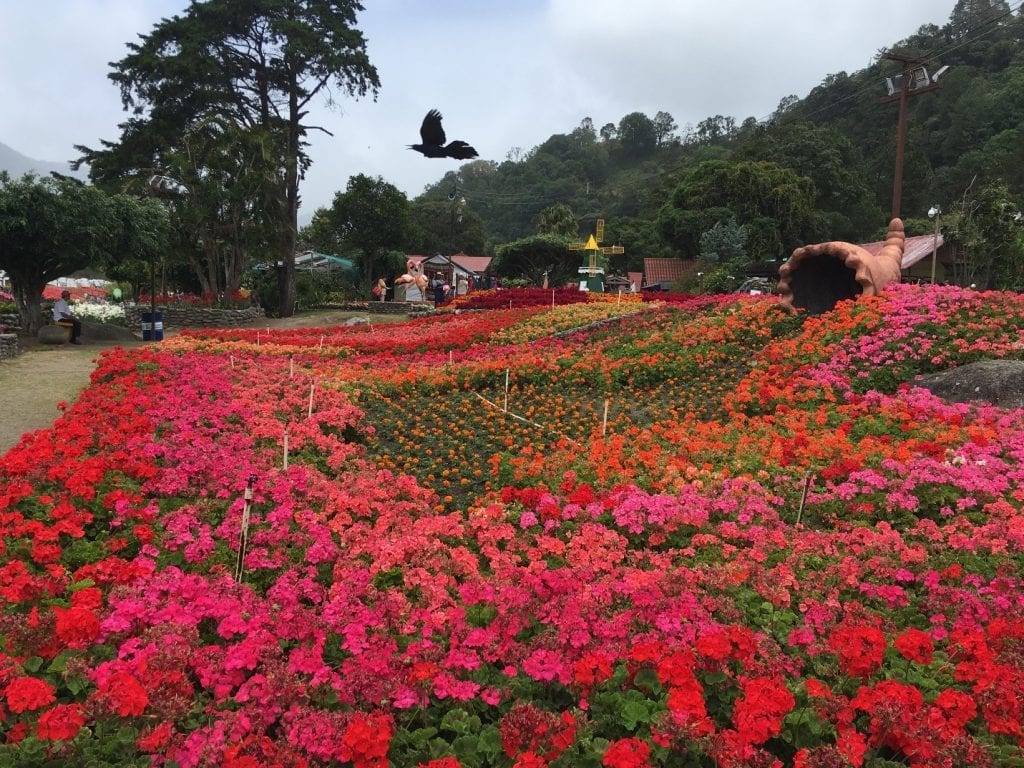 The Boquete fairgrounds are used just once a year, for this special event only. Despite this, the festival represents a year-round job for the gardeners. Some 50 gardens occupy the 3 hectares of the fairgrounds. As soon as the previous year's fair ends, growers prepare the ground for seeds and transplants that will be displayed at next year's event. They study the characteristics of each species to determine the best placement and to allow them to grow to their full color, height, and volume potential. By preparing this early, gardeners ensure the plants will be in full bloom in time for the festival.
If you're a Panama Letter subscriber, you already know that all Panamanian celebrations—even the most religious and sacrosanct—involve boisterous after parties. Boquete's flower fair is no exception… The fairground has several bars and nightclubs and even classy lounge bars.
Whether relocating to the Chiriquí, arriving as a tourist, or visiting as a retiree on a fact-finding mission, a tour of one of the coffee fincas should rate high on your list of activities. Several of the larger plantations have opened their doors to allow viewing of the entire procedure from harvesting to processing to roasting.
A short list of such tours is as follows:
Finca Dos Jefes: This coffee farm not only provides tours but also a unique experience. You roast your own beans and then pack your very own bag of them to take home.
Café Ruiz: A very old, established coffee grower and processor, this is another great tour that offers tastings as well.
Finca Lérida: This property not only houses a coffee plantation but also a hotel and restaurant. Lovely surroundings and comprehensive tours are on offer.
Finca Kotowa: One of the oldest plantations in Panama shares its knowledge with informative tours.
Janson Coffee Farm: Located near Volcán, this is a third-generation operation. They provide tours and also ship coffee directly to your door, wherever that may be.
You'll not only enjoy the pleasure of introducing your taste buds to the finest coffee in the world but will leave with an increased appreciation for this incomparable beverage.
Imagine visiting or better yet residing in this verdant region where waking up to a fragrant, steaming cup of the finest, freshest coffee is an everyday occurrence… What a delightful experience.
Robin Post