The Panama Canal has long been the feather in this country's cap—not only for its huge profitability, but for the benefit it brings to shipping worldwide. Even accounting for a few setbacks (such as the recent drought-induced need to decrease the draft of incoming ships), it remains Panama's main source of income… not to mention a significant tourism draw.
Now Panama once again is the proud home of another mega project—a copper mine. On top of already providing employment for 13,000 people—with more imminent—it's set to generate millions for the state's coffers, all thanks to Asia's industrial voraciousness for copper, which has driven up copper's demand and price.
Cobre Panamá, one of the largest copper mines in the world, is now in full operation as of February 2019. Owned by Canadian company First Quantum, it's the largest foreign investment project in Panama's history. It also involves investors from other countries… think South Korea, the United States, Australia, France…
At Cobre Panamá's opening, former President Juan Carlos Varela, in the presence of local authorities, hundreds of workers, and First Quantum Co-Founder and CEO Philip Pascall, stated that this is a success story for Panama. President Varela concluded that the challenge and commitment now is to care for and manage this powerful project with prudence, complying with environmental standards, quality of supervision, and with legal and administrative guarantees that will allow it to develop to full potential.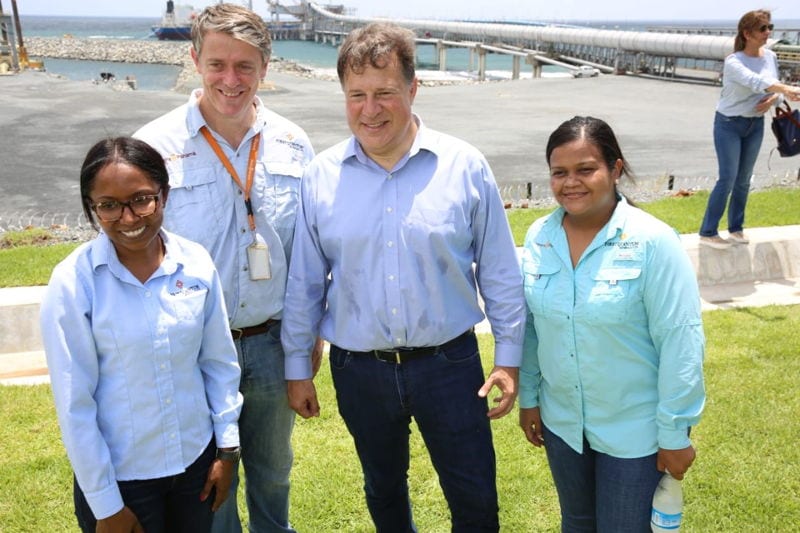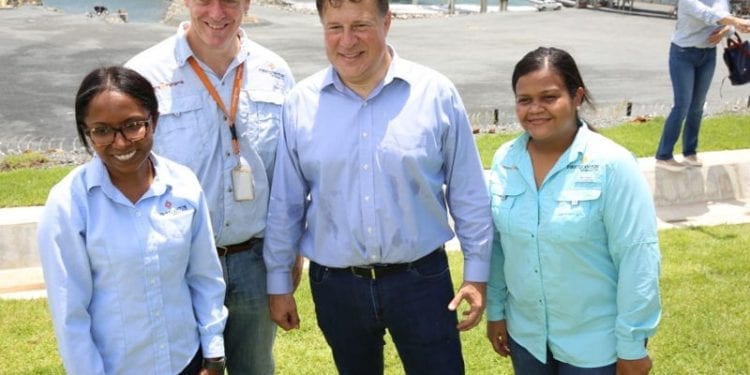 The mine is 120 kms west of Panama City and 20 kms from the Caribbean coast and consists of four sprawling zones totalling 13,600 hectares of jungle in Donoso district, Colón province. This gargantuan open-pit mine is projected to export 375,000 metric tons of copper concentrate annually upon reaching full capacity in 2021, making it one of the top six copper producers worldwide. This will triple Panama's copper exports.
The project also includes infrastructural works. It has already built Panama's third road connecting the Atlantic to the Pacific. Next is the construction of an international port on the Caribbean, Punta Rincón.
Access to this impressive site is through the Pan-American Highway. To reach it, you drive from Panama City to Penonomé, then down side roads to Llano Grande, finishing on gravel roads through the town of Coclesito.
Donoso's copper deposits were discovered 50 years ago but remained untouched until 6 years ago when First Quantum bought them from Inmet Mining. In 2017, First Quantum spent near US$1 billion on construction and invested another US$830 million in 2018. It is now planning a US$327-million mine expansion, involving the Colina Pit, the addition of a ninth mill, a larger fleet of mining equipment, more conveyors, and an in-pit crusher.
As in most projects of this size and scope, it was not completed without a few roadblocks along the way, the biggest of which was a February 2018 workers' strike. However, after four days of intense negotiations, the 5,000 strikers went back to work, reassured by an agreement signed between First Quantum and Panama's National Union of Workers of Construction and Similar Industries (SUNTRACS). Some of the concessions involved salary increases, improvement of health and safety conditions, and medical care and medicines for all.
Environmental issues are high on Quantum First's list of priorities. According to their website, "We have people committed to environmental preservation, programs for the sustainable development of nearby communities, and compliance with the environmental impact study. We developed a mitigation and compensation strategy for environmental sustainability."
Case in point: The gigantic trucks that haul huge loads of rock uphill consume 400 liters of diesel per hour… not so within First Quantum, who'll operate an electric trolley system similar to street cars that'll drop fuel consumption to 40 liters per hour—at double the speed.
Thus, Panama enters the world's copper market. Because of copper's versatility due to its malleability, durability, and heat resistance, it's a stable commodity. Which means that the mine will not only generate about US$2 billion worth of exports annually throughout its 34-year life, but it will also benefit Panama's economy in countless additional ways.
The mining operation will generate thousands of jobs and ancillary businesses, which will boost the real estate sector… as well as the entire local economy. First Quantum currently has extensive online job postings for those seeking employment, including for example…
Payroll Coordinator
Fixed Term, Donoso
To ensure timely and accurate processing of fortnightly and biweekly payroll for MPSA and FCD employees.
Project Supervisor
Ongoing, Fixed Term, Donoso
Reporting to the Project Engineer, the Project Supervisor is responsible for on-site civil and structural engineering work and for coordinating with the construction team to ensure the best construction strategies and practices are applied during the operations phase and are completed safely and on time to meet safety, cost, and productivity targets.
Truck Coordinator
Ongoing, Donoso
Provides mentoring and leadership to all team members within the group. Coordinates the activities of maintenance and contractor team members across shifts and ensure that adequate resources are available to meet production and maintenance needs. Provides maintenance support to the site teams carrying out a range of reliability improvement projects and larger routine maintenance activities as directed by the Maintenance Superintendent.
Power Plant Field Technician
Ongoing, Donoso
Reporting to the Foreman, supporting power plant operation.
Senior Mining Engineer
Ongoing, Donoso
To support the mine planning team in all aspects of the mine planning process from three months to five years.
Ambulance Driver
Fixed Term, Donoso
Transports company personnel, material, equipment, etc., along roads while following driving regulations, drives to and from designated locations tracking personal tasks according to company policies and procedures, and performs pre-trip and post-trip inspections. Transfers seriously injured or ill patients to and from the project clinics. He/she is expected to reach the accident spots as soon as possible to transport the victims. Ambulance drivers also sometimes transfer non-urgent patients and outpatients to other facilities.
This copper mine will allow Panama to once again be the leader in Latin American economic growth.
Robin Post