Elaborate, exotic resorts have always been alluring… but, these days, more and more people opt for small, specialized bed and breakfasts and boutique hotels. Nowhere is this more prevalent than in popular expat-relocation countries like Panama. Work-stressed or retirement-seeking tourists crave peaceful destinations where they can rest, relax, and regroup.
Intimate, specialty establishments are cropping up everywhere, often the creations of enterprising expats who recognize this trend and seek not only to relocate but to launch a profitable business.
Sansara Surf And Yoga Resort, Cambutal
One such endeavor is a serene boutique hotel located near Cambutal, a fishing village at the southernmost point of Panama on the Azuero Peninsula (Los Santos Province) called Sansara Surf and Yoga Resort.
Located five hours from Panama City, it is exquisite… Quiet and picturesque, its setting boasts majestic mountains, verdant jungle, exotic birds, and frolicking monkeys. The perfect location to seek that blend of complete mind and body tranquility.
Sharing a dream of living in the tropics and near the ocean and wanting out of their frigid, snowy winters in Regina, Canada, Janel and Michael Phillips took the plunge and moved to Panama.
Here, their dream became reality. Sansara Surf and Yoga Resort is the result of their planning, hard work, and fortitude.
The couple each had backgrounds conducive to their project…
Janel was a teacher who studied yoga extensively, finally opening her own yoga studio in Canada. "Through my experiences I began to realize how important it was to me to develop a business model that focused on the mind-body-earth connection."
Michael is a former professional skier, building contractor, and enthusiastic entrepreneur who loves to surf.
They didn't consciously choose Panama… rather, it chose them. They visited many Latin American countries while searching for their dream location, and upon visiting Cambutal, instantly knew it was the place.
"With no cell phones or Wi-Fi but endless beaches, uncrowded surf breaks, lush jungle, and the kindest people, this tiny town stole our hearts," explained Janel.
They broke ground on the resort in 2012 and construction was completed in 2014. They spoke no Spanish but somehow made things work with six non-English-speaking Panamanian workers.
The hotel was built with local materials, embellished with local art, and furnished with hardwood custom-made pieces. Nestled in exquisite tropical gardens, the on-site swimming pool and spa inspire peace of mind.
Regular yoga and surfing classes and world-class retreats are the main focus, but the venue also offers jungle exploration, horseback riding, kayaking, and snorkelling. Their employees are all local residents.
Mike and Janel's favorite thing about their new life in Panama?
Simplicity.
"Today people are constantly connected to their electronic devices and Mike and I consider it such a blessing to raise our little boy in an environment so pure and full of nature's abundance," says Janel.
Casa De Montaña, Boquete
Further afield in the Chiriquí Province is Boquete, a favorite haven among Panama expats. Boquete is nestled in the crater of a long-dormant volcano, surrounded by mountains and lush forests. Its popularity, aside from its natural beauty, stems from its year-round spring-like weather—it's not hot and humid here like the rest of Panama.
Due to its climate and elevation, Boquete is perfect for growing coffee and is renowned for producing some of the world's best. At the 2018 International Coffee Fair, a pound of Boquete's specialty geisha coffee went for US$600—the highest price ever.
It was here that two men from the United States, Manzar Lair and Terry Richmeier, fulfilled their dream of owning a bed-and-breakfast…
Manzar is a psychologist and life coach, and Terry worked for many years in service industries until finally finding a career with a major medical company. They eventually became partners in a psychology and life coaching practice.
"We both worked in corporate settings but weren't happy. It was my dream to open a bed and breakfast so we took the leap" says Manzar.
After extensive research they chose Panama as the site of their new venture. Why? "Great climate. Great people. Very safe. Great visa options for expats. Easy to travel to the States…"
Terry says, "We purchased a third of an acre of land for US$70,000 and set to work." They broke ground in 2012 but didn't move to Boquete until a year later. While still in Minneapolis getting their affairs in order, the building was being done remotely. Their architect and builder were both Panamanian and had been referred to them by another expat who'd used their services before.
Manzar and Terry couldn't have been happier with them, and the builder holds a special place in their hearts. He spoke little English but would send weekly photos of the house's progress. He even submitted all the necessary paperwork to comply with the bed and breakfast codes for them.
Not surprisingly, the size and cost of the project doubled as Terry and Manzar insisted on high standards and top-quality products… But even then, the venture cost them about half of what it would've in the States. The doors opened for business in January 2014, marking the official start of their dream life.
The setting for Casa de Montaña is postcard perfect: Brightly hued blossoms and lush green shrubs decorate the six elegantly appointed rooms. Incredible views of the mountains and famous bajareque rainbows are enjoyed from the top-floor rooms, while ground-floor rooms have access to the tropical gardens.
Manzar and Terry serve full international breakfasts and host a happy hour each evening. They also offer cooking classes, wellness retreats, and life coaching… "Casa de Montaña is all about good food, good people, and good times," says Manzar.
Big Daddy's Beach Club And Bar, Puerto Armuelles
Continuing westward, all the way to the westernmost end of Panama, just a few miles from the Costa Rican border, you'll find Puerto Armuelles. Formerly a booming United Fruit Company hub, then a sleepy little town with no buzz, it's once again coming to life.
Del Monte has invested millions to revive the fruit trade, and everyone is rushing to get on the bandwagon. As word of the resurrection of Puerto gets out, expats and business speculators are hot on its trail.
One of these industrious young trailblazers is Chris Young, an expat who's been living in Boquete for several years. He hasn't hesitated to jump in and hit the ground running. On top of his two popular restaurants in Boquete, he also has interests in a small but active boutique hotel on the pristine, white-sand beach at Puerto Armuelles.
"We negotiated a price, hired a lawyer, drew up a contract, and we were in business," says Chris. Chris and two others are now the proud but busy owners of Big Daddy's Beach Club and Bar. After extensive renovations and a whopping great deal of hard work, the place is hopping and has become the most popular hot spot in the area.
The hotel consists of 11 rooms, a swimming pool, outside and inside bars, and a restaurant. Added bonuses are the cozy tables and chairs set out among the palm trees on the beach—the perfect setting to relax, read, chat, soak up the sun, or just enjoy the stunning ocean view.
The food is delicious and is made with fresh local ingredients—Chris' trademark. The staff is Panamanian and the three owners trade off as manager. "Sourcing ingredients, ongoing maintenance, and staff supervision are constant, so we are always busy," says Chris.
Staff dependability is an issue in Latin America due to cultural differences. The laidback attitude about work hours and duties can be frustrating but must be accepted. It's challenging to operate a business in another culture than your own, make no mistake, but all three partners thrive on the excitement of it.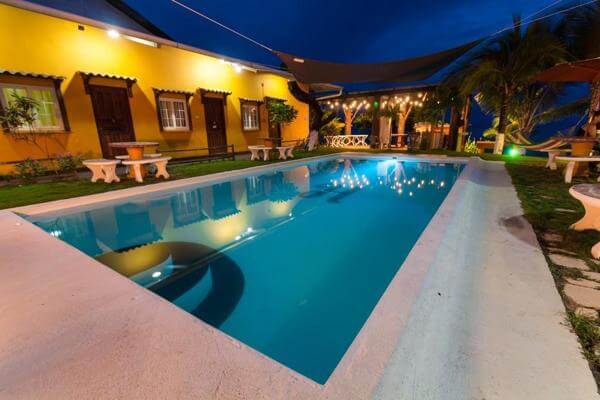 Already extremely popular with locals, word is getting out to tourists as well. Occupancy is consistently at 100%, and demand is especially high during the dry season. The restaurant is equally busy, thanks to its reputation for having the best food in town. Local tours and activities can also be arranged here.
Relax at the pool or go for a cooling dip in the turquoise ocean… Sip an ice-cold margarita or beer while gazing at the boats gliding by… Have a delicious meal, then relax under the stars while listening to the waves before retiring to a clean and cozy room… Those same waves and a chorus of birdsong will wake you up the next day… "Life does not get any better than this," concludes Chris.
The year-round tropical climate and abundance of sunshine, the breathtaking scenery, and the exotic wildlife all have folks from across the world coming to visit Panama…
And the low cost of living and the ease of starting a business are bringing eager entrepreneurs along with them. These go-getters, like Janel and Michael in Cambutal, Manzar and Terry in Boquete, and Chris in Puerto Armuelles, are now enjoying successful (and fun!) new careers in the hospitality industry here, catering to all these tourists as they live their new dream life on the beach…
Will you be the next? Come to Panama to find out!
Robin Post