How I found grand opportunities to give back and volunteer in Panama…
Idleness has never been a strong suit of mine. When I decided to relocate to Panama and start a new adventure after teaching for decades, my friends and family immediately thought—Retirement. But I knew better, playing bridge on a patio and hitting local diners for the early-bird special was never in the cards.
For me, moving to Panama was about new adventures. Maybe those adventures would involve work, maybe they wouldn't. (As it turned out, they have involved work, but it's work I am having a blast doing.) I wanted to leave a little time for idleness, but not too much. I wanted to make sure I had time to give back.
Volunteering in the community you have chosen to spend your later years, whether it's at home or abroad, is something I recommend to everyone. Not only are you helping others, but you are helping yourself. Those moving into new communities can find that volunteering offers instant access to a social circle and network of friends you might not otherwise encounter.
To that end, I have teamed up with some of my fellow settlers at Los Islotes and laid out plans to start a community school in our little corner of the Azuero peninsula. A landowner has already donated the land, and the developers of Los Islotes, Kathleen Peddicord and Lief Simon, have agreed to put up the money for a schoolhouse when the time comes.
I plan on doing some teaching, managing the place, and recruiting other residents of Los Islotes to work with me. We hope to offer English and computer literacy classes, along with after-school tutoring, to a population that wouldn't normally have such services. It's a win-win for everyone.
Panama is full of these sorts of opportunities. While planning our schoolhouse, I did a little research about some of the other volunteer programs in the country and found a few that looked particularly interesting.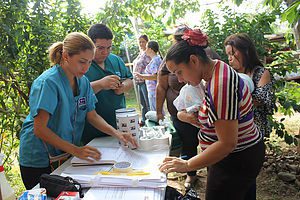 In Boquete, volunteers with the Animal Rescue Foundation help find foster families for stray animals—many of whom have been abused or neglected and are in need of medical care. The group helps promote animal-human bonds through community outreach and educational programs and finds "forever" homes for the animals. There are a number of volunteer opportunities within the organization, including working on rescue teams, fundraising, fostering the animals until permanent homes are found, and helping transport them as needed.
Another animal-focused operation is Panama City-based Spay Panama, which provides monthly spay and neutering clinics for animals across the country. Volunteers can help organize clinics in their town, sign up to work registering animals, help with the operations themselves, or socialize with the animals during the post-operative period. A similar organization, Amigos de Animales, has been operating in Boquete since 2005 and offers similar opportunities in that area.
Among the more novel volunteer opportunities I have heard about is a group called Las Hermanas de Alcochado de Volcan, the Volcan Quilters. This group in Chiriqui was formed in 2010, when a group of local sewing enthusiasts teamed up with the Soroptimist Club and a local Peace Corps volunteer to teach area women how to make quilts and provide some additional income for their families. If you are a sewing enthusiast, you can sign up to help teach. If not, you can help by donating supplies.
In Bocas del Toro, one of the more established volunteer groups is Give and Surf, which has been making a difference in that area since 2010. Give and Surf's flagship program serves younger residents of the Bahia Roja and Bahia Honda communities by providing summer camps, Montessori-based education, and mentorship programs. They also, incidentally, teach the kids to surf. Volunteers come from around the world to teach English and staff community centers for locals in the community, but the group is as happy to hear from people already in Panama with something to contribute as they are people from afar.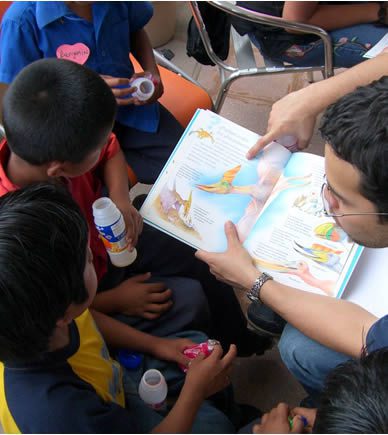 If you have any medical experience at all, an outfit called Floating Doctors goes out into communities in coastal areas in search of patients who otherwise wouldn't have access to decent health care. They do it by boat, by foot, by dugout canoe, or even on horseback. The organization is always looking for experienced clinicians to work at its mobile clinics on Isla Colon in Bocas del Toro. Volunteers say they get as much out of the experience as their patients.
Since I advise anyone considering a move to Panama to make at least a rudimentary effort to learn the local language, the opportunity to combine Spanish lessons with volunteer work is a bit of a no-brainer. The Habla Ya Spanish School, with branches in Boquete, Bocas, and Panama City, has a number of programs—from medical, to community outreach, to working with children—that it can place its students in, for modest placement fees. Reviews of the programs from both participants and the popular press are almost universally stellar.
One of the more interesting projects that can be arranged through Habla Ya is working with the Sea Turtle Conservancy.
Volunteers patrol the beaches of Chiriqui at night during turtle hatching season, from February through September, tagging and measuring the turtles and moving the eggs to a safe location if necessary.
There are literally dozens of other, similar programs for volunteering in Panama—far too many to list here. Hop online to find something that suits your interests and skillset. There's really no reason to remain idle during your new life in the tropics. Life is too short.
Peg Fairbairn
Panama Insider