As a recent arrival to Panama City, I speak from experience when I say that getting to know a new place can be daunting. What to see, when to see it, and how to navigate your way around are all questions that have been on my mind since my first day here.
Without the luxury of a pre-established network of friends or acquaintances to call on for guidance, it's been difficult to know where to begin my quest to explore this city.
Looking at top attraction lists on tourism websites is helpful in getting a general feel for a place, however they are just that—general: They are compiled to appeal to a large group of people with presumably diverse interests… and not me in particular. No list met my personal needs, time constraints, or budget in my goal to get to know Panama City.
I thought that my exploration would eventually come down to good old-fashioned trial and error—a method I have used before in my travels… and that usually yields disastrous results. The blunders may make great storytelling fodder, but I almost never get to see everything I wanted to.
That was until I discovered Google's MyMaps—an application that lets you create personalized, detailed, on-the-go maps.
Whether you are a recent arrival in a new place (like me), a tourist discovering some far-off city, or a self-proclaimed local planning your next staycation, MyMaps will help you make the best of your adventures and tick off all the items on your must-see list.
Step 1. Get The Technology
You don't need to be a technology whiz or have a degree in cartography to create detailed and elaborate maps. You will, however, need a smartphone and an account with Google.
The good news is that the application is free and could actually end up saving you money if used correctly. Time-consuming and potentially costly hiccups can be avoided with MyMaps, as every detail is planned in advance and accounted for.
While it works better with an internet connection or with data, it also works offline (as all maps are saved directly on the Cloud).
Step 2. Do Your Research
After getting hooked up with the proper technology, it is time to decide what you want to see or do. For my day of exploration in Panama City, I started with the standard tourist stops and mixed in a bit of the unusual as I went. I began with a tour of Casco Viejo, making several stops along the way, followed by a stroll on the Cinta Costera and dinner at a Middle Eastern restaurant called Beirut.
I used generic travel website information to pick and choose what interested me, and then compiled this information onto a Word document to have all my ideas in one place.
Step 3. Open A Map
Complete whatever your "wish list" of must-see places you might have, and then open a new map and begin logging the information in MyMaps. To do this, first open MyMaps by typing "Google MyMaps" into any search engine and selecting the first option that comes up.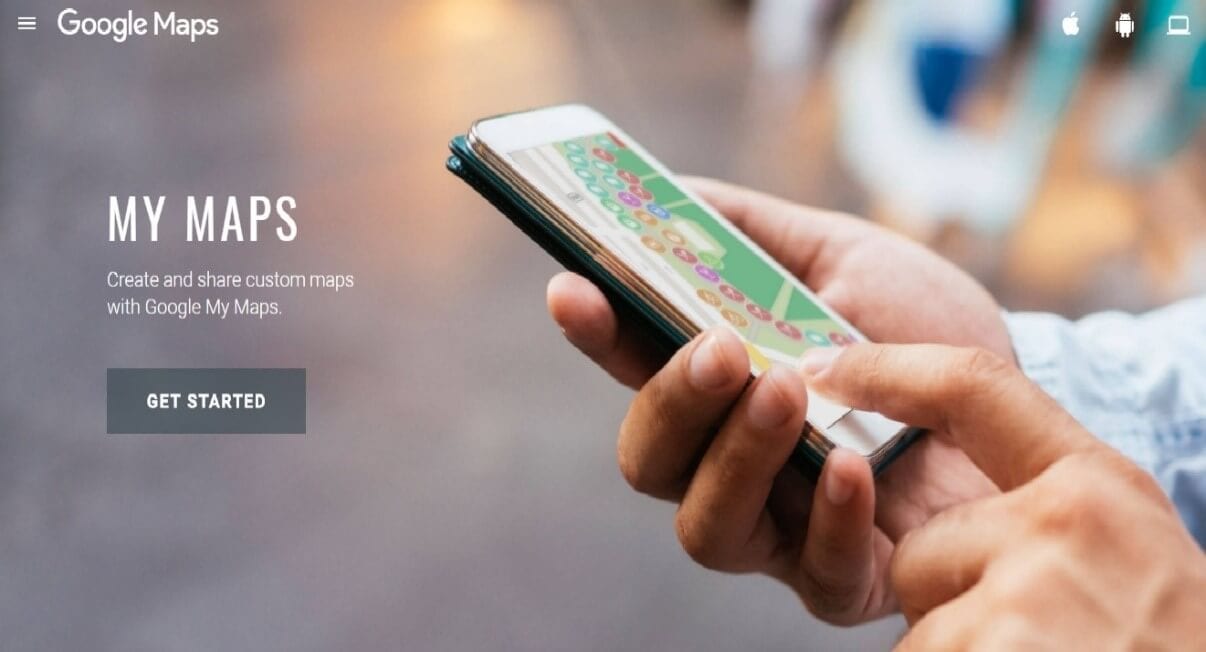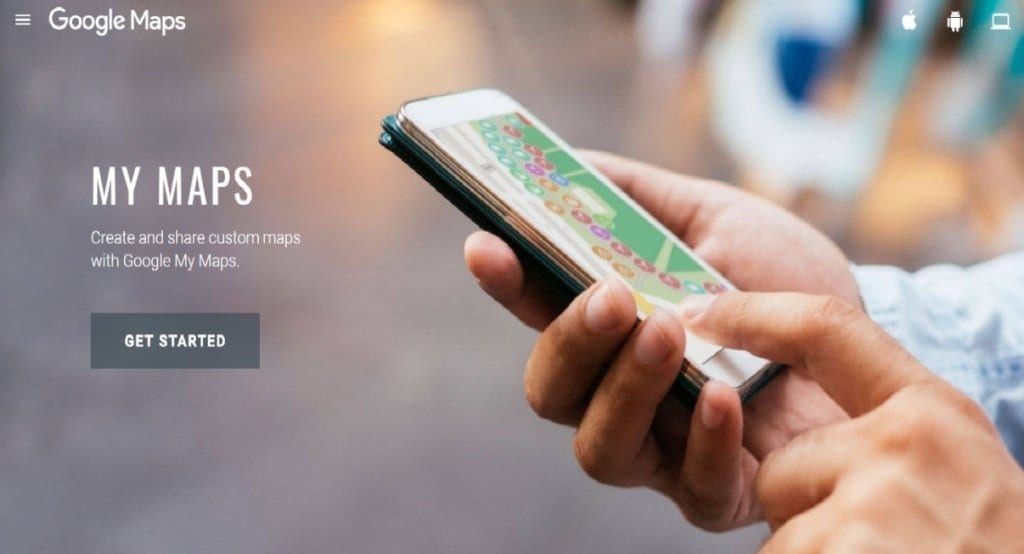 Next, select "Get started," and begin a new map by clicking on the small orange circle that will appear on the bottom right-hand corner of your screen. It's a good idea to give your map a title—in my case, "Operation Get to Know Panama City"—for organization purposes in the future.
It's possible to add various collaborators to your map. This is extremely useful if you're travelling in a group so that multiple people can access the map and make contributions to it (similar to the way Google Docs works).
Once the map is opened and named, the next step is to align it to wherever you are. To do this, drag the screen to your location and then zoom in. You should see at least the name of the city where you find yourself, if not the names of some neighborhoods and major streets.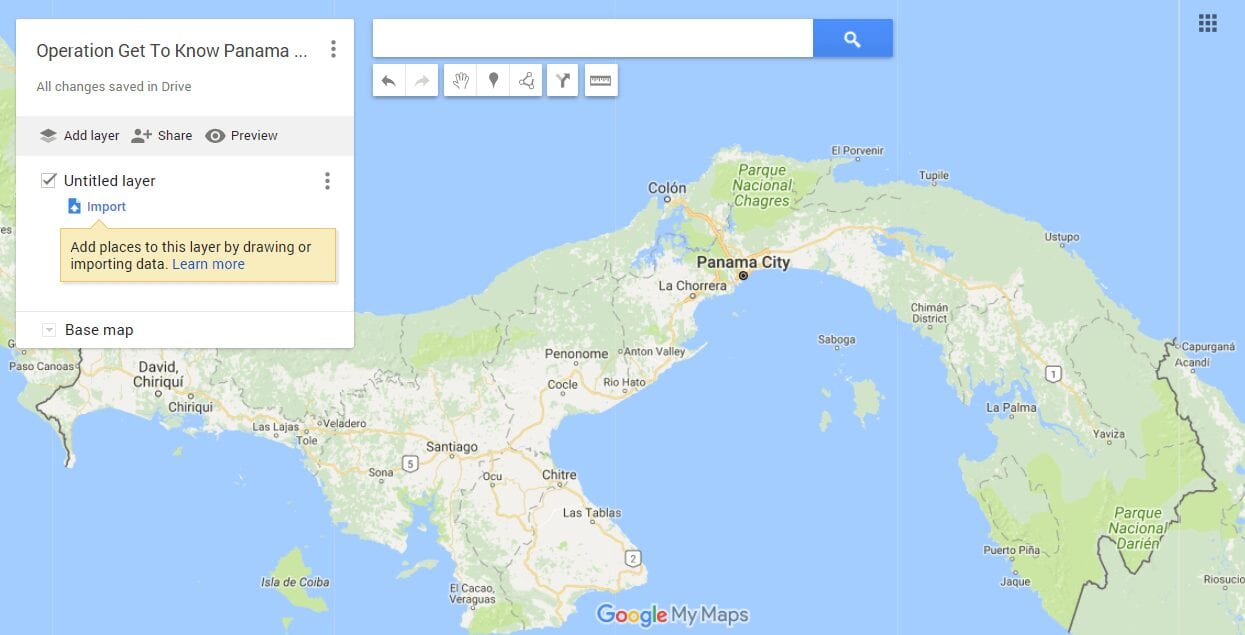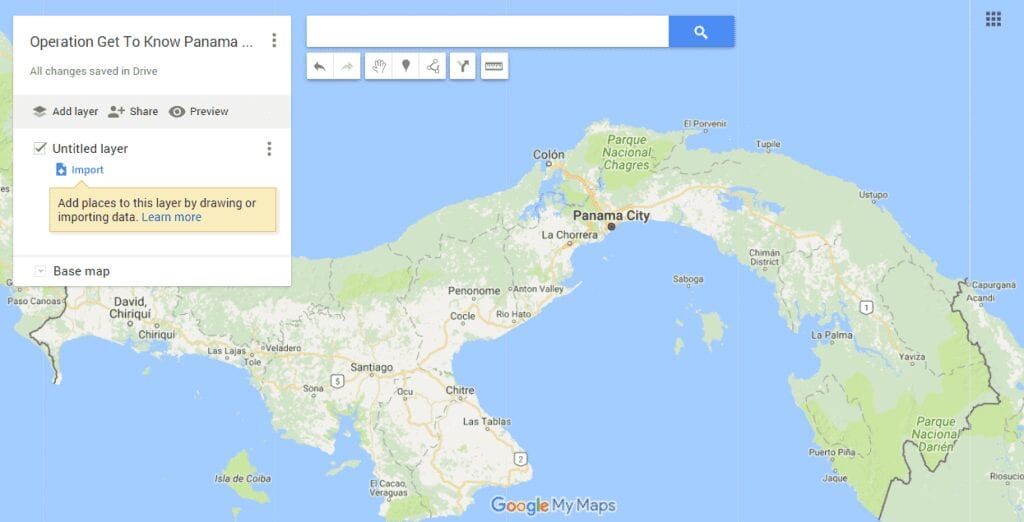 Step 4. Make Your Map Your Own
After properly situating yourself, start making use of your idea page and all your planning and research. Transfer the information by typing the name of a destination into the search bar. As you type, a list of options should appear in the drop-down menu. Simply select the option you want and click "add to map."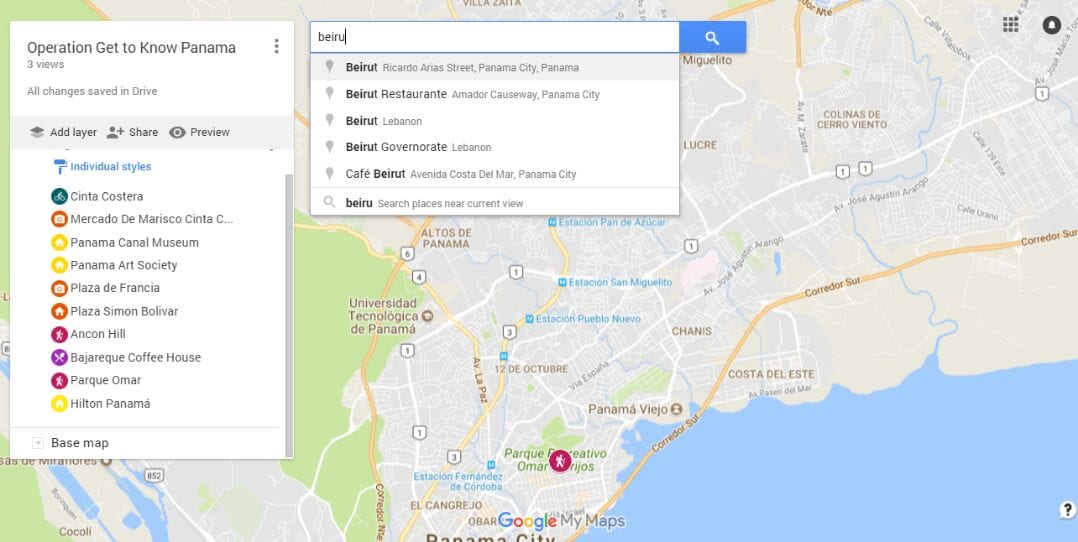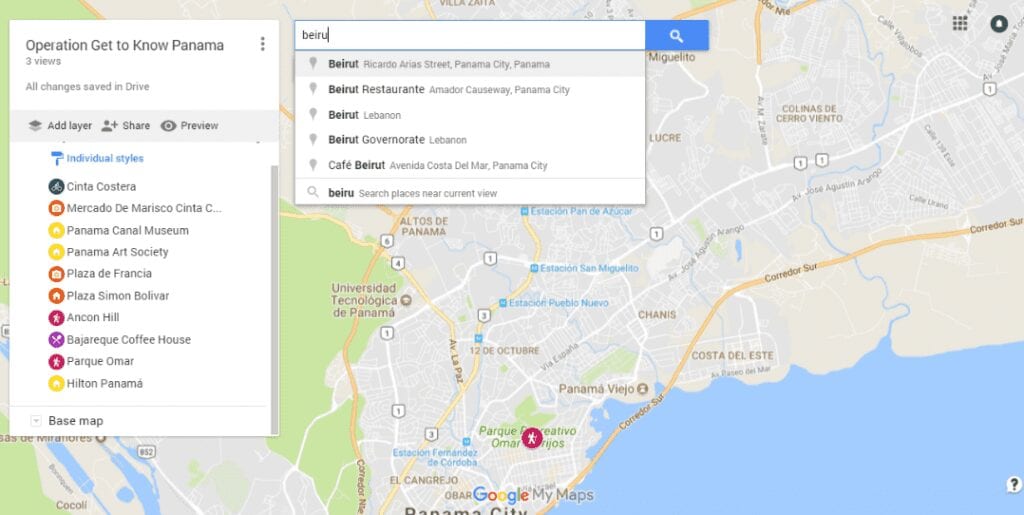 You can further edit each item on the map to organize it by type as well as add comments. For example, you can include whether the location is a restaurant, bar, hotel, or shopping center by choosing the icon that matches it and giving each genre of activity a color. This was helpful for me when I was on the go, because when I decided that I needed a mid-touring ice-cream break, I just opened my map to see what was nearby.
Step 5. Put Your Map To The Test
Once all your destinations are entered on the map, give it a quick preview and make sure it's comprehensive and complete. After that, it's time to go out and put the app to the test.
For convenience, I recommend connecting the dots between locations by adding street directions between all the pins you want to visit in an area. In Casco Viejo in particular, where there are a plethora of tourist activities to choose from and the streets are rather maze-like, I found this feature extremely useful.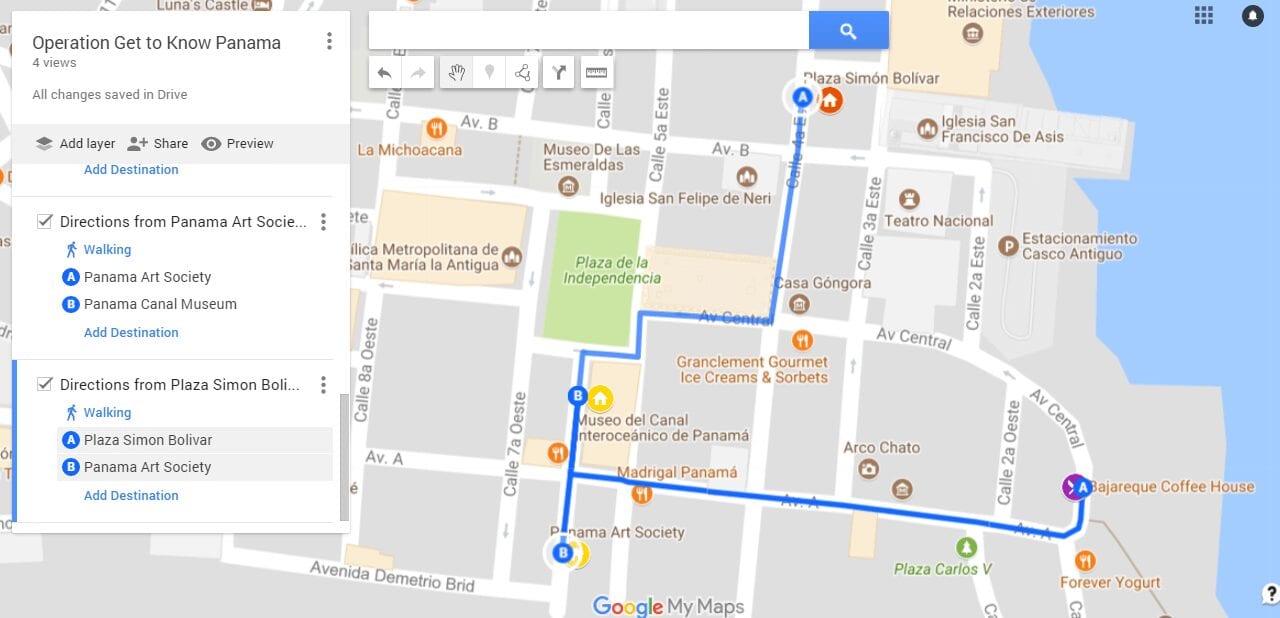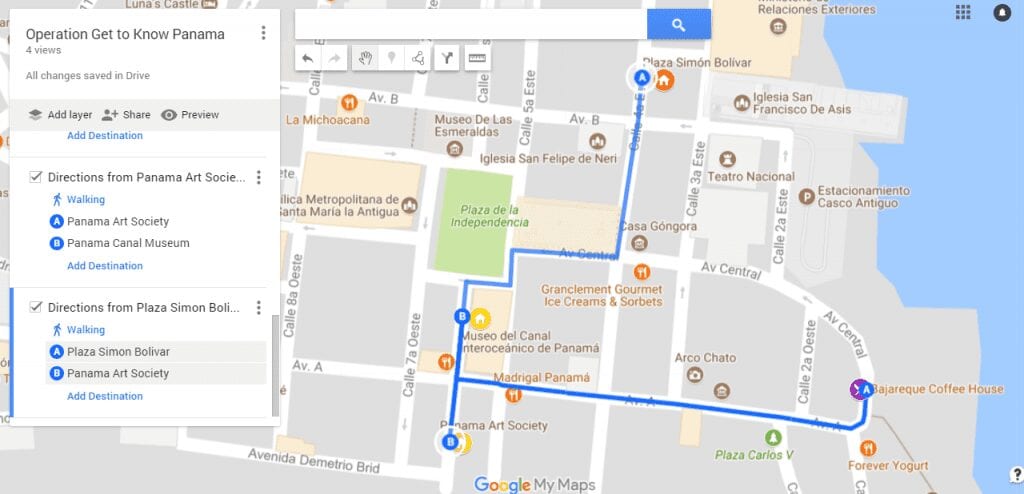 If you enjoy organization as much as I do, you could even add different layers to your map to arrange your activities by type or priority. I liked having a visual reminder that some places, such as the temporary Panamá Instantánea exhibit at the Hilton, were more must-see than others.
Step 6. Share The Wealth
Once you've exhausted your map (and yourself) and are satisfied knowing that you ticked off every item on your list, you can decide if you want to share your map with others so they can benefit from your meticulous planning and travel ingenuity.
This is a great option if you're someone who keeps a travel blog, for instance, as it allows others to travel directly in your footsteps. In my case, I decided to share my map for when friends inevitably pass through the Hub of the Americas and want sightseeing recommendations.
MyMaps is a great way for anyone to get familiar with a new place, whether you are traveling or exploring a place as a new arrival there, like me. Using it, I gained a great initial insight into a city that's completely new to me, making it feel a little more familiar. The app could even be useful for someone who's not new to a place at all, but wants to complete a list of errands in the most efficient way possible.
Either way, MyMaps is about having all your information in one place and organizing it before you even step out the door. If used correctly, it will undoubtedly help you make the most of your day, wherever you may find yourself.
Sophia Titley