Ecology. The Environment. Recycling. These are the constant buzz words in circulation these days, and Panama has climbed aboard that bandwagon too.
Being a Central American country, garbage has become a huge issue here. Previously, the subject was never given a second thought. Refuse lined the highways and byways, as well as the town streets. Now, gradually, this is being corrected as people become aware of how harmful it is to our planet. School children are being taught the importance of no longer littering, adults are forming volunteer groups to gather garbage from the streets and roadsides, and recycling is being utilized wherever possible.
Organizations such as Movimiento Mi Mar,
a group of volunteers
who work to create social awareness of the dangers of ocean pollution, have been doing their part. On May 2019, over 300 volunteers tackled the cleanup of the Juan Díaz mangrove swamps. 80% of the ocean waste consists of plastic bags and bottles.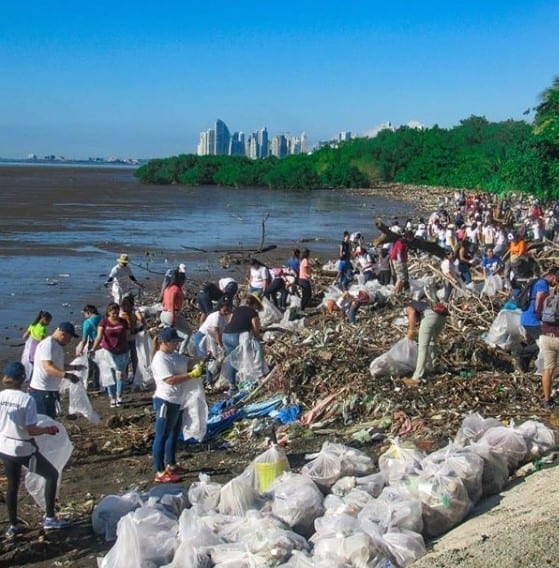 Plastic is the number one bane of our ecological existence at this time. More than 2 million tons of plastic enter the oceans yearly. Humans produce 20,000 plastic bottles every second. Sadly, 91% of this is not recycled and it takes four hundred years for it to degrade.
An imminent, progressive step in the reduction of plastic waste is the banning of plastic bags in Panamanian supermarkets and other retail stores. This is an initiative of the National Association For The Conservation Of Nature (ANCON), and Panama has the distinction of being the first country in Central America to enforce this law. Reusable bags must be sold at cost at all retail outlets or fines will be imposed. The proceeds from the fines will be allocated to recycling and teaching programs on environmental topics. In January, the law extended to warehouses and wholesalers. In the National Assembly there is a pending bill to eliminate foam for food packaging, as well.
In Bocas del Toro, Richard Bezeau, an enterprising Canadian man, has aided the cause by building an entire village with houses constructed from plastic bottles. Appalled at the plastic waste being tossed in the ocean, he opened a recycling depot. However, a road block soon became apparent. How would he dispose of the collected waste?
After collecting well over a million plastic water bottles, the solution presented itself. He would build houses using the bottles as insulation. Since that germ of an idea, he has turned eight acres of land into his dream village. Not only twenty homes but a delightful replica of a medieval castle are the result. The bottles are formed into the dwellings and are then covered with concrete. This has served to make the interiors 62 °F cooler than the outdoor temperature.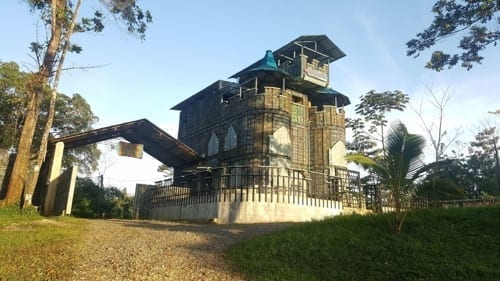 In Boquete, Chiriquí a semi-retired American woman, Holly Day Smith, has made it her mission to eliminate as much plastic waste as possible by recycling it. She is in the process of setting up a system whereby all types of plastic can be shredded and formed into items for resale. She also plans to acquire the machines necessary to produce building blocks from the recycled plastic. These blocks will be stacked exactly as cinder blocks are currently, then will be covered in chicken wire and stuccoed. Her goal is to make it possible to replace the direful tin and wood scrap dwellings of the indigenous people on thecomarcawith these homes.
Each and every one of these projects add up to an admirable effort on the part of concerned Panamanians, expats, and locals alike, as it is predicted that by the year 2050 there will be more plastic in the oceans than fish.
Air quality is another important issue being addressed in Panama. In May 2019, a biofilter was installed at the National Transportation Terminal which can purify the air breathed by almost 2,800 people. This biofilter extracts air from the environment, using photosynthesis to turn it into oxygen. Using solar energy, it has the same benefit as 368 pine trees per year. This in turn will generate products which can be used to produce fertilizer, among others.
Reforestation is a huge undertaking being accomplished by Panamanians. Around 12,000 seedlings of native trees were planted to revive the forest cover of the La Villa River in the Azuero peninsula. On National Day of Reforestation, over 20,000 volunteers planted 40,000 trees throughout Panama.
Endangered animals are also a worry. 10,000 marine turtle species eggs will be protected in an artificial nursery at La Marinera Beach in Los Santos, and built by students and teachers at the Technological University of Panama. The nursery was financed by the fundraisers, organized jointly by these students and the Ministry of the Environment.
In a similar endeavor, a new campaign has been launched to promote the conservation of Panama's jaguar population. The Panama Jaguar Foundation sadly reports that at least 113 of these majestic animals have been killed between 2015 and 2019.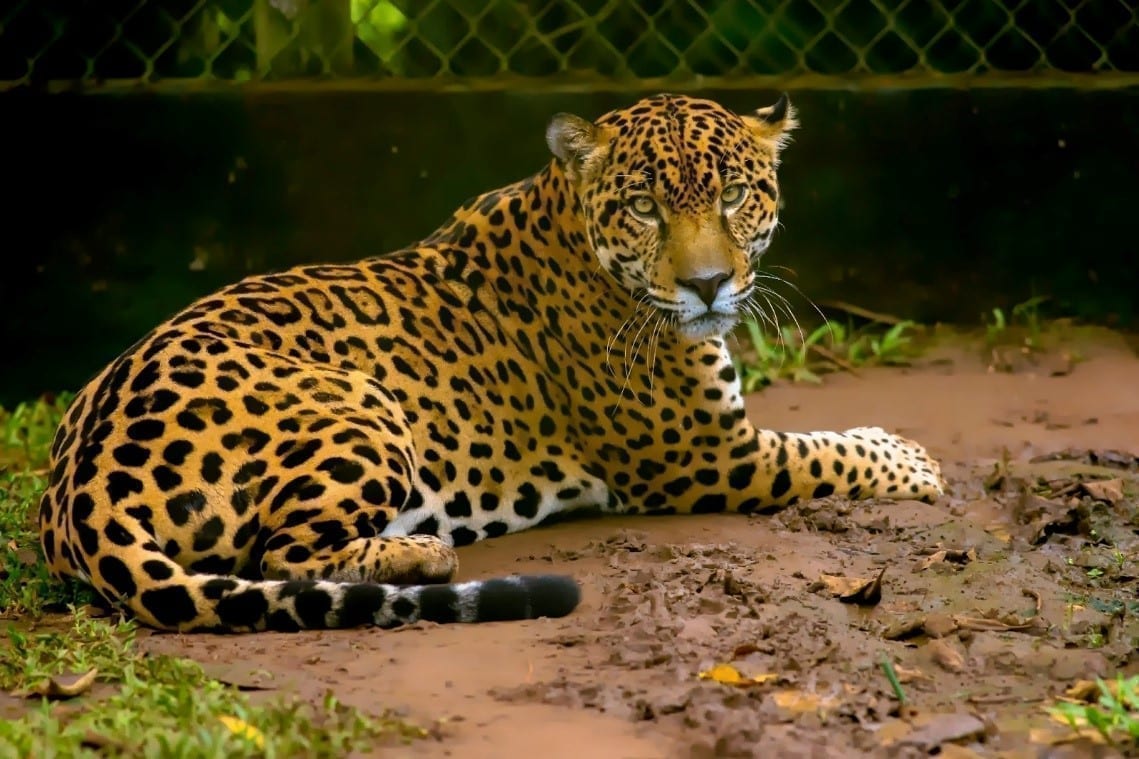 Biologist Ricardo Moreno explains that jaguars are at the top of the food chain in the Central American jungle, and regulate the populations of prey species that feed on seeds, such as deer and rabbits. If this balance is broken, the excess of prey would eat all the seeds of the soil. In fifty years, the forest would not be able to regenerate without new seeds.
Awareness and action. These are the responsibility of all Panamanians and it's comforting and pride inducing to recognize both as being carried out on a daily basis in this progressive-thinking country.
Robin Post