The best advice for foreign investors, expats looking for the next exciting community, or people enjoying life here in Panama is… to follow the path of progress.
That has proven difficult to keep up with in the past ten years, due to the phenomenal growth.
Just over the Bridge of the Americas, as you leave Panama City, you'll immediately see road expansion works and preparations to build the fourth bridge over the Panama Canal.

The almost 20 kms separating Arraiján from La Chorrera are now completely built-up… small houses and red roofs pervade the view from the Carretera Panamericana (Pan-American Highway).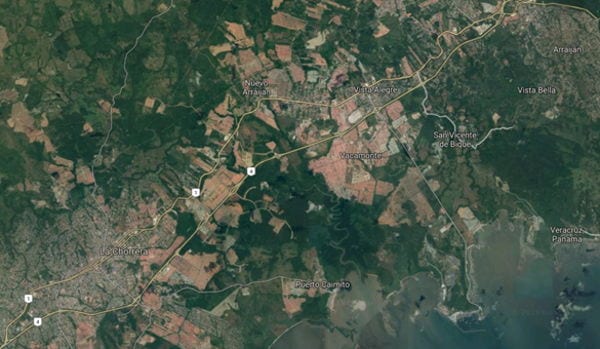 The satellite map above shows Arraiján (upper right-hand corner) and La Chorrera (lower left-hand corner). Most of those red zinc roofs didn't exist five years ago.
The "4" is the Autopista Panamá-Chorrera, a major project built to reduce travel time to and from Panama City.
With its three lanes in each direction, it dramatically changed Arraiján and La Chorrera. And even that many lanes cannot handle the massive traffic flowing into, and out of, Panama City.
Close to the center of the map is "1," an area called Ciudad Montelimar… but no one knows where that is. Everybody knows it as "Costa Verde."
In addition to the shopping mall near Costa Verde, is the C.C. Market Plaza on the opposite side of the highway.
Costa Verde was one of those moments when my wife and I celebrated Panama's progress.
Of greatest importance was the grand opening of PriceSmart (the Latin American version of Costco).
Everyone was celebrating the opening of this location, as it meant shorter driving times for customers living in the interior (west of the canal). The only other PriceSmart store in the interior was in David—clear across the country, near the Costa Rican border.
On the way home we would stop at PriceSmart to stock up our pantry and fridge.
Did I mention that PriceSmart has the best alitas (chicken wings) in the country? They are every bit as good as Hooters wings.
Don't put away the party favors just yet.
A new Riba Smith opened up in the C.C. Market Plaza, the largest in the country. It literally has everything under the Panamanian sun.
To sweeten the deal—pun intended—a Krispy Kream donut shop opened here too. Now, going into the city, my wife and I have a place to stop for a cup of coffee and donuts.
But the path of progress didn't stop there.
A new shopping center was built in Río Hato, followed by a new mall in Penonomé that's still expanding as I write this.
The excitement in Penonomé was the grand opening of Niko's Café. This isn't a gourmet restaurant… it's one of the best places to taste the best flavors of Panama at Panamanian prices.
My wife and I ate dinner here for less than US$8.00, including a drink from the soda fountain. We have always found great, inexpensive food at Niko's and always enjoyed our meals.
And, closer to home, Panama had more in store for us to celebrate…
Aguadulce received its first shopping center (you can read all about Aguadulce in the August issue of Panama Letter). The town celebrated in grand style, as it housed a Super 99—the first major grocery store to open between Santiago and Penonomé.
The shopping center also has a Do it Center (home improvement/building supplies), a bus terminal (the city never had one before), KFC, Domino's Pizza, and many smaller stores.
Too many projects to list…. not all of them are celebration-worthy, either.
The last of these new developments is actually why I am writing this article…
My wife and I are still giddy over our latest discovery… and we're still celebrating.
Kathleen Peddicord, Lief Simon, and everyone at Los Islotes will want to join in…
PriceSmart has opened their seventh location. This one is in Santiago. Easy to find, it's next to Hotel Mykonos.
It's so new there weren't any lines as we went to check out. Clean, modern, and stocked with all the great merchandise that we love to spend money on.
Why celebrate these developments? Progress…
Road expansion and road works improve the quality of life here in Panama.
Six years ago, Riba Smith was known as "the gringo store." It was the only store that sold health foods, special order any item you needed, and stocked items that gringos wanted.
Today, you'll find more Panamanians shopping at Riba Smith than gringos. The store offers fresh fruits and veggies, the highest quality in fresh meats and chicken, and the best customer service of all Panamanian grocery stores.
PriceSmart offers many products that can be found in a Costco store, like high-quality imported items sold at very affordable prices. Members Selection products offer extrodinary savings on well-known products. It even offers online specials and delivers your order to the local PriceSmart store.
You need a membership to shop here:

Having these two stores within easy driving distance make living (and shopping) more enjoyable.
We'll continue to look for future path of progress events to celebrate while enjoying living in Panama… Stay tuned.
Buen viaje…
Dusty Tubbs