Ma Mamie is open Monday through Saturday, from 10 a.m. to 10 p.m. Follow Ma Mamie on Facebook here.
Charlie and Arnaud are brothers from France who recently relocated to Panama. Not long after settling in, they set to work on fulfilling their longstanding dream: opening their own French-food restaurant.
The most convenient way for them to follow through on that dream? A food truck… That's how Ma Mamie came to be.
Located in front of Plaza Albrook, Ma Mamie offers Panama City the chance to try home-cooked French classics: Their menu runs the gamut from quiche lorraine and croque monsieur to gratin dauphinois and crêpes anointed with salted-caramel sauce…

And while French gourmet quality is a given, French gourmet prices are not. The brothers put a premium on affordability (their hand-squeezed orange juice is US$1 a glass), generous portion sizes, and healthy recipes that hearken back to a simpler time.
They also put a premium on eco-friendliness—a refreshing diversion from Panama's generally apathetic status quo. Their food truck is 100% solar-powered and they offer customers biodegradable utensils.
Panama Letter Editor Sophia Titley sat down with Charlie, Arnaud, and Lola—their pet parrot and Ma Mamie mascot—to get the full story…
Panama Letter: Where'd the idea to start a food truck come from?
Charlie: Since I was 18, I've worked in restaurants in France… everywhere from five-star hotels to restaurants on beaches and on the sides of mountains. For the past 11 years, I've had the idea of opening my own place. I love customer service, and for me, it's much more than a job—it's a passion.
When I came to Panama, I worked for a few different companies but always kept the idea of opening a restaurant at the back of my mind. Eventually, I saved up enough money and realized it'd be much easier and more economical to open a food truck.
Rent is very expensive here, and if I rented a space and the business failed, I'd be left with nothing. The food truck is a better option because, no matter what happens, I own it. So I saw it as my opportunity to finally open my restaurant and do it on my terms.
PL: What was the inspiration for Ma Mamie and what's it bringing the people of Panama City?
Charlie: Ma mamie means "my grandma" in French… Our recipes pay homage to our grandmothers' home cooking. That's who we're thinking about when were in the truck… They brought us so many happy, food-related memories as kids and we want to offer the same to people in Panama.
Arnaud: Yes, our concept is really simple. It's healthy, non-complicated recipes made with love and local ingredients at a good price.
Charlie: Also, Ma Mamie is unique because it's run 100% on solar energy. We have solar panels installed on the top of our truck.
Also, all of our utensils are compostable and biodegradable. Our wooden forks take only one month to decompose… a plastic fork can take up to 1,000 years. As French people we take this commitment to the environment seriously.
PL: What are your individual roles in day-to-day operations? 
Charlie: I am the restaurant manager and the business was my idea. Arnaud is the head chef who joined on to support… but we're both involved in cooking and are in the truck together every day.
PL: I've heard good things about your crêpes… Especially the caramelo de la casa (homemade salted-caramel sauce). Who is responsible for those?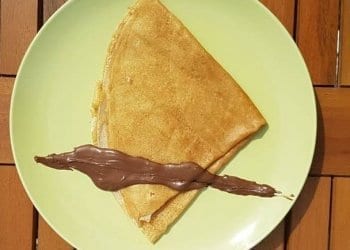 Arnaud: That's me. I've been working on my crêpe recipe for the past 10 years. I even have my Pratique Du Métier De Crêpier from Ecole Maître Crêpier et Cuisinier… I hold a diploma in making crêpes.
That's another reason people are coming to Ma Mamie. They are interested in French food, but don't have a lot of options to try it in Panama. And the options they do have are very expensive.
PL: You opened your doors on Sept. 10 of this year. Who've been your main customers so far?
Arnaud: Mostly neighbors… we're in a very busy area (next to Albrook Mall, the biggest mall in Panama).
Charlie: Yes, the first thing that makes people stop by is curiosity, because Ma Mamie is an original concept… They return because they like the food and also because our portion sizes are really good, which is important in Panama.
There are also lots of people looking for a cool place to hang out in the evening with their friends and family… We're all over social media so a lot of people come to check us out.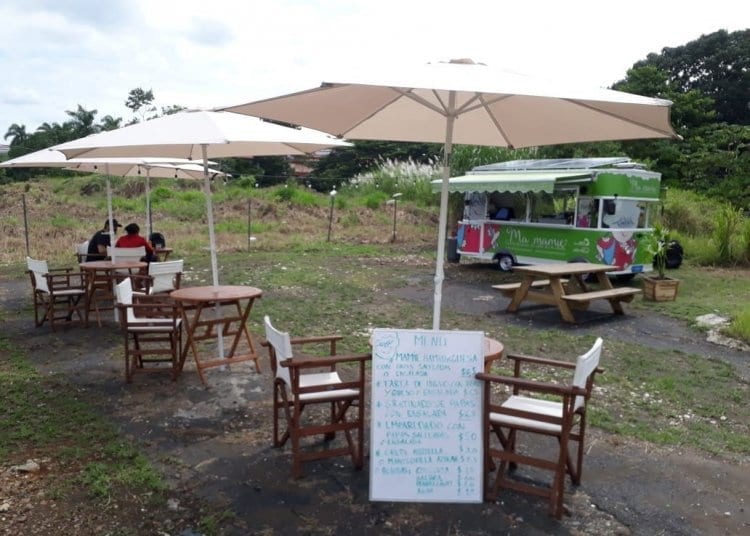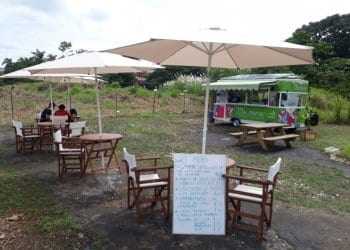 PL: Not only social media… You guys were featured on a local television program, right?
Arnaud: Yes, we were featured on "Jelou!," a morning TV program on the TVN network. We had a great time and got 12 minutes of airtime, which is a lot for us. They were interested because they like our concept and design. (You can watch the interview here.)
PL: Speaking of your design, how did you come up with the graphics for the truck and menu? Is it a caricature of your grandma?
Charlie: That was me… I studied graphic design before coming to Panama.
Grandmas in France seem to all wear flowery blouses and have short, white hair… So yes, the cartoon mamie does look a lot like her.
PL: What have been the up- and downsides of this experience for you? 
Charlie: The best part is being my own boss… working for my own account. Also, having a concept that is 100% my own.
Arnaud: Yes, and the most difficult part of the process is working with solar energy. The weather is always changing in Panama, so having enough energy to be able to cook is not always guaranteed.
PL: Would you recommend the food truck business to other entrepreneurs? 
Charlie: Of course. The food industry is not easy… Nothing in Panama is easy. There is a lot of red tape in the beginning. You have to get special licenses and jump through a lot of hoops. But with desire and ambition, anything is possible.
PL: Where did you buy your food truck?
Charlie: I did a lot of research online. Most food trucks for sale in Panama are American-made… they are expensive, heavy, and not eco-friendly.
Eventually I found a supplier in China who could make me an electric food truck, according to my design. I asked him to install solar panels, because again, being eco-friendly is a priority.
Then I shipped the truck from China to Colón, Panama. I can't tell you the name of my supplier… but if anyone wants to start a food truck business, they can get in contact with us. We can help them get their own solar-paneled food truck too.
PL: Interesting… A bespoke food truck. What's coming next for Ma Mamie? 
Arnaud: We're looking to expand and cater private events. For events, we can move the truck to wherever people want it. It has a motor, wheels, and everything you'd need… even music! Really, music is the most important thing.
Charlie: We also want to franchise. Ma Mamie is a registered brand and we are the distributors of it, so if anyone wants to sell our products, they can get in touch with us.
Sophia Titley