I grew up in the United States, and I remember times when the electricity failed. But living in Latin America, it is much more a fact of life. I remember 25 years ago, during the five years that I was living in Chicago, the lights went out twice. Both times, we received a credit on our monthly bill to compensate for the inconvenience.
In Colombia, Mexico, the Dominican Republic, and here in Panama, the lights are likely to go out at any time. When it happens during the day, the air conditioner dies and the fans slide to a halt. It doesn't affect cooking much, as cooking with electricity is uncommon.
When in Puerto Plata, DR, the lights were scheduled to be off every Tuesday and Thursday from 10 p.m. until about 3 p.m. The neighborhood next door was without electricity on Wednesday and Friday during the same window of time.
Now I live in Panama City, Panama, a bustling city with a bit over 4 million inhabitants. Like every big city, there is enough ambient light that the stars haven't been seen since the last time the lights went out. But last night, the lights went out about 8 p.m. and the cry went up, "Se fue la luz!" ("The lights went out!")
Years ago, during power cuts of my past, I remember asking in the dark, "Where are the candles we had?" or "Does anyone know where the flashlight is?"
But, here in Panama, when the lights go out, everyone grabs their cell phones and goes to their living room windows to look out at the darkness under the heavy cloud cover.
The question as to whether it was just a fuse in the house, something in the whole neighborhood, or an even bigger fail was answered immediately. From where I sat, the darkness seemed to cover the whole city. The banks' lights weren't shining, nor was the car dealership a block away. 
Lights On At The Canal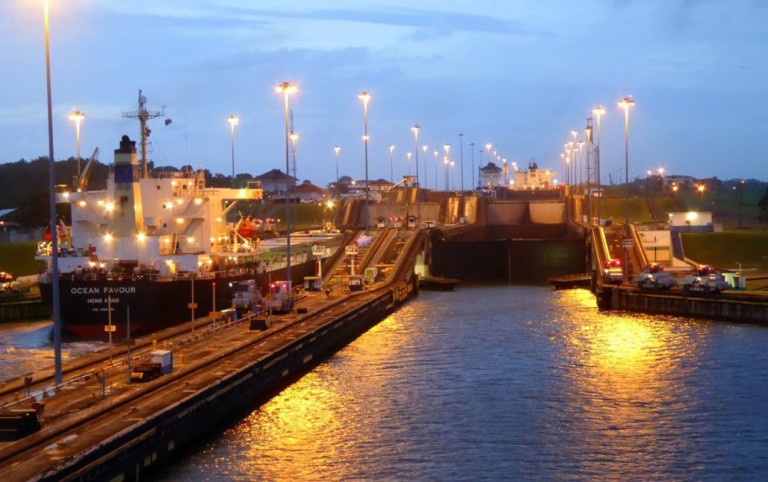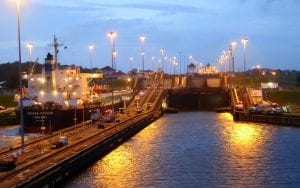 The Panama Canal is so globally significant that it actually has one of the largest, most important electrical installations in the world. The capacity of 28,290 horsepower is possible through the 1,022 electric motors, which replaced the steam and water-power equipment previously used.
To ensure safety and reliability, the innovative electrical control system includes a remote lock operation from a central location.
The extensive electrical installations were responsible for the completion of construction of the waterway. Along with that, they provide electrical power required for the canal to operate at all times, regardless of weather conditions or countrywide power outages.
For this reason, the Panama Canal is historically renowned as the world's greatest engineering work of the 20th century.
The canal continues to carry on with 103 years of uninterrupted service.
The Office Depot sign—a landmark that I used to find my way back home for my first couple of days here—was also unlit.
Off into the Pacific Ocean, I could see the string of ships lined up to pass through the Panama Canal. From my window, I could count 14 huge container ships lined up like people waiting to check out at the grocery store. The absence of electricity in the city had no effect on them.
Many of the ships carry over 6,000 containers and pay more than US$200,000 each to pass through the canal. Five of these big guys pay out a million dollars. From somewhere I could hear a powerful generator starting up. At first, I assumed the building had a backup system, and that we'd soon have lights, but the generator, or whatever it was, chugged on and on without illuminating anything I could see no matter which direction I looked.
Some private homes have inverters, which charge up batteries when the electricity is on and automatically reverse and provide power to selected outlets around the house when needed. This is so refrigerators and freezers won't be off for an extended period of time, and stored food won't be ruined to waste. Our house does not have this system.
My computer was still on, showing I had several hours of battery power to use, but the Wi-Fi connection was down with the lights, so I closed the top down, concluding my work for the night.
I took my tablet and headed for bed. I had just bought three books from Barnes and Noble, so I read until I fell asleep. Around midnight I awoke and realized that the city lights were blazing all around, the various buildings lit up as usual… The four bank signs were once again illuminated, as was the Office Depot sign a few blocks away, and the car dealership I can see from my window.
Now, in the light of day, I can appreciate the things that modern civilization has given to us. Even if "se fue la luz," it isn't a disaster—just a part of life in this tropical paradise.
Deryl Fisher
Panama Insider
The Day The Big One Hit
On Saturday, July 1, an issue occurred in Panama that was so huge it actually affected Costa Rica and even Nicaragua and El Salvador—one newspaper claimed small areas in Mexico were also affected.
Just after 1 p.m., interrupting an address to the nation by President Juan Carlos Varela at the National Assembly, a 500-megawatt surge caused all of the country's generators to fail, leaving millions across Panama and beyond without power.
The power surge was so strong that Panama's regulatory mechanisms could not kick in. This is the fourth major blackout that has occurred in the country so far this year.
"The power cut happened due to an incident in El Coco in Penonomé," said ETESA, the country's power transmission company.
Homes and businesses were hit, of course, as were traffic signals (causing chaos on the streets), the city's metro system, and water plants that use electricity in order to function. Water supply was interrupted everywhere except Colón.
Power was eventually reestablished in Panama by 6 p.m. that same day.
Bring on the solar power! So you're new in town and want to get the lights on in your new Panama City digs.
First things first.
Take your lease agreement or property title for your residence along with a passport to the electricity company (likely ENSA or Unión Fenosa). A deposit is expected to be made, depending on your expected usage. Then, an appointment is set for them to come to your residence and make the connection, but it usually takes a week or two for them to show, so be prepared for that.
Every month, the bill is left near the front of your apartment building or front gate. Electricity bills can be paid online or at an E-Pago kiosk in a mall or supermarket. After two months without payment, the service will be cut off, so don't fall too far behind.
Electricity rates vary depending on where you are living, and even rates in Panama City can change neighborhood to neighborhood. In Panama City's El Cangrejo neighborhood, expect a monthly electricity bill of roughly US$50, and double that if you plan on using air conditioning. If you live on the outskirts of town, away from city center, and use fans instead of air conditioning, you're monthly bill can be as low as US$15.
It's always good to call ahead before arriving to the utility companies' offices. It allows you to check when their hours are, confirm you have all the paperwork that they request (these things can change), and see if your visit will be expedited by making an appointment. We recently got our electricity hooked up for our place on Panama's western Azuero Peninsula (a feat in itself). Now my question is, how will we receive our electric bills?
Do they deliver them to your house or can we access them online and pay them online from the United States? We won't be living in the house full-time."
Donna H.
Yes, you can set up your Unión Fenosa account to view and pay online. Given the location of your property, you'd do this at the Unión Fenosa office in Santiago.
Friends living in that part of Panama report that Fenosa sends a guy around to read the meters in the region about once a month. Sometimes he leaves a bill.
However, rather than paying online, our friends prefer to go to the office in Santiago to pay their bill. To avoid having to make that visit monthly, they pay ahead (in Spanish, this is "cobro anticipado").
Our friends pay US$300 to US$500 at a time, enough to cover six months of payments, más o menos. Then, five or six months later, they go to the office again to check on their balance and top up their account.
If your advance payment on account falls below zero, you'll be charged nominal interest on the overdrawn amount. Our friends assure us, though, that you'd have to be very overdrawn for a long time before your power would be cut off. We're not sure you'd avail of such leniency in Panama City.
Have a question? You can write to In Focus: Panama here.