Serenity Now: A Corner Of Paradise To Call Our Own 
When we were planning our move to Panama back in 2011, we looked at every possibility. City. Country. Beach. Mountains. Bustling. Bucolic. We were definitely not starved for options. We decided that we wanted to be close to the ocean (if we could afford it) and somewhat away from large, established expatriate communities or tourist centers. We wanted a Panamanian experience. We wanted an adventure.
In my online explorations before we moved, I zeroed in on a region west of Panama City called the Azuero Peninsula. It's a squarish spit of land jutting out into the Pacific Ocean with some of the finest coastlines in the country and the deep blue and turquoise waters one would expect in the tropics. There are beautiful, uninhabited islands just offshore and, during the season, humpback whales and other marine mammals frolicking in the bays.
The Azuero coastline is rocky in places, with dozens of waterfalls flowing down from the inland mountains. In other areas, it's flanked by long beaches. Neither April nor I surf very much, but there are places on the peninsula said to be among the best in the world. They have held a few world championship events on the eastern coast near Pedasí at a beach called Playa Venao, and, here on the west side, Torio hosts an annual surfing competition, too.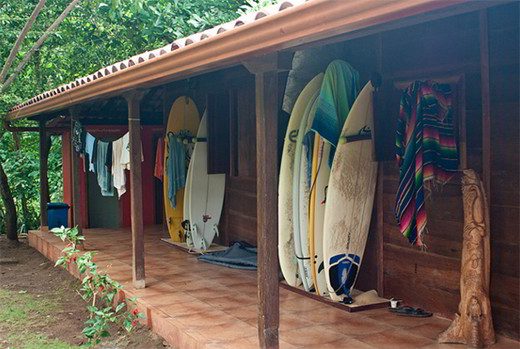 The main population centers, if you can call them that, are on the eastern side of the peninsula. Drive about three hours west from Panama City along the Pan-American Highway, then turn left at Santa Maria. First hit Chitré, then Las Tablas and, finally, Pedasí, near the tip of the peninsula. We lived in Pedasí when we first moved to Panama and, during that time, frequently visited Las Tablas; it's only a 30 minute drive with many more shopping options.
Both towns (each no more than 20,000 residents) date back to the 17th century and the pace of life is, to put it mildly, slow. Very slow. In Pedasí you will only find three small convenience stores offering basics (meats and vegetables), one bank, and two gas stations. Las Tablas, on the other hand, at least has several large grocery stores and a variety of household shopping options. It might even be growing. Recently, a friend told me that a new commercial development is underway, with cinemas, a hotel, another large supermarket, and who knows what else.
Las Tablas is home to Panama's most raucous pre-Lenten party every year. During the festivities, the town divides geographically down the middle to form two competing sides, each choosing a carnival queen, and competes to "out show" each other with fantastic floats, extravagant costumes, and group dances. The competition between the two sides is judged and a winner is based on quality of costumes and creativity of floats. Women on the floats sport Panama's national costume, the Pollera, which is a large one-piece handmade skirt decorated with colorful embroidery accompanied with family heirloom jewelry such as gold and pearl mosquetas and tembleques.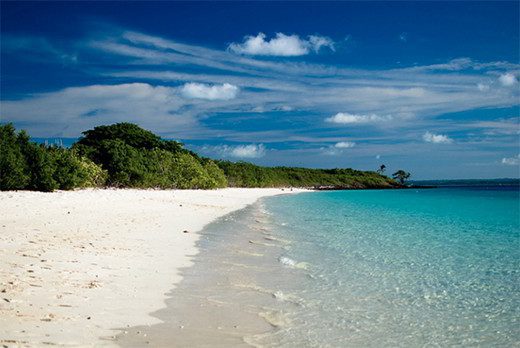 When we were still in Texas, I actually reached out to a couple developers who had projects underway near Pedasí. We liked the town and one of the projects enough to briefly flirt with the idea of sending a 20% down payment without even seeing the place. April brought me back down to earth and nixed that idea.
So I got back online and, via Live and Invest Overseas, stumbled across what would prove to be the perfect place for us—Los Islotes, on the western coast of the Azuero peninsula.
The western shore of the Azuero, known as the Sunset Coast because it's the only one in the country from which you can watch the sun set over the ocean, is even slower than the eastern one. Sparsely populated, this long stretch of pristine shoreline is dotted with one small town after another, Mariato and Torio being the two towns worth noting. Restaurants and B&Bs are starting to pop up in both of these places and people are beginning to compare Torio to what Pedasí was three years ago. The road is paved all the way to the bottom of the peninsula and during the rainy season the potholes can make for adventuresome travel.
It sounded like just what April and I wanted.
So, back in February of 2011, I reached out to the developer of Los Islotes, Lief Simon (Mr. Kathleen Peddicord). He told me about an excursion tour to visit the spot he was planning to develop, and two weeks later we were on a plane bound for Panama City's Tocumen International Airport.
With Lief and six other people, we ventured out to the patch of earth that is now quickly becoming Los Islotes. We whacked our way through to the lots with a couple machetes and a handheld GPS. It was all jungle at the time. There was nothing there other than one of the most amazing views I have ever encountered in my life. To be able to sit on my front porch and watch whales breaching in the distance would be a dream come true; a dream that is completely out of reach financially for us in the States. But not in Panama.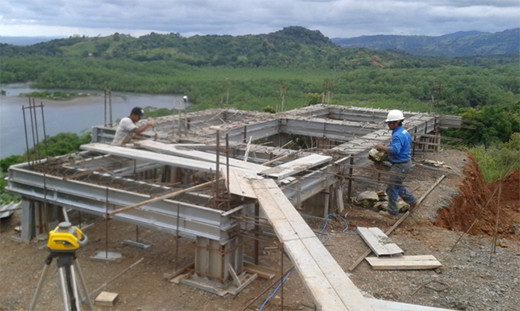 I've got just enough cynic in me to know that things don't always turn out as planned, especially in this part of the world. Developers sometimes promise people the moon and leave them with only a star or two, if that. Turning raw jungle into a community is no small feat, but knowing that Kathleen and Lief are building Los Islotes as a place to retire themselves gave me great confidence. So much confidence that April and I have agreed to help recruit other converts to the Los Islotes lifestyle. We both now spend part of our time taking people on tours of the development and answering questions about it via email or telephone.
We didn't have our checkbook during that first visit, but we did have a PayPal account. We bought lot 68 on the spot. We were moving to Panama.
After the trip, we went back home and told our families what we were going to do. They thought we were nuts. We knew we were. But, hey, as April's kids like to say, YOLO. You Only Live Once. We plan on making the best of it.
See you next week. Until then, stop by our Facebook page throughout the week for news and updates about the Singapore of the Americas.