A few weeks ago, I sat down with Jon Hurst, founder of the Vía Argentina staple, New York Bagel Café. A favorite of locals, expats, and tourists alike, I had a few (well, eight) questions for Jon about where else in the world he has ventured to, how he ended up here in Panama, and what made him decide to open his business here after all. He was more than candid with his insightful responses to each of the questions, with one piece of advice he was sure to drive home: Learn Spanish! More on that and the beloved bagels below.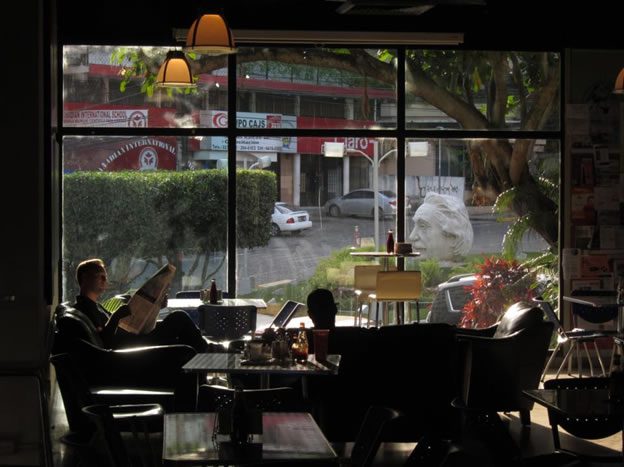 1. Where Are You From, And Where Else Have You Lived Prior To Panama?
Originally from Arkansas, and then lived the majority of my adult life in California.
Where in California?
I live in the Bay Area. I still go back rather frequently.
Are those the only places that you've lived prior to having this here?
No, I've lived in a lot of places. I've lived in Miami, lived in Guatemala, lived in Colorado. It's hard to keep up with how many places I've actually lived. I was working with different government organizations that were working overseas. So, I'd be stationed at Miami, then working in Latin America. I was working with a group called Sustainable Harvest. We had projects in Panama, Belize, Nicaragua, Honduras. I was stationed in Honduras. So, I've traveled and visited all of the countries in Central America, and I know them fairly well.
We do a lot about Belize right now. We have an In Focus: Belize publication that we do twice a month.
Yeah, I'd imagine. I worked in Punta Gorda, which is in the southern part, which I don't think it is as touristy. People take the ferry over to Honduras a lot of the times. That's what I was doing. Belize… I think a lot of people think that because it is an English-speaking country, it makes it a lot easier to join a different society, a different culture, and become a part of the culture.
2. For How Long Have You Resided Here In Panama, And What Do You Like Most About Being Here?
I was here 20 years ago for Peace Corps for a couple of years. I was working here with Sustainable Harvest in 2005. And then in 2006, I started the operations here. So, I've been here 14 years altogether in different parts. It just really boggles my mind that it's been 20 years since I was here for the Peace Corps. I really don't feel that old.

When you were here for the Peace Corps, where were you exactly? In the City, or?
I was in Colón. I was in a small community outside of Colón. That community was called Nueva Sevilla, but it was close to Quipo, which some people know where Cuipo is because it's on the lake. But nobody knows where Nueva Sevilla is. It's about 350 people maybe. It was a Peace Corps agricultural extension. No electricity, no running water, things like that.
Every two weeks, I would have to come into town or go insane. No TV. I would come in and sit in a hotel on Avenida Central. It was, I think, US$12 a night. And I would just sit in the air conditioning and watch TV. Just to decompress. And then we'd go to the discos because other Peace Corps volunteers would come in. It was a fun time, but a very stressful, trying time, as well.
There were a lot of problems with working and living in the countryside, even though I had a salary. The people that are there, operating on basic sustainable agriculture—it's amazing. You think about how much we have available to us, and just how limited some people's lives really are. And, as far as technology and access to medicine… things like that—it's surprising.
3. How Did You Choose To Start A Business Here Out Of All The Places That You've Been?
I feel like Panama is probably the most stable country economically, considering that the economy is based on the U.S. dollar. Also, just a personal preference. Like I said, I've lived in Guatemala, I've lived in Honduras. I like Guatemala, but I don't think I'd want to operate a business in Guatemala. There'd be a bit more difficulty in establishing a business there. So, it's more easily established here. And, since I did the Peace Corps here, I did have contact with Peace Corps volunteers and Peace Corps staff.
Did a lot of the people that you worked with end up staying?
Well no, I think I'm the only person that stayed. But I do have friends that visit that were in the Peace Corps.
4. So, Tell Me About New York Bagel. What Made You Decide For This To Be Your Business? What Makes It Special?
Well, there were no bagel shops in Panama. And, every time I go back to the States, the first thing that I would do upon arrival the next morning is go to have a bagel because I really missed having bagels. And so I went, and I started looking and doing research. In the grocery stores, they were selling frozen bagels in the frozen food section. And I was like, oh, well there is obviously a market here for bagels. There's just nobody that's producing them fresh-baked. And I thought that seemed like a pretty good idea.
So, I went back to the States, worked for a couple months at a bagel shop. I learned how to prepare the bagels, learned the ins and outs of the bakery system, and then came back here and started the business. It took a few months to find the right location and to get the equipment shipped down. And then, with the recipe, using ingredients that are more local and with the weather, the humidity being what it is, really has an effect on the baking products. So, trying to figure out the system so that the bagels come out tasting like authentic bagels, that was a pretty tricky beginning.
Well you've got it down, because the bagels are awesome. We eat them at least once a week.
It's a very typical breakfast in the United States, people getting a bagel with cream cheese and a coffee to go to work in the morning. And, you know, the water in Panama City is really good. And that really does have an effect on the quality of the bagels. That's always what people say in New York. It's like, "Oh I have the best water on the planet," but the water in Panama City is very good.
5. What Has Been Less Than Spectacular, Or Perhaps The Most Challenging Part Of Running Your Business In Panama?
I had the ability to do more cream cheeses, but we had to limit the products we could get here frequently. Because, a lot of the things that I have on the menu, we couldn't get the products here. And that's one of the difficulties of opening a business here in Panama. Sometimes it's difficult to get the ingredients that you need unless you are directly shipping from the United States or shipping from somewhere else.
And a lot of the times, I will run into things that I need in a store, and I will grab all of them, and then they won't restock. Things that really drive me batty are thermoses. Like, I can't find the Airpot thermoses for the coffee. Something crazy like that—why don't they have those thermoses here available to purchase? So, I had to come down a lot of times with the thermoses from the States and bring them back. Suitcases full of thermoses. Which, you know, I guess I could order things online, but I like to make myself work a little bit.
That's another thing that has proven difficult here, is mail doesn't exist.
I think that that's interesting because I think Panama is more developed in that sense because they do not have all that paper waste. Because, in the States, I get mail, and I get trash mail, and really people don't use regular mail all that much anymore. And here, while they've never had mail, it's like they're ahead of the curve, because they've eliminated all paper mail. I had a mailbox here for several years, and I was paying a monthly fee to have it. Finally, I canceled it, and I've been off the grid, mail-wise.
Another challenge has been the way that the economy in Panama has been going down a bit according to my sources on the street. People are seeing less sales, and not just because of the area and the construction, but because of Casco Viejo, and other places, as well. But, I don't know… they're blaming a lot of that on the new president who has been in office for three years now. They're saying that he is moving really slow in getting things going economically.
Is that true?
Oh, I don't know. All I see is that there is construction out front that has affected our sales. And when they finish that side, they're going to move all of the netting to this side, so I think it's going to be even more difficult. Yeah, it's something that's interesting. But it's going to be great to have a park here, I guess! I'm looking forward to not having cars just in front. You know, I risk my life going up to where I usually park on a daily basis. So, it should be good. Coming from the Bay Area with pedestrian crossways, people will actually stop. It's far more car-geared here.
6. How is your Spanish?
Oh, I'm fluent.
You're fluent! Were you fluent when you came?
It was a learning curve, being in the Peace Corps. But, the Peace Corps, they offered three months of intensive language classes, which I would recommend to anybody. We were living with a Panamanian family. We had eight hours of class, five days a week. Even after three months of working intensively with language instructors and living with a Panamanian family, I would say that my Spanish was just alright. It takes living in an area for at least a year before you feel confident enough to understand, and then of course, longer to get the nuances.
But, that would be another recommendation for anybody that's interested in establishing a business. Having language skills in said country is ultimately the most important thing. Because I've seen a lot of people come to Panama that don't speak Spanish. They're very interested in operating a business, and they get extremely frustrated and end up leaving because they don't understand the cultural difference because they don't understand the language.
It's really interesting, after having learned Spanish here, when I go back to the States, there's so many people that speak Spanish in the United States, it's like, wow. A whole lightbulb went off. Every place you go, where I go in the United States, I hear Spanish everywhere. So, I think it's really important to have those skills, to be able to talk with people in your country.
7. What Has Been The Best Part Of Owning Your Business Here In Panama?
It's given me a lot of freedom. I've been able to explore probably more of the country than regular tourists are able to explore. To the same point, I've had more available time now that the business is up and running.
And I do love the beaches here. There's Playa Venao, which is in Los Santos, which is very nice. There is an area called Chumico, which is kind of off the radar—it's close to Pedasí. Pedasí is kind of a new area for tourism and retirees, as well.
8. Would You Recommend Starting A Company Here To A Friend? If So, Or If Not, What Specific Advice Would You Give?
You know, I have some friends that are interested in starting a business down here. If they're really gung-ho, if you're really interested in starting a business, then I don't think that anybody would deter you by saying you should or shouldn't. So, in my experience, I would say go for it. But you know, opening a business anywhere has its challenges.
Like I said, the only difference in operating a business in Panama is that you would need language skills. If you don't have the language skills, then maybe I wouldn't recommend starting a business in Panama until you have those language skills.
I've seen at least 10 to 12 people that have come down here that start operating a business, and when you can't understand what somebody is saying to you, telling you the recommendations, it becomes extremely frustrating. And then the consequences-of-what-was-said conversation happens, and you're like, "why is this happening?" And somebody was explaining to you before, but you didn't understand it. And that becomes even more frustrating. There's a lot of room for frustration beyond the normal.
But I would say, starting a business and operating a business here, I've seen a lot of people do it, and I've seen other people that have failed miserably. It's a roll of the dice, anywhere you're going. It's a roll of the dice.
Brittney Schering
Panama Insider