An Island A Day: This 365–Island Chain In The Caribbean Is Simple Beach Life At Its Best
Bucket lists can get awfully long in Panama, especially considering how small the country is.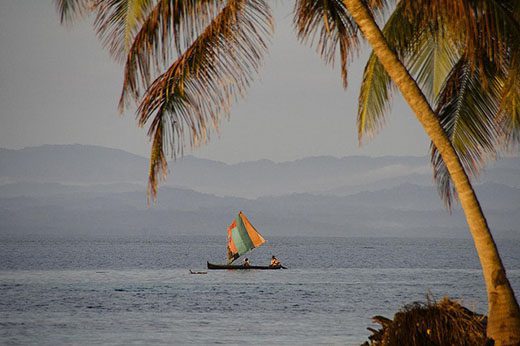 In this month of holidays, I've been trying to chip away at my list of Panama must-sees. We made it to Boquete earlier this month, the mountain hideaway in the Chiriquí province favored by expats for decades, but have been very busy arranging VIP tours to Los Islotes to do much traveling since. That doesn't mean my wanderlust isn't in overdrive, though…
Near the top of that list of places to go in this tropical wonderland are the San Blas islands. If you've ever seen one of those cartoons in The New Yorker magazine featuring people stranded on tiny desert islands making witty comments, then you can imagine what some of the San Blas islands look like. Some really are little more than a patch of shrub, some white sand, and a solitary coconut palm or two.
Since I have yet to go but want readers to get to know every corner of Panama, I have tapped Live and Invest Overseas' network of correspondents and experts for an introduction to the San Blas islands. Panama Letter Editor Matt Chilliak was there just a few weeks ago and sent this report. Enjoy…
I thought places like Nubesidub only existed in movies or the lives of billionaires. A tiny, secluded island part of the San Blas archipelago, with coconuts growing on trees, white-sand beach everywhere, thatched huts, a sunken ship, and crystal-clear blue water for as far as the eye can see.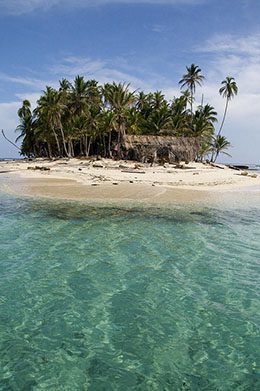 San Blas' 365 islands are part of Guna Yala, a comarca (a type of province) stretching along Panama's northeastern Caribbean coast, home to the indigenous Guna people. The islands are regularly named as some of the most beautiful islands in the world by sailing groups and travel publications such as those by Lonely Planet.
Today, some of the almost-50 inhabited San Blas islands act as a major revenue source for Guna Yala. Tourists can be transported from Panama City directly to one of the tiny islands, ranging from totally private and secluded to somewhat more patronized and social. Once there, if you stay overnight, you're treated to breakfast with coffee, usually fish for lunch, and even large, fresh-caught lobster for dinner. Of course, the exact meals will differ island to island, and, if you want, you can pay less to opt out and bring a cooler of your own provisions (check ahead which island you are going to and what they offer, as you may need to bring your own beer or other beverages).
You could island hop here, enjoying the island lifestyle as a perpetual traveler until you get bored or want to return to the city. Costwise, a one-night stay is generally around US$140 (varies island to island), but most of that cost consists of entry and transportation fees. A two-night stay drops to just US$200, meaning your second night costs less than half of what your first night did.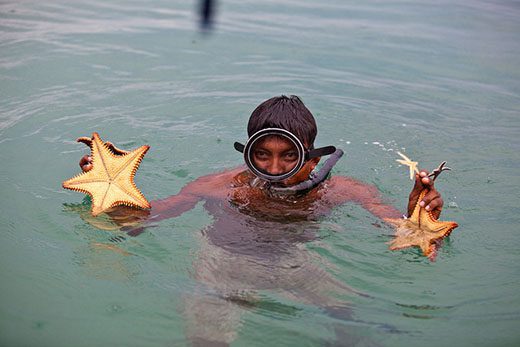 Looking for a longer-term island escape? You could probably stay for around US$2,000 per month, fees, transportation, and meals included. Just be sure to notify the authorities and not to overstay your Panamanian tourist visa if you're on one. The comarca may have some restrictions on lengths of stays, and they may have some questions if you plan to stay long-term.
Aside from relaxing on a hammock by the water or going for a dive to explore the abundance of coral reefs surrounding each island, there are few distractions. This is relaxation at its finest. This is island life at its finest. This is Panama at its finest.
However, there are two definite must-sees. The first is the sunken shipwreck just off Isla Perro. The gunboat, said to be a Colombian boat from about 40 years ago, has been taken over by nature and is now home to fish and other marine life. The second must-see is Starfish Island, which isn't really an island but an area of extremely shallow water where you can disembark your boat and walk around among the starfish.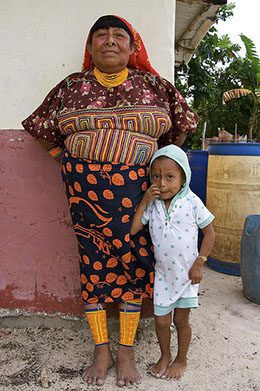 The Guna women have retained much of their traditional customs and culture. Their brightly colored handwoven clothing certainly stands out and is representative of the body paint they used to don prior to the arrival of imposing European missionaries telling them to cover up. If you want a piece of Guna culture to take back with you, buy a mola, a hand-sewn cloth panel with intricate and colorful designs similar to that of the women's clothing. You could also buy painted conch shells and jewelry too.
While the Guna are some of the most welcoming people there are in Panama, this definitely isn't a place you can settle in. Buying real estate and operating businesses in Guna Yala is strictly off-limits for outsiders, and even Panamanians are excluded. The Guna have long held a distinct identity from the rest of Panama, as well as a separate form of governance from the rest of Panama's provinces. This is Guna territory, and they intend to keep it that way.
One Guna saying perfectly captures their stewardship for this pristine environment they call home and how visitors should approach it: Take nothing but memories, leave nothing but footprints.
Matt Chilliak
For In Focus: Panama