At this moment, most of North America and Europe are merely dreaming about warm temperatures and the tasty treats of summer. Here in Panama it is summer. Yes, it arrived a little late this year… but the rain has gone and here we are.
Many people think of the tropics as the land of perpetual summer, but that's not exactly the case. Here in Panama, people refer to the rainy season (the second half of the year) as winter and the dry season (usually starting in December and lasting until April) as summer. This is also the time when an abundance of unique fruits make their way to the produce market.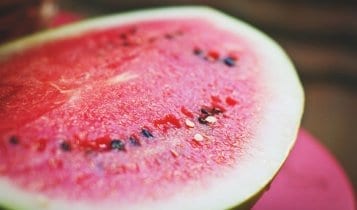 Postcards depict fresh-cracked coconuts and juicy chunks of pineapple adorning the rims of umbrella drinks, but what Panama really has to offer is a summer basket of fruit, ranging from the sweetsandía(watermelon) to the mind-bogglingmaracuyá(passion fruit).
Some of these amazing fruits are perfect right off the tree. Avocados are just starting to hit the market, while papayas flourish endlessly. Mango trees are flowering and preparing to inundate the countryside with their syrupy-sweet magnificence. Grapefruit, oranges, lemons, and limes… take your pick! In summer Panama is a tropical garden paradise.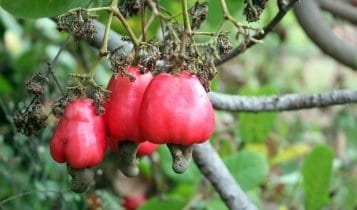 Other tasty treats require a bit more effort to enjoy. Themarañón, for instance, delivers a one-two punch: You could poke some holes in the fruit itself and squeeze until you're left with a glass of fresh juice. You could also remove the nut off the top, roast it, and enjoy fresh cashews.
Pixbae(also known aspifáorpibá)is the underrated fruit of the palm tree. Growing in large clumps just below the palm leaves, this savory fruit is perfect for making wine, jelly, and oil (although this is a factory process), or just boiling and eating with salt.
If you plan to visit or live in the highlands of Chiriquí, be on the lookout for fresh strawberries. They are a delicacy in areas such as Boquete and Volcán, although they are sold throughout the country.
To access the same variety of agricultural wonder in the States, you'd have to travel from Florida to California and back to Virginia, and still, you wouldn't be able find everything Panama has on offer. For a country the size of Maine (a state that grows blueberries and not much else), the selection here is truly astounding.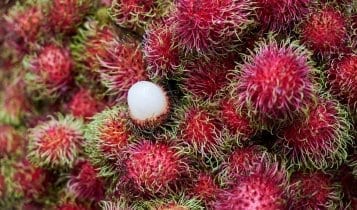 The Spanish names for all these fruits allude to the exoticness of their flavors. Themamón chinois not unlike the lychee: It is small, red, and hairy with a white, fleshy interior. You crack open the outer skin (with your teeth if you're a true fruit enthusiast) and suck on the tangy sweet inside until you hit the stone.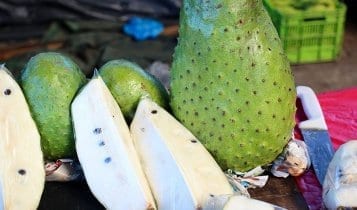 Theguanábana(or soursop) is another local favorite in Panama. This spiky, odd-looking green mass hides a strikingly sweet surprise. Enjoy it straight from the tree, watching out for seeds, or get creative and makeguanábanajuice or ice cream.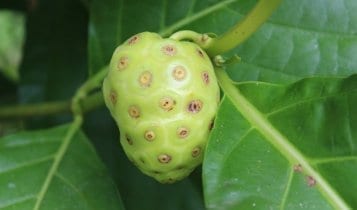 If you want to try one the latest health crazes, grab a noni fruit. It looks similar to a grub worm, and many locals believe it to be poisonous, but don't be put off. Its high levels of vitamin C, niacin, iron, and potassium are health qualities you shouldn't ignore.
Any discussion about fruit in Panama would be incomplete without bringing bananas into the conversation. Hanging low in large bunches, they slowly turn from green to their iconic yellow. Bananas are truly a staple of life here… only to be outdone by their close relative theplátano(plantain).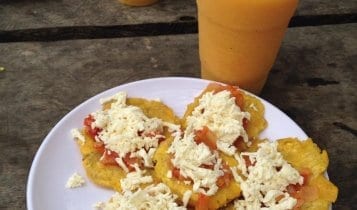 Plátanosare the harder, more savory twist on the classic yellow banana. They are served with almost every meal not only in Panama but across Central America. The most popular method of cooking involves frying them, squishing them into chunks, and then frying again to makepatacones. Thetajadais similar, but is more thinly sliced, similar to a chip. You can also enjoy the super-ripe plantain as a sweet desert.
By now, your mouth might be watering and you're curious to know where you can find all these wonderful fruits… The answer is Panama's vast and various markets, located throughout the country.
Panama's most popular market among expats is without a doubt the farmers' market in Boquete. However, you need not go all the way to the highlands to get your hands on nature's bounty.
Panama City has several markets. The largest is the Mercado de Abastos, which is a wholesale market that provides produce to many restaurants and grocery stores. Trucks start rolling in early in the morning, so wake up early to get the best of what's on offer that day.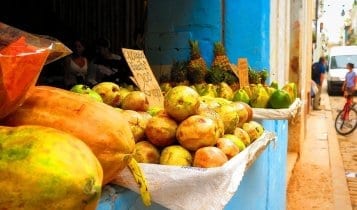 If the enormity of this market isn't your style, try that of El Valle de Antón. Sunday is the most popular day for shopping there, but it is open seven days a week and offers a nice variety of produce in a more relaxed setting.
Markets can be entertaining—they are bustling with locals and expats alike. The sheer quantity of produce on offer is unbeatable, but accessing it involves some savvy maneuvering.
Many small towns such as Puerto Armuelles don't have true markets; instead, individual vendors park their trucks at locations around town and set up shop for the day. The quantity is less but the produce is local, and you have more time to peruse each and every pineapple without competition from other customers.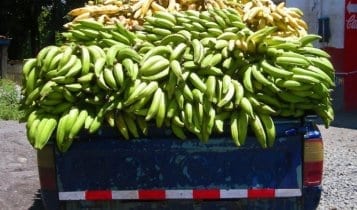 Panama is home to a variety of unique fruit but is also home to thevendedores ambulantes. This is the most convenient way to purchase your summer treats. If you keep your eyes and ears open in just about every city, town, orpuebloin Panama, eventually you will hear the low growl of a megaphone.
Grab your cash and head out your front door.Vendedores ambulantesare mobile fruit and vegetable stands, stocked with all your basics and maybe something new. They usually have a scale hanging off the back of the truck just waiting for you to make your selections.
If you still have not found the object of your taste buds' desires, you have a few other options for finding fresh fruit. Wander around. This may seem silly, but more often than not you'll find a man sitting on the street corner selling blackberries. Or, you will see a woman in front of the bus stop with a sack of rose apples.
These vendors may not have the quantity or means to make it to the markets, but there is no reason to shy away from them. They will give you reasonable prices and let you pick the best of their selection.
If you are roaming the jungle or driving on the back roads, you'll likely spot a number of interesting fruit hanging from sagging tree branches. Grab an armful, but double-check with a local before biting into anything unrecognizable.
Whether you shop at the market, go for a hike, or grab something off the tree in your front yard, you have a plethora of options of what to do with this yummy good stuff. Some locals eat it raw; some juice it adding sugar and water; and some make popsicles in little plastic bags. Any way… it tastes delicious!
Although it is hard to beat a refreshing pitcher of tangylimonada(lemonade), don't limit yourself to only juicing your fruits. One expat I know makes a wonderful chutney in mango season and another who makes fruit soda with whatever's at the market.
Papaya muffins, banana-chocolate bread, and mango barbecue sauce are other favorites. If you are looking to impress your local neighbors, your host, or a friend, baked goods are the way to go as many Panamanians don't use ovens. You're guaranteed to make an impression.
Panama is overflowing with fruit and those looking to live in a garden of tropical delicacies will not be disappointed. A wide range is available, from normal everyday items to the truly unique and endemic to the Isthmus. With an abundance of citrus and plenty of sweet treats, there is something to suit every palate.
Summer is the season for fruit in Panama… You have until the rains come to sample the selection.
Rebecca Teeters