"What is there to do in Panama?"
"What do you do for fun there?"
These are popular questions frequently asked at conferences or by people I talk to interested in moving here.
One of the top reasons for moving to Panama is to enjoy the activities. Many focus on the history and culture of Panama… others are just plain fun. There's more to do here than just fishing, hiking, seeing the Panama Canal, and going to a museum.
But there's often an obstacle: Knowing about things in time to participate. This is apparently a concept that the Panama Tourism Authority (ATP) fails to understand.
ATP and the media usually post information on their website during an event or after the fact. Too late to make plans to attend… this is true for the more informal events as well as the big blockbuster deals you'd think would be well advertised ahead of time.
When it comes to fun get-togethers, it pays to follow lots of groups on various social media outlets. For example, in September, I saw a post on social media for an Expat Expo in Coronado. I don't know of any other place that has ever offered this type of service for expats, and I wanted to share a unique, first-of-its-kind activity for Panama.
Unfortunately, the first has already happened, but it was so successful that it's being planned as an annual event.
On Oct. 9, the Expat Expo was held at Coronado Luxury Club and Suites (free admission). From 10 a.m. to 4 p.m. expats got together to learn more about living here.
Hogar Monte Carmelo, an English-speaking catholic community service in Bejuco, near Chame, organized this event that offered something for new arrivals, long-term expats, and those still exploring the possibility of moving.
Representatives from both the U.S. and Canadian Embassies were on hand to assist their citizens with passport issues and embassy-related programs, as well as 50 other businesses and service providers.
Expats living in the eastern part of the Azuero Peninsula are so excited about this expo that they are hoping to hold one in Chitré next year.
Speaking of Chitré and fun public activities…
On Sept. 14, the mayor of Chitré, Juan Carlos Huerta, started a new public event to be held monthly.
He has decided to use Parque Unión to celebrate local artisans and showcase their handicrafts, while invigorating the region's tourism, businesses, and economy.
This park is an important landmark in Chitré. When the city was founded this was the main square, and it's still in the heart of town, next to the San Juan Baptist Cathedral and the mayor's office. It continues to be considered to be the most important location in Chitré.
The crowd attending this first event was reminiscent of the carnaval festival crowd—there were more people seen at this event than those who showed up for the ever-popular Christmas shows.
The October Artisans Fair will be a held on the 18th, beginning at 4 p.m. and continuing late into the evening.
In addition to the unique local crafts, there will be food vendors and even craft beer from Panama City. Taste local flavors of different coffees, cheese, homemade yogurt (free samples), and other foods while you search for that perfect piece of art to take home with you.
The art fair was moved to Friday as the city of Chitré will be celebrating the 171st anniversary of its founding on Oct. 19, 1848 The focal point of this celebration is a weekend-long festival, with various events every day.
Combine a little bit of fun at a UNESCO-designated intangible cultural heritage event with a boots-on-the-ground research trip. You get a trip to La Pintada, Coclé, where El Noveno Festival Nacional del Sombrero Pintao will be held on the weekend of Oct. 25. Gringos know this event as the Ninth National Pintao festival.
The event seeks to preserve the artisanal techniques that are used in making the local painted hat. The famous Panama hat is actually made in Ecuador and imported. The painted hat (sombrero pintao), however, is hand-crafted in Panama. Place the two side by side and you will notice the difference.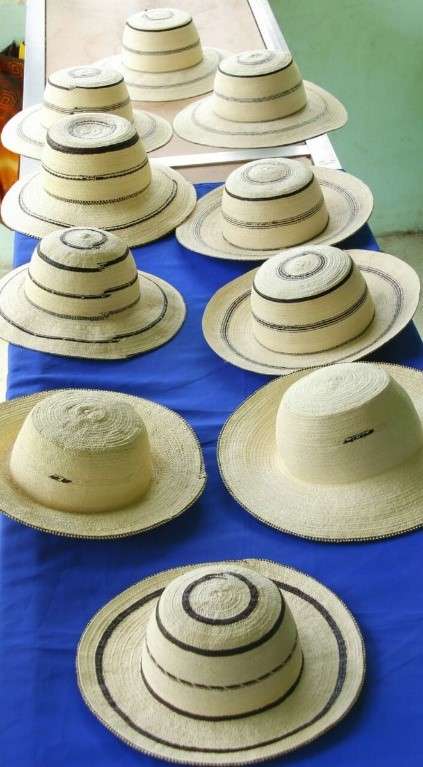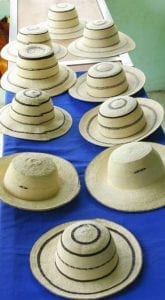 Panama City has gained prominence in the food world. Many restaurants are showcasing their world-class chefs and sensational dishes.
On Oct. 30 (from 12 p.m. until 8 p.m.), the largest multicultural gastronomic fair returns to Panama… La Fiesta Alrededor del Mundo (Around the World Party). The Vatican City and Poland will be in participating for the first time, along with more than 50 countries.
Your US$3 entry donation will provide you (and your family) a holiday around the world. Enjoy continuous entertainment, some of the best dishes, cultural dances, crafts, and much more.
Feel good knowing that you are supporting a charitable cause, the Social Assistance Caravan (Caravana de Asistencia Social), while hobnobbing with diplomates and Panamanian socialites.
Again, the news is coming in after the fact, but there was even a chance to witness a new Guinness World Record being made in Panama this week. On Oct. 16, 200 people of the Ipetí community in the Emberá Comarca were involved in using 1,500 plantains and 1,200 liters of oil to create one huge patacón.
Beyond wanting to establish a new record preparing a patacón of more than three meters in diameter, the event hopes to promote the Emberá culture. The patacón must be more than three meters in diameter and weigh 100 kilos to be validated as the largest in the world. (As this issue goes to press while the feat is being attempted, I can't say yet whether or not they were successful, but I'm wishing them luck!)
Buen provecho and safe travels…
Dusty Tubbs