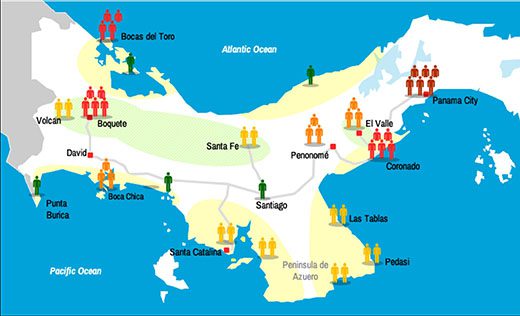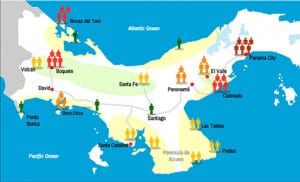 For such a small country, Panama packs quite a punch in terms of the diversity of lifestyles available. When April and I chose it as our new home, we looked at the map and faced yet another difficult choice: City or country? Beach or mountains? Modern or rustic? There are as many lifestyle options as mangos in the markets in this country.
Panama is Central America's southernmost point, and, because of a bend in the isthmus, it is oriented more east-west than north-south. It's only 50 miles from top to bottom at its narrowest point but stretches about 500 miles from east to west. Plains border both coasts, rising upward to the country's interior and central mountain ranges. Almost half the country is covered with forest, and about one-quarter of that is protected in preserves.
In addition to forest, Panama has more than 2,500 miles of coastline and some 1,500 islands, many uninhabited. There are breathtaking beachfronts still undeveloped and almost deserted in some parts of the country. You can enjoy white-sand beaches, palm trees, soothing breezes, and colorful sunsets all by yourself if you want. Or, if you prefer, you can party until the wee hours with the surfers you'll meet on many of the beaches.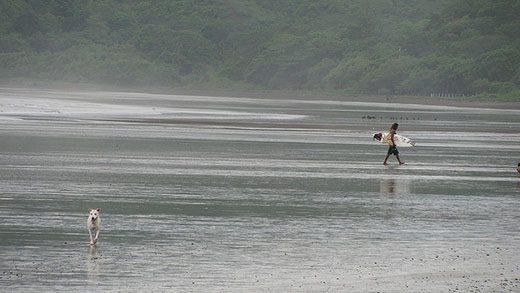 April and I have been known to enjoy a glass of wine or two, but we are not big partiers. When we started looking at our options in Panama, we quickly decided that city life wasn't for us. For anyone who does love the bright lights and bustle of the urban jungle, though, Panama City will not let you down. It's not for nothing that locals and visitors alike joke about it being the Dubai or Singapore of the Americas. But don't expect the sparkle of Dubai or Singapore. Behind the gleaming skyscrapers and shopping malls are many rundown neighborhoods where the sidewalks are crumbling, the exhaust fumes are stifling, and the traffic other-worldly.
Do, however, expect every First World amenity you can imagine. Panama City is choc-a-block with U.S.-style shopping malls, mega-grocery stores, wine shops, sushi bars, five-star restaurants, nightclubs, casinos, art galleries, and 12-screen movie theaters showing first-run movies in English. Wi-Fi is world-class, the water is drinkable straight from the tap, and utilities are relatively reliable. (In the interior of the country, where we now live, that's most certainly not the case.)
The seaside Avenida Balboa and Punta Paitilla are the high-rent districts, with dozens of residential skyscrapers reaching 30, 40, and even 50 stories. Smaller apartments in these buildings rent for US$1,000 a month minimum, and the penthouses can list at more than a million dollars. For that, though, you get sweeping oceanfront views, a less claustrophobic feeling, and access to the new Cinta Costera waterfront promenade that stretches from Paitilla all the way to and then around Casco Viejo, the old town.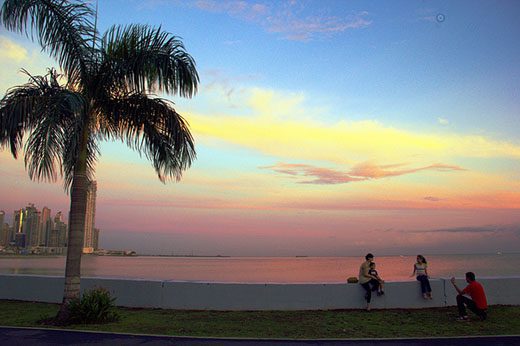 Panama City's Casco Viejo neighborhood, the oldest European city on the Pacific coast of the Americas, continues the renaissance that began here in earnest about a dozen years ago. Businesses are renovating and moving into what were once crumbling colonial structures, and residents are slowly following. Many of the streets have been repaved with shiny new red brick and this peninsula is the hot spot of the moment for nightlife. In contrast to only a few years ago, the tourist areas are safe—and patrolled by police on bicycles—but the neighboring slums remain no-go zones.
One of the other places April and I considered when we were shopping for a place to settle in Panama was the western region of Chiriquí, specifically the world-renowned Boquete. This mountain town north of David, the provincial capital, has been touted as a retirement haven for foreigners going back to the 1800s. And it shows. You hear more English than Spanish on the streets here.
For a couple of gringas who spoke no Spanish before moving to Panama, the idea of a built-in English-speaking support and social network was appealing. Plus, the setting is stunning. Nestled between two rivers at the end of a narrow valley, Boquete is known country-wide for its mountain vistas and spring-like climate. It's a small town, however, with none of the amenities of the capital (most residents do their shopping in David, a half-hour away) and a central business district that rolls up the sidewalks fairly early every evening.
Prices spiked in Boquete pre-2008 then fell harder than anywhere else in the country. Today they're rising again but slowly. A small furnished house on the outskirts of town can be rented for roughly US$750 to US$1,000 a month or bought outright for anywhere from US$175,000 to a half-million or more. Getting around is easy. Most people walk in town. And the opportunities for outdoor enthusiasts like April and I seemed unlimited—rain forest hiking, white-water rafting, bird-watching, hot springs… The place seems to have it all.
Except beaches. And we wanted beaches. We looked north of Boquete to the Bocas del Toro archipelago on the Caribbean coast, with its white-sand beaches, idyllic tropical islands, and shimmering aqua water, but decided that it wasn't for us. Bocas Del Toro is populated largely by tourists, and we did not want to live in a place surrounded by people who were always on vacation. Plus, the whole issue of who owns what land ("rights of possession" versus freehold) was a little too murky for April and me. We wouldn't have felt comfortable buying property in Bocas.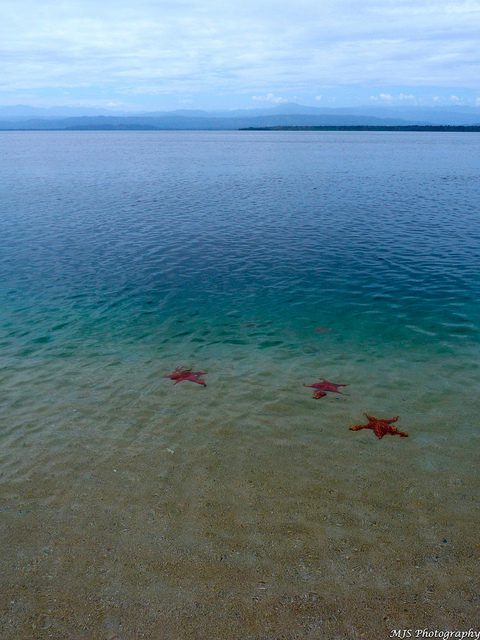 Next we looked at the Pacific coast west of Panama City, the so-called City Beaches. Less than two hours from Panama City, these beach towns—Chame, Coronado, Punto Barco, Vista Mar, San Carlos, Bijao, and Buenaventura—are the favorite weekend haunts of the locals and have drawn the attention of expatriate settlers, as well. Coronado has become particularly popular, with some stunning oceanfront developments, and some friends who live there say they live quite comfortably on US$2,000 a month.
In the end, though, we decided on the western shore of the Azuero Peninsula, called by people-in-the-know the most beautiful region in all of Panama. We agree.
While we're waiting for our new house to be built in the oceanfront community where we've decided to make our permanent home, we've been hop-scotching around the country, staying in rentals and trying to get to know Panama better.
We started in Pedasí on the eastern side of the Azuero Peninsula. There we spent three months in the Buena Vida Spanish School trying to get a leg up on our non-existent Spanish skills. It really did jump-start our learning. We then moved to Santa Fé, which is much like Boquete from a natural beauty standpoint but lacks all the gringos and is a cheaper place to live.
Now we are in a small village named Palo Seco on the west side of the Azuero Peninsula…
More about the Azuero Peninsula and our new home—Los Islotes—next week. Meantime, don't forget to stop by our Facebook page throughout the week for news and updates about the Singapore of the Americas.
Peg Fairbairn
For In Focus: Panama
P.S. An alert reader pointed out that in last week's letter I neglected to mention a couple of the hoops April had to jump through in order to get her "Friendly Nations" visa. In my enthusiasm, I failed to mention that—in addition to the US$5,000 bank deposit—applicants must demonstrate "economic activity" in-country. That means they have to invest in or create a Panamanian company (no employees required), own property, or have a job offer from a Panamanian employer in hand. Even with those additional requirements, it still is one of the easiest residency programs on the planet.