[Update] News On Belize's Famous Retirement Visa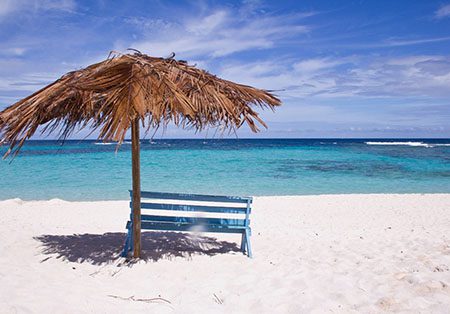 Retire to the beach… Belize is waiting…
Belize is a beautiful little country with a population of about 320,000 happy, English-speaking people—unlike their neighbors throughout the rest of Central America. And it continues to be one of the most desirable retirement destinations in the world, thanks in part to its Qualified Retired Persons (QRP) visa.
The QRP program is, essentially, a glorified tourist visa… but it comes with a few significant perks. Key among them is the ability to import household goods, including a car, a boat, and a plane within a year of obtaining your visa.
Importation of household goods can even include appliances and construction materials, a boon for those planning to build or occupy a Belizean house long-term. You can find these same things readily in Belize, but the selection is much more limited than that of the United States. Import duties and sales taxes in Belize range up to 70% of the cost of goods, so importing them duty-free through QRP represents a considerable savings.
An additional perk of the QRP program is the convenience factor. Those staying on a tourist visa have to head to Belmopan or Belize City to renew it every 30 days for the first 6 months, paying a US$25 fee each time and US$50 per month for subsequent months. The QRP costs only US$50 to renew and has to be renewed only once a year. No matter when you're granted your visa for the first time, you must renew in December for January.
The requirements are simple. To qualify for the QRP program, you have to be 45 years of age or older. (Dependents who are in school and 23 or younger can also be included.) You must demonstrate an income of at least US$24,000 per year and show proof of depositing this amount in a bank in Belize to renew your visa. And, once your QRP is granted, you only have to spend 30 days per year in Belize to keep it active.
One limitation is that it is a retired person's visa. As with a tourist visa, you are not allowed to work in Belize. You can start and manage a business, particularly one that provides jobs for Belizeans, but you're not allowed to work in the business. Managing a business is—apparently—not considered work.
Having said all of that, if you're considering moving to Belize under the QRP program, you should be aware that significant changes are in process. The initial director of the QRP program is no longer with the Belizean Tourist Board (BTB), which administers the program.
As so often happens in government bureaucracies, her successor is determined to make her mark, and it's too soon to know what that will mean for new applicants.
One recommendation to new applicants is to allow a much longer lead time in applying. While the processing time used to be four to six weeks, with many being processed sooner, a BTB staff member said in mid-December that some applications submitted in August 2015 have not yet been processed.
The delay has been attributed to background checks. These background checks have to be completed by Interpol; at the moment no QRP visa is issued without their completion. The source of the delay for Interpol background checks is unknown. While provisional entry with goods used to be granted pending completion of the Interpol check, this is no longer the case.
Nor is it possible to enter with goods, pay the duty, and then claim it back once the QRP is processed. As with other countries, while the government taketh, it's not so eager to giveth away!
No one has suggested the QRP program is going away, but certainly the longer application time should be kept in mind by anyone counting on using it for a move to Belize.
Personally, as part of a family who's been waiting for our approval nearly four months now, I would recommend applying a good six months in advance, getting your QRP, and only then making the other changes required for your move. In other words, don't sell your car or put your house on the market until you know the QRP has come through.
One more consideration about the QRP is that the car you import must be three years old or less. You might be tempted to buy a banger to import, knowing the poor quality of Belizean roads, but keep in mind that duty starts at 30% for import and goes up from there; the lowest import duty is on four-cylinder pick-ups.
You might do better to choose a newer car to import, as paying duty on the cheaper, older car could eat up the money you saved on purchasing it. Spending the extra money on a newer vehicle would let you keep that money in the form of a vehicle that would last longer, instead of paying the money as tax.
Belize It Or Not…
Belize shares a border with only two countries: Guatemala and Mexico.Despite once sharing a name, Honduras and Belize do not share a land border. The two countries are separated by a roughly 30-mile-wide strip of Guatemalan land that borders Amatique Bay.
On the other hand, if you're bringing in a car that's more than three years old, know that it will not qualify for tax exemption whether you have QRP or not—bringing it with you without having your QRP approved will have no financial consequences. You will have to pay duty on the belongings in the vehicle if you come in without a QRP, however.
It's also possible to buy a new car from a dealer in Belize and also be exempt from all taxes, including sales tax (12.5%). The advantage of doing so is that you retain the new car warranty, which might be invalidated on a U.S.-purchased car once it crosses the U.S. border. The disadvantage is that cars sell only for cash in Belize—no financing is available.
Carolyn Casey
Belize Insider