For those of us who grew up in a snow country, it seems odd to be walking around in tee shirts and flip-flops on Christmas Day, but, having lived here on Ambergris Caye for eight years now, I've come to appreciate that Belize offers a unique collection of blended Christmas traditions. Home to more than 10 different ethnic groups, this country boasts the most multicultural holiday celebrations I can imagine.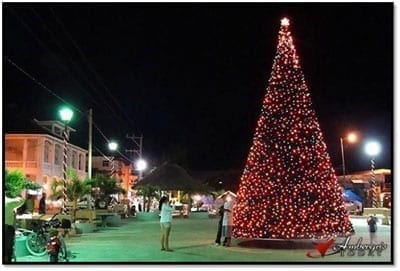 First and foremost, Christmas in Belize is about spending quality time with family and friends. Government offices, banks, and most non-tourism-oriented businesses shut down for the week surrounding Christmas Day. Festivities and family time continue through Boxing Day (Dec. 26).
One important Christmas tradition, remembered throughout Belize, is to spiff up the interior of your home. Remembering Christmas is more than putting up a tree and gifts, this is a Belizean's way of making their home cozy and welcoming, inviting the Christmas spirit. One Belizean friend told me not to judge a local's home by the exterior this time of year. It's what's inside that counts come holiday time. She explained that everyone brings out their gold, red, and green curtains, tablecloths, etc.
And, in preparation for all the holiday visiting, Belizeans don't just decorate the insides of their homes this time of year; they give them a facelift, too. They repaint the walls, hang new drapes, even replace the linoleum. This is the Belizean version of spring cleaning, and the entire family pitches in.
Many Belizeans used to put natural Christmas trees that were around the island on December 20th to keep it fresh for the holidays, but time changes and new traditions are in. Now they put up synthetic Christmas trees. Those who can afford it decorate
the outsides of their homes, too, with elaborate lights. Blow-up Santas, reindeer, lobsters, and manger scenes are especially popular. In San Pedro Town, where we live, The San Pedro Sun leads an annual tour to vote for the best decorated house.
Local traditional foods like rice and beans, potato salad, white relleno (soup with pork-stuffed chicken and raisins), pebre (roast pork) or ham with pickled onions and jalapeños, and tamales are typically part of Christmas Eve and Christmas Day feasts. But these dishes are modified for the holidays to include unusual meats or fowl. Rumpopo is the Belizean version of eggnog.
Tree Lighting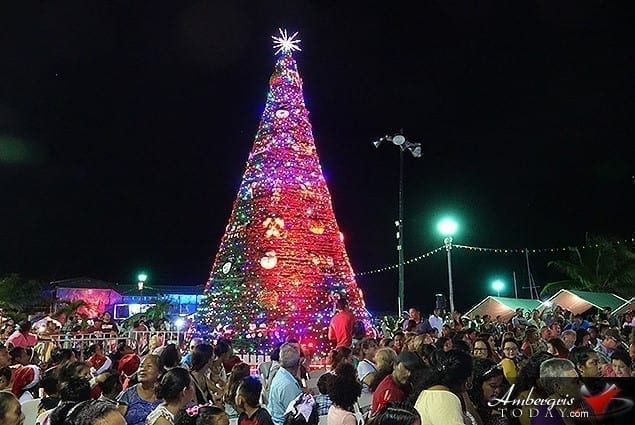 Here in San Pedro, Ambergris the Christmas celebrations commence on the first Sunday of December with the tree lighting at Central Park.
The residents and visitors gather for a presentation filled with music, dances. Snacks and soft beverages are distributed to the kids in attendance. A joyful way to ignite the Christmas time.
Crafts At The Truck Stop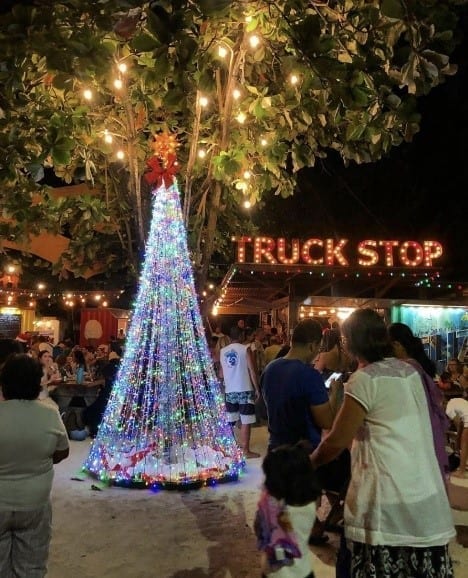 What is Christmas without a little shopping? Here there are no big chain stores, instead there's the Holiday Market at the Truck Stop. The Truck Stop is a food truck park built out of shipping containers. They host events such as a weekly movie night, trivia nights, themed events and the farmer's market.
For the holidays, local vendors from around Belize make their way to the Truck Stop for an afternoon craft fair, a tree lighting, and photos with Santa. Located only one mile north of the bridge, this trendy food and beer garden attracts locals and visitors to enjoy their time here and the incredible bayside sunsets.
Love FM Christmas Parade
The Love FM Christmas Parade brings hundreds of residents and tourist to the streets of San Pedro. Love FM, a local news station, hosts the parade in early December, people dress up and go to the streets to spread the cheer of the Christmas spirit. They give candies and goodies to the kids as they enjoy the parade.
San Pedro Christmas Light Boat Parade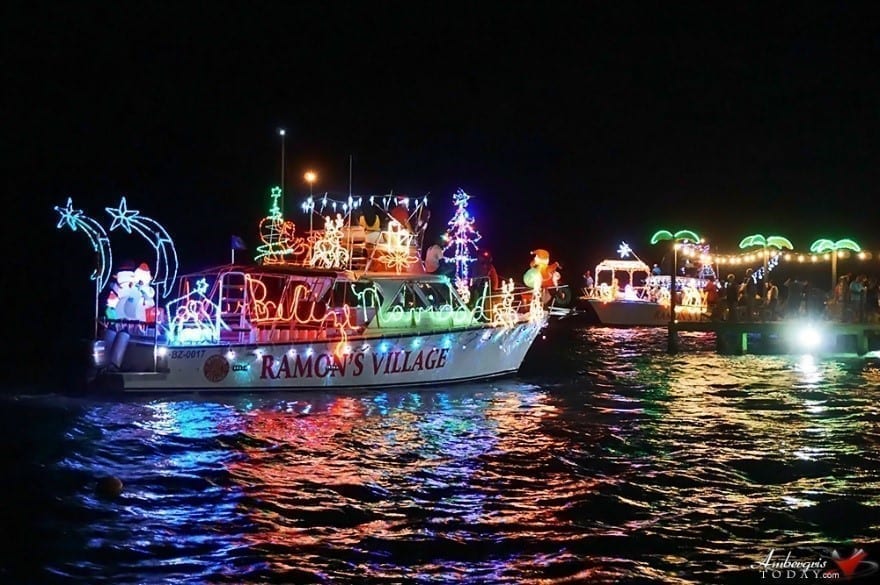 Another beautiful tradition is the San Pedro Christmas Light Boat Parade. This tradition started in Ambergris Key in 2006, it's brought many residents and tourists to enjoy the traditional lighting of the coast with boat light design. Local businesses, schools, and volunteers all contribute ideas, time, and energy. Each team decks out its boat with twinkling Christmas creations. Some are fun Caribbean takes on traditional Christmas themes.
I'm always baffled, watching the boats from shore. How did they do that, I can't help but wonder about the elaborate light displays floating by. The Christmas Boat Parade starts on the north side of town, at the Boca del Rio Park, then glides along the San Pedro Town coastline for several miles, turning at Caribbean Villas to head back to the town square. Hundreds of the island's residents line the shores to watch.
Back at the town square, a panel of judges names the best decorated boats and other winners and awards prizes. Then the party continues in the square with food, drink, music, dancing, and local artists selling their wares. San Pedro Holiday Boat Parade Committee, which plans the boat parade, also receive donations from businesses from town who willingly donate. Thanks to this, for two years in a row, the committee had the funds given back to a few organizations around town, donating to the San Pedro AIDS Commission, the Holy Cross Anglican School and Mrs. Eve Dirnback of the Calendar Club, and the R.C. School Cafeteria project received monetary donations.
Unfortunately, due to a lack of sponsors 2019 might be the last year to have this beautiful tradition. It was intended to be done in 2020 but due to Covid-19, it was postponed. Hopefully new investors will help this beautiful tradition this upcoming year.
Midnight Mass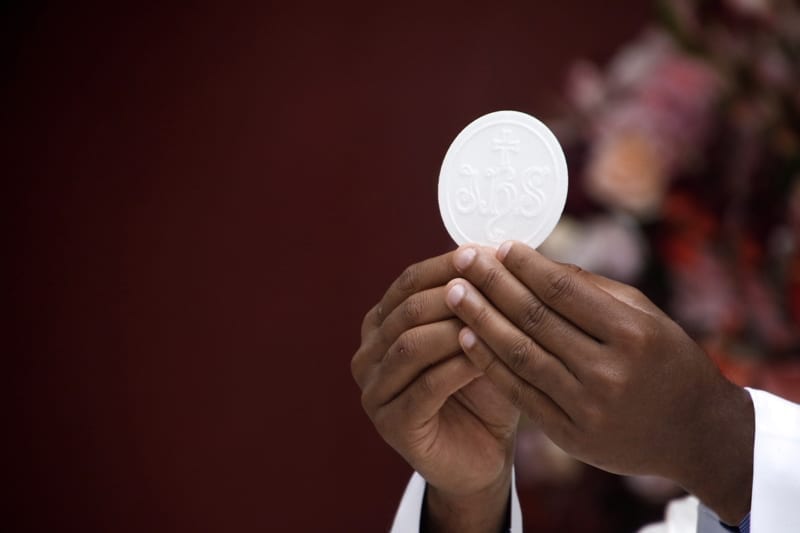 More than 70% of Belizeans are Catholic, so the majority of residents celebrate the birth of Christ. As throughout Central America, the celebrations, though, are a mix of rituals from different cultures. The midnight mass is one of the Catholic traditions found across Belize. The mass which takes a little over an hour, starts at 11 at night and finishes a little after midnight, praying and celebrating the arrival of baby Jesus.
Boxing Day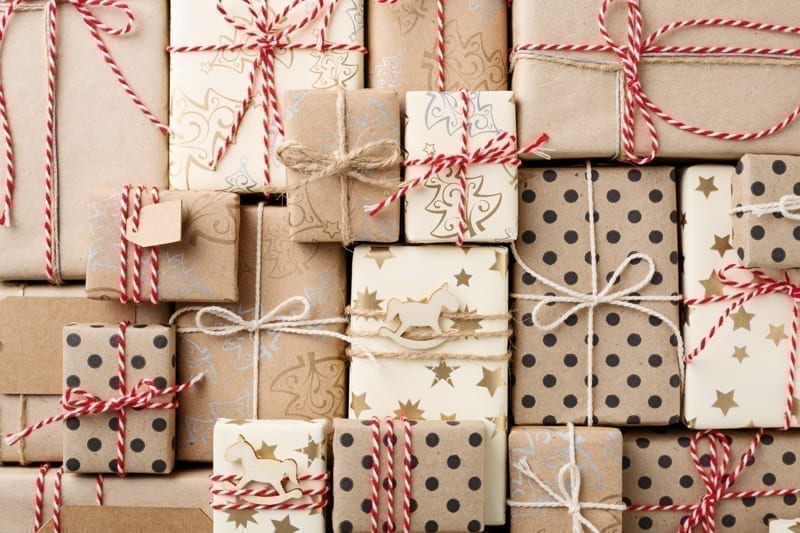 As mentioned before, the festivities also include Boxing Day, a tradition left from when Belize used to be part of the British colonies. It's celebrated Dec. 26th every year. This holiday is meant to give back to the less fortunate by giving practical gifts they need during the following year and monetary gifts as well.
Kriol 101
Kriol: Kahm bram wit we inna Bileez stylee!
Translation: Come bram with us in Belize style!
A uniquely Kriol Christmas tradition, the bram, is a dancing spree for everyone in the country. The population takes to the streets and parades from house to house spreading holiday cheer by singing, making music, and boogieing in honor of the season.
In rural Belize the two-day Christmas holiday is synonymous with the bram festivities. The Gales Point Manatee bram is reportedly the best example of a traditional bram today.
We always miss our family and friends this time of year, sure, but we have come to enjoy the Belizean celebrations and certainly appreciate that, here in this Caribbean outpost, the focus isn't on shopping or gift-giving but on spending plenty of quality time with those you love.
Helen Hess
Belize Insider