The Holiday Season On Ambergris Caye
For those of us who grew up in snow country, it seems odd to be walking around in tee shirts and flip-flops on Christmas Day, but, having lived here on Ambergris Caye for eight years now, I've come to appreciate that Belize offers a unique collection of blended Christmas traditions. Home to more than 10 different ethnic groups, this country boasts the most multicultural holiday celebrations I can imagine.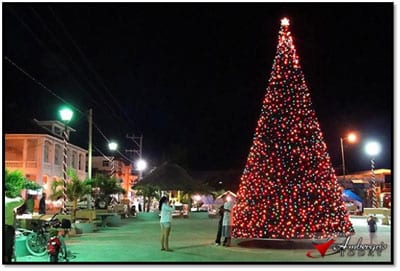 First and foremost, Christmas in Belize is about spending quality time with family and friends. Government offices, banks, and most non-tourism-oriented businesses shut down for the week surrounding Christmas Day. Festivities and family time continue through Boxing Day (Dec. 26) at least, a throwback to Belize's days as a British colony.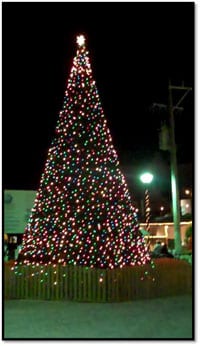 One important Christmas tradition, remembered throughout Belize, is to spiff up the interior of your home. This is a Belizean's way of inviting the Christmas spirit. One Belizean friend told me not to judge a local's home by the exterior this time of year. It's what's inside that counts come holiday time. She explained that everyone brings out their gold, red, and green curtains, tablecloths, etc.
And, in preparation for all the holiday visiting, Belizeans don't just decorate the insides of their homes this time of year; they give them a facelift, too. They repaint the walls, hang new drapes, even replace the linoleum. This is the Belizean version of spring cleaning, and the entire family pitches in.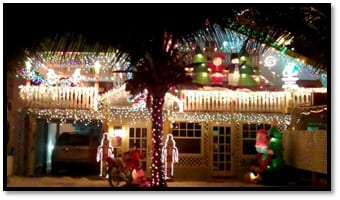 Many Belizeans put up Christmas trees, but typically the synthetic version. Those who can afford it decorate the outsides of their homes, too, with elaborate lights. Blow-up Santas, reindeer, lobsters, and manger scenes are especially popular. In San Pedro Town, where we live, The San Pedro Sun leads an annual tour to vote for the best decorated house.
More than 70% of Belizeans are Christian, so the majority of residents celebrate the birth of Christ. As throughout Central America, the celebrations, though, are a mix of rituals from different cultures.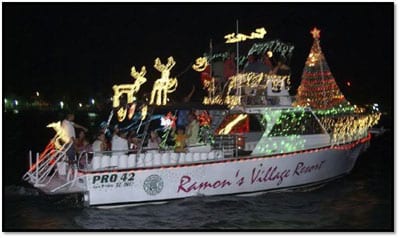 Local traditional foods like rice and beans, potato salad, white relleno (soup with pork-stuffed chicken and raisins), pebre (roast pork) or ham with pickled onions and jalapeños, and tamales are typically part of Christmas Eve and Christmas Day feasts. But these dishes are modified for the holidays to include unusual meats or fowl. Rumpopo is the Belizean version of eggnog.
Here in San Pedro Town, the Christmas season kicks off with the San Pedro Christmas Boat Parade. Local businesses, schools, and volunteers all contribute ideas, time, and energy. Each team decks out its boat with twinkling Christmas creations. Some are fun Caribbean takes on traditional Christmas themes. I'm always baffled, watching the boats from shore. How did they do that, I can't help but wonder about the elaborate light displays floating by.
---
Kriol 101
Kriol: Kahm bram wit we inna Bileez stylee!
Translation: Come bram with us in Belize style! A uniquely Kriol Christmas tradition, the bram, is a dancing spree for everyone in the country. The population takes to the streets and parades from house to house spreading holiday cheer by singing, making music, and boogieing in honor of the season. In rural Belize the two-day Christmas holiday is synonymous with the bram festivities. The Gales Point Manatee bram is reportedly the best example of a traditional bram today.
---
The Christmas Boat Parade starts on the north side of town, at the Boca del Rio Park, then glides along the San Pedro Town coastline for several miles, turning at Caribbean Villas to head back to the town square. Hundreds of the island's residents line the shores to watch.
Back at the town square, a panel of judges names the best decorated boats and other winners and awards prizes. Then the party continues in the square with food, drink, music, dancing, and local artists selling their wares.
We always miss our family and friends this time of year, sure, but we have come to enjoy the Belizean celebrations and certainly appreciate that, here in this Caribbean outpost, the focus isn't on shopping or gift-giving but on spending plenty of quality time with those you love.
Helen Hess
Belize Insider
Comments