A few years ago, I decided it was time for me to give up the rat race. I had worked many decades in the Northeast United States, and the brutally cold winters were beginning to take their toll on me (and my knees). It was time for a major change in my life, so I retired. I received a small pension… no gold watch, though.
I started thinking about downsizing to an apartment. When I started looking for a one- or two-bedroom apartment in a quiet neighborhood or a retirement community, I was appalled at the rental rates. Plus, everywhere I checked, the total of my modest pension and my Social Security check put my income just over the threshold to qualify for a subsidized break on the exorbitant rents. Some fees I saw would have taken my entire Social Security check—and these weren't even the most luxurious developments. I found it to be the same all over the United States… the states with warmer climates were even more expensive.
I wondered what I would do, what options I had.
Belize It Or Not…
The total population of Belize was larger in A.D. 1000 than it is today.
It is estimated that there were over 400,000 Mayans living in Belize around the year 1000. In 2010, Belize's national census estimated the poplation to be only about 330,000 people.
Then, in July 2013, I had an opportunity to travel to Belize with a church group on a mission trip. We visited the Cayo District and stayed in a little village near San Ignacio for a week. It took me a couple of days to get used to the heat and the humidity—and the dusty, rocky roads we walked on. But it didn't take long to get used to the exceptionally friendly people and the feeling of peace that pervaded every corner of the country. Wherever we visited, we were invited in and offered something to eat or drink… hospitality extraordinaire.
I had a chance to stop in bustling San Ignacio, and I felt like I belonged. I wasn't treated as a stranger or foreigner, but welcomed wholeheartedly. I realized then that I had found my new home… I was just hoping I could afford to live there. When it was time to leave, I simply didn't want to go. And when I landed back in the States, I felt I had left my heart back in Belize.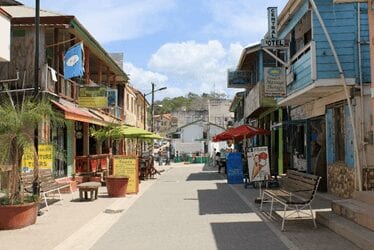 Burns Avenue, San Ignacio, Cayo
I started researching the affordability of living in Belize as soon as I got home. I went online and checked out everything I could, I even contacted expats who had already made the move there from all over the world. From what I could see and was told, affordability was possible… quite possible. Even my knees were smiling.
One- and two-bedroom unfurnished rentals, often with fenced-in yards, were advertised at BZ$400 to BZ$600 a month (US$200 to US$400). Good options at these prices were available both in town and in less populated areas. I also saw properties for US$1,000 or more per month, which included modern amenities and conveniences and sat on nice-sized lots. There were plenty of choices both for renting and buying, and none stayed on the market long.
A year later, in September 2014, I was at the airport again on my way to Belize with a one-way ticket and two suitcases. I was fortunate to find a great house to stay in for just US$300 a month in Punta Gorda in Southern Belize until I found my permanent home.
Kriol 101
Hag ax e ma, "Weh mek you mout so lang?" E ma tell a(m), "When you get lee bigger, you wa(n) know."
Translation: Hog asks its mother, "What makes your mouth so long?" Its mother tells it, "When you get a little bigger you will know."
Meaning: Wise people are not as quick to criticize as inexperienced people.
The minute I closed out all of my affairs in the States, I rid myself of a dozen bills associated with my living expenses—I finally had some discretionary income. I used the next few months in Punta Gorda to put some money aside and leisurely check out the rest of Belize. Everything I had read and heard was true—I could find and rent an apartment easily for about US$400 a month pretty much anywhere in the country. There are plenty of options that I visited in that price range in plenty of towns around Belize—some of them beachfront, right on the Caribbean coast.
Now, my pension check is my own. I used my first one to buy my own gold retirement watch. For my birthday this year, I treated myself to a handmade sundial… I figured I'd need one because I'll be spending a lot more time in the sun these days.
That's the end of this story… but only the beginning of my wonderful, exciting, and affordable new life in Belize.
B. Zallito
Belize Insider
MAILBAG
"How can you say that I can retire to Belize and live cheaper than I do now when you have to have US$2,000 a month as the monthly income to become a citizen in Belize, for example? I only get US$1,650 per month and that is all I have.
"Thank you."
–George K.
It sounds like you're a little confused about the terminology being used here. Residency is not the same thing as citizenship.
To apply for residency in a country does not make you a citizen, and there are many different ways to apply for residency, all with different requirements. There is no need to become a citizen to live in a country.
You do need US$2,000 per month to qualify as a QRP resident of Belize, but QRP is the only visa that has a minimum income requirement. You don't need any minimum income to qualify for any other residency visa in Belize.
If you don't intend to apply for QRP status in Belize, then your monthly cost of living simply depends on where you live in the country. If you set up camp on Ambergris Caye, where, in general, costs are much higher because everything needs to be imported, your budget would be at least US$2,000 a month. Living in Northern Belize though, your monthly budget would be as low as US$1,200.