"History studies not just facts and institutions, its real subject is the human spirit."
–19th century French historian Fustel de Coulagnes
On a cool Saturday morning, before the sun has peaked over the tops of the mahogany trees, the thought of the sights, sounds, and smells of the market rouse me from a good night's sleep. I scoop up my 16-month-old daughter and head for the market, just a stone's throw from downtown San Ignacio.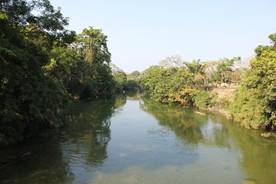 I live in the quiet village of Bullet Tree Falls, just outside San Ignacio. (The origin of the unusual name is accredited to the fact that the tree is so hard that early conquistadors could load chips of it into their blunderbusses—early shotgun or hand cannon—and use it as ammunition if they ran out of lead shot.)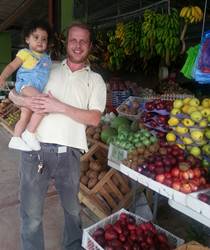 The farmer's market on the Macal River is the biggest outdoor market in Belize. I never miss it, and my daughter and I love to people-watch. I am a bit of a history buff, and there's no better place than the market to indulge both pastimes. It's open seven days a week, with Saturday as the busiest day.
San Ignacio is the second largest town in Belize and has a population of about 25,000. However, it serves as the market town for about 75,000 people in the district, so market day is full of activity, human interaction… and a little mayhem.
When you look around at the people in the crowd, you see what looks like a cross section of an issue of National Geographic.
Before dawn, dressed in their traditional attire, the Mennonites arrive earliest, on their horse-drawn carriages and buggies. I can tell from the rubber on their metal wagon wheels that they are local Barton Creek Mennonites. The more austere Mennonites from Springfield on Hummingbird Highway eschew such luxury and use only steel wheels.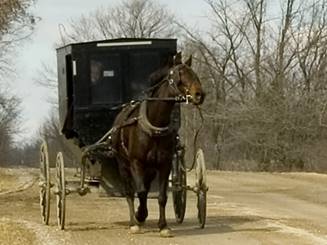 The Mennonites bring their produce and handcrafts to sell. Some of them sell wholesale to the larger stall owners, and others pitch their tent and sell the produce themselves. Some of the best woodworkers I know are Mennonites who, if you bring them a picture or diagram of what you want, will reproduce it for a price that you might think so low as to be cheating them to accept it.
Many of the smaller, nonpermanent stalls are owned by locals of Mayan descent. I'm 6 feet 3 inches tall, so I have to hunch down and shuffle into some of their lower tent openings, which still amuses some of them. I get big smiles from Momma and wide-eyed stares from some of the younger children.
Years ago, I was invited to dinner in a traditional Mayan home where my friend, the father of the family, stood proud at 5 feet tall. As the tallest member of the clan, he built his door frame 5 feet 1 inch high. My creeping entrance and having to stand huddled indoors was the object of endless hilarity among his younger children. Where they had heard about Jerry the Giraffe I don't know, but I still sometimes hear welcoming calls from their now late teenage children as I pass of "Hey Jerry!"
Belize It Or Not…
Belize has its own version of Big Foot or Sasquatch, called El Sisimito. It's said to be short and hairy, like an ape, but with no knees and its feet on backwards (so when you see his tracks in the jungle it looks like he should be headed away from you, when in fact he is coming towards you). He's said to prefer human flesh over any other food, even though he survives on fruits and leaves.
Sisimitos do not like humans—other than as a main course—and they only have two fears: water and dogs. If you venture into the Belizean bush and don't want to risk a run-in with Sisimito, bring your pooch and stay near a river. Children were taught until just recently that they should do the same—and never to travel into the jungle without matches, as lighting his long hair on fire was the only other surefire way to fend off a Sisimito if attacked.
I'm always pleased to see the increasing number of Asian farmers (including Chinese and Taiwanese) selling their produce, ornamental plants, and products at the market. The Asian farmers' crops add a wonderful variety of fruits and vegetables that were rarely seen locally until they started coming to market several years ago. Their stands of natural medicines compliment the homeopathic, traditional, and natural medicines sold by other practitioners in the market.
When the crowds start arriving, you see entire families, sometimes all five generations of them, arrive in the back of pickup trucks from the outlying villages. One day, I saw 19 people get out of a small short-bed pickup truck—all in their Sunday best. It looked to me, at the time, to be a bid for a place in the "Guinness Book of Records," but, since then, I have found that it's not that uncommon at all.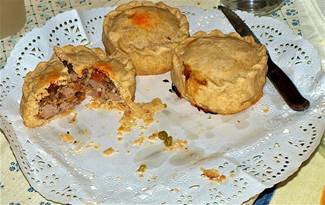 As well as running the grocery and clothes stalls, the center of the market is filled with Spanish and Creole women cooking their traditional fares, often with the help of their entire family. Chicken, rice, and beans are enjoyed heartily each morning, noon, and night by many Belizeans. The Spanish food vendors sell their tacos, panades, salbutes, and garnaches on the go. If you're lucky, you might get an opportunity to try a tasty local delicacy like cow foot soup, which is much more appetizing than the name might indicate. If you haven't made it to Belize yet, try this delicacy for yourself—it's easy to make at home.
Women of all ethnicities, including East Indian, Lebanese, Guatemalan, Garifuna, Honduran, and even gringas, have stalls selling local arts and crafts, clothes, jewelry, household goods… everything you can imagine, down to—literally—a kitchen sink. While there is no haggling over produce prices, there is room for a little negotiation at most other stalls at the market.
Male vendors who are not selling groceries sell anything from tools to local wines, dogs to orchids, local bitters to Rasta seaweed. The last two are sold to local men to fortify one in the romance department (I can't say how accurate the claims are, but they are known locally to at least be very healthy).
Another rapidly growing segment in the market are the organic produce farmers and vendors. A few years ago, there were no signs for organic foodstuffs anywhere in the market. Then one day a farmer came and set up a small stall at the very edge of the market, offering a couple of different items. Then another, and then some more. It's now clear that a good living could be made from organic gardening.
The bustle of the market can be a little overwhelming at first, but no one is trying to hard-sell you anything. The chaos is great fun…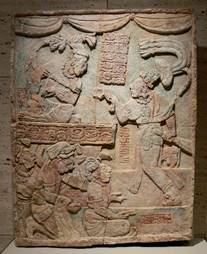 The Rasta man calls out to "Git Yo Seaweeeed" (a drink made from condensed milk, spices, and seaweed)… You might hear the Mennonites talking quietly in their Plett Deutsch (an old German dialect, now archaic in Germany) as you pass by…
The Maya stall owners usually speak the local Creole or Spanish with the locals, but amongst themselves you can hear the birdsong patter of the K'iche' or Mopan Maya languages. K'iche' is spoken commonly in Guatemala, but we may soon lose the Mopan Maya language forever unless conservation efforts are successful, as the total population of native speakers of Mopan in Belize and Guatemala is thought to be less than 12,000.
The Spanish vendors and customers speak emphatically at breakneck speed, often leaving you thinking a heated argument is going on, until you realize these passionate people simply express themselves differently than you do.
You'll hear children laughing and running, exclamations of locals and expats alike. You'll hear honking from the long line of traffic coming over the wooden bridge into town—most peoples' first time driving into San Ignacio is highlighted by the terror of driving over the rickety Low Bridge, which often shakes and shimmies as you cross it (it's never collapsed though).
If there is a lull in the sounds of the market, you might hear music wafting in from the town. A lot of stores put huge speakers outside on weekends, blasting nightclub music at all hours. Belizeans love to party and celebrate no matter the time of day.
The smells of the cooking from the market usually pique my appetite, and, luckily, the best bakery in Belize (in my opinion) is just across the road from the market. There you can purchase high-quality French-, German-, and U.S.-style breads and pastries found nowhere else on mainland Belize. I enjoy stopping for a pastry for breakfast and the aroma of baking breads. I get my olive sourdough loaf (straight out of the oven) and some cinnamon rolls for my little girl—who won't stop twisting my ear mercilessly until I pony up the pastry.

My daughter loves to stop by the Mayan spice sellers and push her nose into the piles of herbs and remedies on display. There are pungent spices for cooking, fragrances like copal (dried wood sap incense) for religious and spiritual ceremonies, herbs and barks used in local healing, and even the herbs, twigs, and tobaccos used by locals in the practice of Obeah, the religion brought by African slaves but now quietly practiced as much by people of Hispanic descent as its original observers. I usually get my daughter a couple of sprigs of the fragrance herbs and put it into a handkerchief, so she can carry it with her. You would swear it was catnip to my little kitty—she loves it.
The fish mongers sit by their ice chest and coolers, quietly selling the catch that has come from the fish market that morning, spreading the fresh aroma of the ocean throughout the stalls.
So, by 9 a.m., before the sun has become too hot, with a sense of satisfaction we load up the spoils of our hunt and head for our last stop on our shopping trip: Hannahs Meat Shop on Burns Avenue, where the best meat and butchering skills in the country find themselves in a happy union.
Con Murphy,
Belize Insider