A lion's roaring greets the morning. Or so it sounds to me, as I sit on the front porch in my rocking chair, drinking coffee with my husband in the early morning coolness.
I'd heard howler monkeys many times in Costa Rica. For a long time before, it puzzled me when people said they'd heard howler monkeys. How did they know? What did they sound like?
Finally, someone solves the mystery for me…
"Hear that sound? That's a howler monkey!"
"Ohhh!" That sound—one among so many in the jungle—like a lion roaring in the background. (Yes, I know, no lions in Costa Rica or Belize… I'm just saying how it sounds to me!)
On our first trip to Belize, my husband and I took a tour of Cayo, the inland area where we currently live, to attend a conference presented by Live and Invest Overseas.
Our guide on this trip, Amma, tells us she'd heard howler monkeys from another piece of property just up the road from us. I don't know if that means we could hear them from our property. The acreage she is showing us is much closer to the rain forest, whereas our property is in what used to be a cow and horse pasture. It's along the river, which is lined with wildland full of small brush and trees.
In this former British colony, the pieces of land that Americans would call public domain are known as "Queensland." To me, that totally defies logic. I love to follow the British royal family, and I happen to know Her Majesty just turned 92 this year. Our family joke is that she's welcome to visit the Queensland anytime. In the meantime, the 60 feet between our small, 0.18-acre lot and the Belize River is ours to enjoy.
I thought it was possible for howlers to travel through this wild parklike land, but I wasn't overly optimistic. Our immediate vicinity consists of cleared pastures with some corn and vegetable fields down the road… it doesn't look like monkey territory to me. I wasn't surprised I hadn't heard them yet, but am thrilled to hear them this morning.
To see these monkeys up close, whether or not they ever decide to make a visit to the "royal property," you can visit a "baboon sanctuary" in Bermudian Landing.
The Baboon Sanctuary In Burrell Boom
In keeping with Belize's oral tradition, you'll get nowhere asking where to find howler monkeys. However, if you ask for the "baboon sanctuary," you might find it. Howler monkeys are not baboons, but that's what the locals call them, just as they call the (rarely seen) jaguars, tigers.
The Baboon Sanctuary in Burrell Boom is quite an inspiration in eco-travel and living green. The sanctuary came into being when American botanist Robert Horwich, from the University of Wisconsin, studied howler monkeys in their natural range, from southern Mexico to Guatemala. In Mexico and Guatemala, they were being hunted for food and nearing extinction. In Belize, however, the forest was much more intact and the villagers were generally fond of the "baboons."
If you're picturing a National Park Service-like welcome center, forget about it. The Baboon Sanctuary itself looks like a converted house with a few rooms with fading photographs and clippings posted on the wall, with a small gift shop.
From there, however, it is possible to take a tour with a 100% guarantee of seeing the monkeys. For less than US$10 a person, you get a guided walk across the road to where a monkey troop lives, in the trees behind an elementary school.
The day we were there, school was in session and we could hear the teacher trying to hold her own over the natural background noise of children on one side and howler monkeys on the other.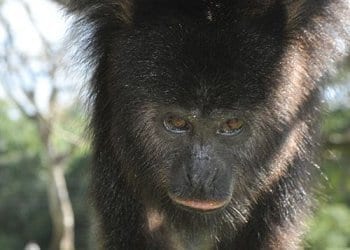 It's possible to camp or stay with locals, take hiking or boating trails, or participate in other activities to see more of this heartwarming project. My husband David and I, however, stopped en route to the Philip S. W. Goldson airport (the sanctuary is 26 miles from Belize City and only 19 miles from the airport). In the little time we had to spend, we watched the howlers, complete with a mother with a baby on her back, and that's where I took the photo for this story.
Some of the activities the Baboon Sanctuary is successfully promoting include educating schoolchildren and adults on sustainable farming techniques, which prevents the continuous cutting of forest to create new crop fields. Destruction of the rain forest in Mexico and Guatemala has contributed to the decimation of howler monkey population in those countries.
I've heard claims that the local population of howler monkeys has soared to 4,000, making the comeback so successful that troops have been relocated to other parts of the country where they'd previously become extinct. Some 220 landowners participate in the project, which involves preserving the monkeys' food trees (sapodilla and hog plum) and leaving small strips of forest between farms and 60 feet of forest along the waterways to serve as aerial highways.
I am keeping this in mind as I landscape our lots fronting the Belize River. I'd love to see a monkey highway along the riverfront of our development. David told me he saw monkeys crossing through our lot, and I was thrilled, though I haven't yet seen them myself.
The Baboon Sanctuary is now the main source of income for this isolated rural community, proving that ecology and commerce can work together for the benefit of all.
Don't you love when that happens?
The website for this project is here.
Kacie Crisp