Partying on the beach all weekend long… the tunes of booming reggae music and smooth steel drums reaching your very soul… being well lubricated by every exotic rum cocktail you can think of… If this sounds like your idea of fun, plan a Belizean Lobsterfest into your next vacation.
These annual June events—staged on Ambergris Caye, Caye Caulker, and the coastal resort of Placencia—celebrate the re-opening of lobster season in Belize. (The season closes from January to mid-June to allow the tasty crustaceans to breed away for our future eating pleasure.) The Ambergris Caye event on San Pedro kicks off the season, followed by Placencia and finally Caye Caulker. The Lobsterfest tradition started 10 years ago in Caye Caulker, and it is in Caye Caulker that each year's Miss Lobsterfest is crowned.
The Flavors Of Lobsterfest
Each Lobsterfest has its own flavor. The fest on small, isolated Caye Caulker includes a replica of the Indian festival of Holi, where celebrants show up dressed in white, expecting to be sprayed with paints in all colors. It's reportedly quite a site to see them plastered from head to toe in vibrant hues, sporting their mirrored Ray-Bans, which stay in immaculate condition.
The Ambergris festival has been described as the most ostentatious of them all, and it runs for 10 days, culminating in a giant block party in the park. Many restaurants offer discounted drinks and free live music. All participants get a passport to the Lobsterfest and can collect stamps from sponsors they visit each day of the festival. For each stamp, they receive a raffle ticket that allows one lucky visitor to win an all-expense-paid package to next year's Lobsterfest. The vacation package includes complimentary local airfare, hotel stays, tours, golf cart rental, bar tabs, dinners, massages, and more.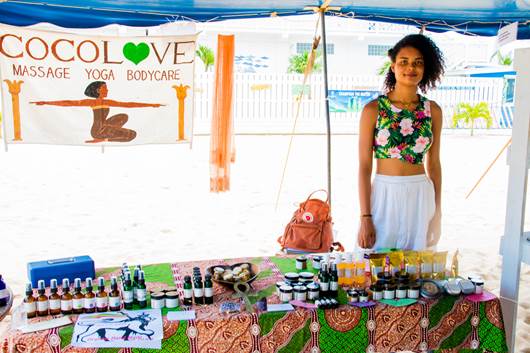 There's also a Lobsterfest in Belize City itself, at Bird's Isle on the south end of the city. Belize City is not really a tourist destination, and this Lobsterfest, usually the second week in July, is mainly for locals.
I first heard about Lobsterfest during my initial visit to San Pedro in January 2014, and somehow it instantly migrated to my bucket list. When a friend mentioned he was going to Placencia last weekend to make lobster pizzas for Lobsterfest, I went right home and made reservations at my favorite Placencia-area haunt.
While Lobsterfest is a big event in Placencia, reasonable rooms were still available at the last minute. We found, though, our hosts in the hotel recommended reservations for dinner anywhere that weekend. Such is life in laid-back Belize.
Pretty In Placencia 
I'm always looking for an excuse to go to Placencia. It's the prettiest and most colorful of the Belizean towns I've been to. One of its main attractions is the Maya Beach Bistro, which sports one of the best chefs I've experienced anywhere in my worldwide travels, serving imaginatively prepared, local cuisine to an international gourmet standard, and at reasonable prices. It also sports an award-winning wine list, though wine is always pricey in Belize.
Another plus of going to Placencia, for us, is that we can easily drive there from where we live inland in Cayo. It's about three hours, most of it travelling on Hummingbird Highway, easily the most stunning of Belize's three main highways, as it winds through rain forest and then citrus groves en route to the southern coast of Belize. Traveling to the cayes from Cayo requires driving to Belize City for either an expensive flight (US$100 per person each way) or the hassle of finding a safe place to leave our car, traveling to the ferry, and a 45- to 90-minute ferry ride to Caye Caulker or Ambergris.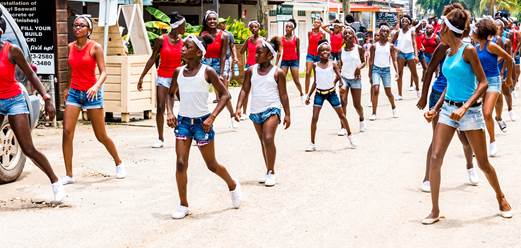 Lobsterfest in Placencia deserves its billing as a weekend-long beach party. The Lobsterfest grounds are north of the harbor—right on the beach—curiously placed directly opposite the police station. The dates were advertised as Friday through Sunday, but a visit Friday afternoon revealed many vendors not yet arrived or still setting up. As you might expect from a nighttime party scene, it gets going a bit slowly in the morning, with 11 a.m. being an early arrival time.
The featured dish, of course, is lobster… cooked more ways than you ever dreamt possible. Lobster nachos? Check. Lobster quesadillas? Check. Grilled lobster? Check. Lobster fritters? Yes ma'am. Lobster ceviche? Of course. Spicy lobster, mango, and avocado cake? Yes, indeed. Lobster and bacon sliders? Certainly. And, if that's not enough, you could also find spicy mango barbequed lobster, Caribbean lobster, and lemon pepper lobster. Is your mouth watering yet?
In addition to the many food stands offering lobster, you'll find barbecue, juices, pizza, and a host of other local treats. A large tent offered a wide array of native crafts, especially wood carvings and drums, but also made-in-Belize natural makeup, essential oils for health and beauty, handmade natural soaps, and even homemade wine in pint-sized plastic bottles in flavors varying from cacao (unique and delicious) to carrot to bukut, a native herb which the vendor was quick to recommend as a cure for colds.

In case it's been a decade or two since you danced until the wee hours on the beach, quieter options are also available. Walk down the sidewalk that serves as Placencia's main street ("the narrowest main street in the world"), about halfway back towards the harbor, and take another narrow street off to your right. There you will find the Pickled Parrot, a bar/restaurant strung with Christmas lights with a Polynesian feel, populated by expats who appreciate the band's mellow versions of the Rolling Stones and other last-century classics. On Lobsterfest weekend only, the menu includes lobster pizza, made by our friend Damon. I had a hard time imagining it at first, but it's served with white sauce, black olives, tiny broccoli florets, and lots of delicious morsels of lobster. I thought when we ordered an 18-inch size that we'd have plenty to take home. A couple slices lasted long enough to be taken back to the hotel for breakfast.
In my opinion, no visit to Placencia is complete without at least one visit to Tutti Frutti, the only (as far as I know) genuine gelato store in Belize. Eighteen flavors of gelato and sorbet are served daily, including local flavors like soursop and mango. Others may claim to offer gelato, but in my experience, Tutti Frutti, owned and run by a French-Italian couple, is the only real thing. It's easy to find on the main highway. The lines may seem long, but they go fast, and the real gelato is the perfect finish to a lobster pizza.
Kacie Crisp
Belize Insider