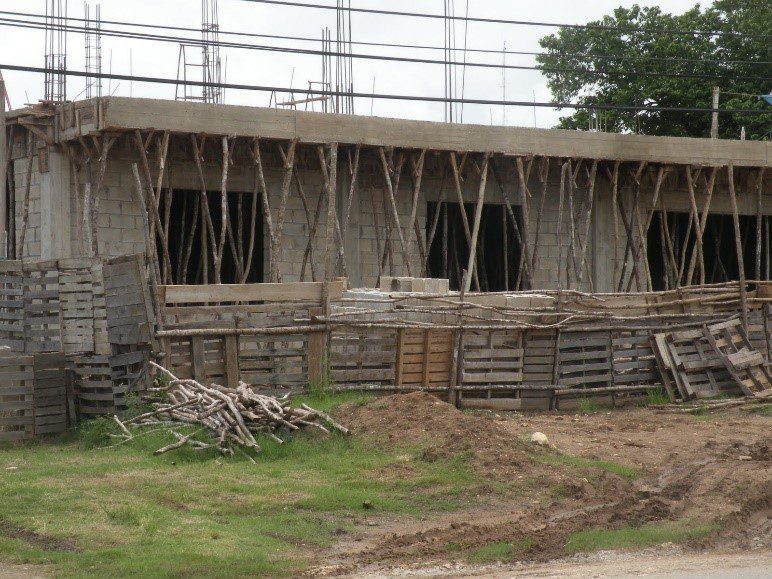 To build or not to build, that is the question…
After deciding to move overseas, you've then got to decide between buying a residence and building your own.
If there were ever an award for the most contentious topic to cover for the expat in Belize (or anywhere else in Central or South America), construction would win it.
Every country has its share of expat-building-homes stories. Some are tales of great and heroic success… some of intrigue and woe… and the rest falling anywhere in between.
Here are some pros and cons to consider for each option:
Buying an existing home you could get a good deal through a local realtor… or you might end up paying more than if you found a reputable contractor and built your home yourself.
Building yourself (or contracting someone to do so) takes time, and some people mightn't want to wait to start their new life. However, building your own may give the opportunity to ensure that your house is built correctly. (Not all structural problems are immediately apparent to the engineer who might be surveying an already existing home.)
If you buy a ready-built home you "get what you see" (usually). Some buyers have run into rogue builders and scam artists, causing their projects to be more expensive than quoted or leaving them with unfinished work. (Just because you are in a lovely country doesn't mean there aren't unreliable builders here, both foreigner and local.)
Let me walk you through a typical construction process…
Many coming to Belize don't fully appreciate how designing your home for the local climate can have huge effects on the comfort and operating costs of your home.
Old, colonial-style homes had many simple aspects that made living in the tropics possible and even comfortable. In the more extreme tropical climates, problems exist that those from up north don't usually consider. Many of the best design and construction ideas come from those old pre-air-conditioning-era buildings.
For example, heating your home is not a problem, but cooling it down is.
When building in the tropics, remember the following:
Deep overhangs on the roof that shade the walls of your house from direct sunlight between 9 a.m. and 3 p.m. greatly reduce the heat load inside the house—especially true in concrete houses.
Orienting the house to the wind allows breezes to pass through the house and can save a small fortune in electricity.
High ceilings and open floor plans allow maximum air movement. Narrower rooms, properly oriented to create a cross breeze through the house, can allow natural cooling at no cost.
Well-designed houses incorporate passive cooling, such as vents high on the eaves to allow the rising heat to escape.
I know many people who never think to use their air conditioner here in Belize because of some smart thinking in their home design process. I also know others whose air conditioning is never turned off as it struggles to cool the concrete sauna that is their house.
Armed with these design basics, you can approach a local architect (or a less expensive draftsman, if you have a vague grasp of construction or are sure of the style you want). Your architect will produce a detailed set of plans and usually submits them to the Central Building Authority on your behalf. He or you can then ask for a temporary permit to proceed with construction. The CBA are diligent in their work but are usually backlogged; your actual permit will be issued as their workload allows.
If your house is going to be less than 1,000 square feet, you don't need an architect or engineer to sign off on or stamp your plans for the CBA, but you must still submit them (with structural details).
As part of the design process, you can ask the architect to have a surveyor generate a bill of quantities to get an estimate on the potential cost of your home.
Finding A Reputable Contractor—That You Can Afford
This is usually the hardest step.
There are honest, hardworking, and reliable contractors in Belize… but it may take you a while to find one—and it's worth taking your time in looking.
Ask people for references, do your due diligence, go and see what construction the builder has done previously. If he cannot find at least a couple of clients who will allow you to view his work, he may have alienated them. If you don't check references, you don't know what you are getting yourself into.
Generally, your architect will have builders they have worked with before and can give you some starting recommendations.
Here are some pointers for taking the steps from design to build:
Understand what information is required for a good agreement and building relationship with your contractor.

Accurate and complete construction drawings—be sure to review them thoroughly. If you do not know how to read plans (blueprints) find a trusted advisor. If it's not in the plans, do not expect to get it without an expensive change order. If the plans are wrong, expect to get what the plans say, then pay for an expensive change order, and pay to have the mistake torn out and rebuilt. All at your expense.
Specifications (specs) work together with the construction drawings to provide the contractor and crew the information they need to perform the work and deliver what you want. Specs often include things that cannot be easily shown on the construction drawings. They should include the materials to be used throughout the house, plumbing, electrical and lighting fixtures, appliances, paint colors, wood species, etc. Anything special or specific you want should be in the specs.
The building contract ties the drawings and specs together and attaches a budget and building schedule to the project. It will also include payment terms and methods. As with most contracts, it should include remedy and termination clauses.
There are two types of construction contracts usually enacted in Belize:

Full service, in which the contractor pays for the materials and labor, and is paid by the home owner at agreed milestones and stages during the build.
A labor only contract, in which the owner wants more control over the process, buys all the materials, and contracts out only the labor portion. (Always get a fixed-bid contract; paying by the day is a sure way to take many years to build your house, and at greater expense.)
Negotiate the contract with your builder. There is usually a big difference in the quality of what the client thinks they are getting and what the builder thinks he is being paid to provide. Ask specific questions about the make and quality of all materials. Get written agreements on all aspects of the build. It is critical that you have a detailed spec list prior to signing a contract. The spec list should itemize all materials, fixtures, and appliances included in the contract.
Once you agree on a price and quality level, if you want to change anything in the design, you will likely face a change order and have to pay for the order, the extra labor, and materials, on top of the agreed amount for the build. Change orders almost inevitably result in a protracted build schedule.
There are outside engineers or building consultants that can be hired to monitor your build at crucial junctures to ensure no essential corners are being cut. If you have never built a house before and/or know little about construction, then it is wise to have an expert on your side monitoring the project.
Don't let the builder get too far behind on his work schedule. If the second payment is due when the walls are up to roof height, consider carefully before advancing any monies beyond this point; a builder who has been paid has little extra incentive to finish a job. Always withhold 5% to 10% of the entire payment until after the final walk-through and punch list is completed.
Communicate with your builder (or crew if you are building for yourself). English can often be a second language for your contractor or crew and items or materials may be referred to by different names (or not at all) here. I was once involved in a project where a reliable crew of Spanish speaking carpenters were hired from a neighbouring village for a small one-day construction project. The scope of work was simple, a small covered picnic pavilion, open at both ends to catch the wind—with the roof ridge perpendicular to the river—for maximum cooling effect.The idea was good.The contractor returned to the site later in the day to inspect the work and was proudly shown a wonderful little pavilion built correctly—roof ridge parallel to the river. Stoically biting his tongue, the contractor inquired of the English-speaking foreman, "You asked me three times how to place the structure and three times I answered 'perpendicular to the river.' Why, then, is it parallel to the river?" The foreman candidly responded, "We asked everybody in the crew and no one knows what a perpendicular is."These are professional carpenters who do a great job, but the instructions were ineffective due to a communication gap. While English may be the official language in Belize, not everyone speaks it, and it is a second language to many in certain areas and industries.Just because you are talking doesn't mean communication is happening. Don't assume. A lot of people here are embarrassed to ask when they don't understand something you say. Even our accents can sometimes make it difficult for locals to understand what we are trying to communicate.
Don't stress—it will take longer than scheduled. Go have a beer and take it easy.
Prices per square foot vary quite a bit depending on what you want, and it is sometimes difficult to compare like for like.Generally:

Building on the islands or Placencia costs more than on the mainland. Cayo is a little cheaper than construction in Belize City.
Simple designs can be much cheaper than complicated ones. You also limit the pool of experienced workers if your plans differ from the local building methods. (I once had a builder who needed four different drawings of what I meant by a window sill and managed to install it incorrectly three times before I had to stand there and watch his guys do it correctly. He's no longer my builder.)
Expect to pay 10% to 15% or more (at least) for a good contractor to manage the job.
There is an Institute of Chartered Architects and of Chartered Engineers in Belize, but there is no institute of builders to report grievances to.
Construction in concrete can be a little cheaper than using lumber and requires much less maintenance over its lifespan. Lumber construction can be quicker and is sustainable. Concrete retains more heat.
Construction is not cheap in Belize. It can be reasonable, but it is not much less than the cost of building in the States. Labor, gravel, and hardwood lumber are all cheaper here. Everything else is usually imported from abroad and might be more expensive than at home. If you can find the requisite skill and management, a significant savings can be made in the labor category compared to U.S. construction prices.
Some of the building methods that your crew will use might seem incredibly crude but can be very effective. Watch for bush sticks (pole wood) holding up major concrete pours across the country. This and other common practices would send your OSHA or health and safety officer back in the States into apoplectic fits, but work-place accidents are generally few here. I hear it's a tough job to keep even sandals on the construction workers' feet on island building sites, not to mention steel-toed work boots, hard hats, and eye protection.
Last year, here in Cayo, I took clients on a tour of their build site. I really must be acclimatized to local work practices… it took me about 10 minutes to realize why the ladies were trying to stifle giggles. Slick, our strapping Creole finishing carpenter, was parading around, banging away with the nail gun, and joking right beside us… in nothing but his underpants! The day was too hot for shorts—why wear them? There were no complaints from the ladies, but I felt a little stupid having not registered it. (New safety measures were immediately instituted; Slick must keep his trousers on at work these days. I fear otherwise the building sites could get crowded with clients admiring the work.)
QRP Benefits
One of the many benefits of the Belize Qualified Retired Persons visa is the opportunity to ship building materials that are not available locally in your duty-free container. Not all materials would be allowed—steel rebar, cement, and lumber specifically—but other items, like light fixtures, finishing materials, mobility equipment, stair lifts, decorative features, and even tools to be used in the construction, can brought without any duties or taxes.
You'll Have To Build It Correctly, These Days
The CBA was given teeth several years ago. And now it bites if you ignore it.
These days, the good folks at the CBA have things firmly in hand, and you had better have your plans submitted for approval before you start to build your house, or you will likely be issued a summary stop order. They have been empowered to issue fines and even court summonses if you continue to flout the rules.
All necessary details and sections must be included in the drawings accompanying the planning application. A surprising level of detail is required, plans for even small custom houses can run 10 to 30 pages.
Kriol 101
Proverb: Wen rain come, jancrow say e wahn buil(d) house.
Literally: When rains come, the vulture says it is going to build a house.
Meaning: Be prepared for emergencies before they happen.
However, few requirements follow; only the integrity and safety of the structure and the people inside it are really considered beyond the plans. Aesthetics are not currently a factor for CBA permitting. You could build your house to look like an old boot, and so long as the foundation, plumbing, and electrical passed muster, you're home free. Your architect or draftsman, in conjunction with your contractor, can deal with the CBA permitting issues.
When your house is finished, you can request a final inspection by the CBA, so they can allocate a fee and give you a Certificate of Occupancy. If you wish to use the building for tourism purposes you must have a C.O.
All this may seem like a lot of daunting work, but if you do your due diligence and get involved in the process, the satisfaction of successfully building your own dream home is well worth it.
Come to Belize and enjoy the freedom and privacy of your own castle in paradise… but be diligent.
Con Murphy
Belize Insider