One of the selling points of Belize as a retirement/relocation destination is its apparent familiarity.
People speak English, or at least they can, even if they speak Spanish or Creole at home. Its laws are based on English common law, not the Napoleonic code like Latin American countries. It's a short two-hour flight from Houston or Miami, and the currency is pegged to the U.S. dollar (two Belizean dollars to one U.S.).
Yet, you find that almost nothing here is as you'd expect it to be. One of those experiences welcomed me recently, when I arrived home in Belize after a flight to Cancún. I was fighting a cold with a hellacious cough and wanted nothing more than to be home and free of dealing with the vagaries of travel.
Before flying out of the airport in Belize City, I had parked my vehicle, my husband's Toyota pickup truck, in the airport parking lot. As I drove through the parking lot gate, I noticed that it did not open and close, nor was a ticket dispensed. I wondered how they would know how long I'd be there.
Coming home to Belize means going through customs and immigration every time, like the United States. You can get whacked with a 30% or more duty on imported items, but more often than not, when I declare what I have, they tell me, "You're free to go!" My best guess is they're looking for new, fancy electronics, although you can get taxed for anything imported.
The carts at baggage claim are free, but as soon as you pass customs, they are whisked away and replaced by trolleys operated by a host of Belizeans standing around, eager to receive your tips for delivering your baggage to the car.
After I had my porter deliver my bags to the open back of the pickup, I set about finding out how to extract my car from airport parking. The bright yellow metal clamp they put on one of the wheels make sure you realize this is not optional.
I wandered into the terminal to find out who to talk to. Upstairs, through a door that looks like it should be for employees only, is a window where you pay your parking tab. If you're in and out in one day, you pay BZ$4 (US$2) to exit. For overnight stays, it's BZ$18 (US$9) per day—cheaper than gas if your trip abroad is short.
The woman at the desk asked me what my license plate number was. The truck has a Belizean one, but I have no clue what it is… No matter, what kind of vehicle was it? She then flipped through a stack of papers on a ringed clipboard, which, apparently, contained a list of the vehicles parked overnight for the recent past. She told me the amount, and I paid it.
"Where do I find someone to unlock the clamp?" I asked.
"That would be security," I was informed.
I wandered around the parking lot and tiny terminal looking for someone official who could tell me where to find security. Apparently, everyone was on break. Finally, I was directed to a door which stood behind the immigration clearance desks. In the United States it would have had a computerized entry and signs that no one unofficial was to enter on penalty of death. Here in Belize, I walked up and asked who could help me.
A tall, portly Belizean came with me to the truck. The person who had clamped my truck had not done it correctly, he informed me, as he struggled to unlock it. Somehow, I didn't see this as my problem, but of course I had to wait while he managed to unlock it, all while explaining and demonstrating how his co-worker had done it wrong.
Free at last, I got into the truck. I turned the key. The electric windows rolled down (first priority in the heat!), all the dashboard lights went on, but the starter went click-click.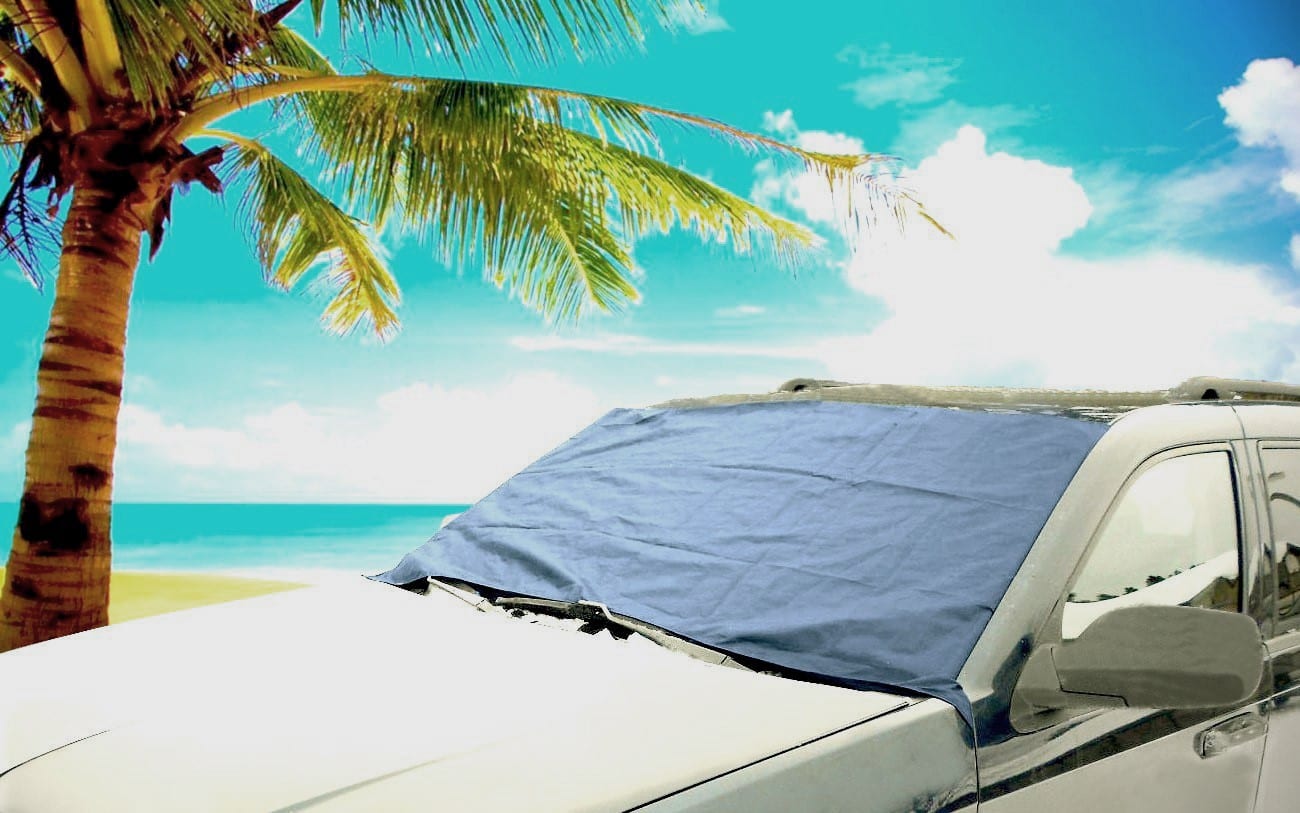 Great! My husband was working in San Francisco, my California AAA was way out of range, and everyone I knew in Belize lived two hours away—and I didn't have their phone numbers on me anyway.
My friend the security man said he would go find some guys to push-start the truck (which, fortunately, is a stick shift). While he disappeared to who-knew-where, I walked over to the car rental offices that border the parking lot. The first one I went into pointed to a guy right near my truck who was checking out one of their vehicles. He had a starter, I was told, and he could come right over.
He did, and he tried his best, but nothing changed the click-click-click from the starter. My vast automotive diagnostic abilities (not!) suggested to me it was not the battery, but the starter. If it had been the battery, I reasoned, why would the electric windows go down with ease and the lights on the dashboard be perfectly bright?
Maybe the portable battery starter wasn't strong enough, my helpers suggested. I walked to a man starting his car in the parking lot and asked if he could give me a jump. He agreed, but that didn't work, either.
By this time, my security friend had returned with a couple of Belizean guys in tow. Popping the clutch for a jump start was clearly in order by this time. The guy who'd given me a jump offered to do this for me. This was a relief since the last time I'd jump-started a stick shift was when I was in high school. The truck started right up, he hopped out and I hopped in, and I was ready to go.
"Could you give the guys something?" my security friend asked me. I handed over a US$20. It was a lot cheaper than a tow truck in the United States.
I drove all the way home without turning the engine off, even at the gas station where I filled up on both gasoline and butane.
Once I got home, it took me a few days to arrange to get the starter fixed. First, I took it to a place in Spanish Lookout, the Ohio-with-palm-trees Mennonite settlement 7 miles from us. They confirmed it was the starter. They sent me to another place in town to fix it, but they couldn't fix it for another week.
Since I was having to beg my neighbors to jump-start the truck whenever I had to go anywhere, waiting a week to get the truck fixed didn't really work for me.
Belize It Or Not…
Despite a recent announcement to the contrary, the 2017 Caye Caulker Lobster Fest is returning in all its glory to Palapa Gardens from June 30 to July 2.
After the news broke that the beloved food festival would be postponed this year, the Caye Caulker Lobster Fest Committee was contacted by prominent local groups including the Belize Hotel Association and the Belize Tourism Board, as well as the Minister of Tourism Manuel Heredia, Jr., all offering assistance so that one of the country's most iconic celebrations could go on.
The Caye Caulker Lobster Fest, first held in July 1994 by the Islanders Veterans Football Club, is famous for being the original Lobster Fest ever celebrated in Belize, which to date boasts 18 individual events, including well-attended ones in Placencia and San Pedro.
Belize's lobster season is closed four months out of the year, from February to June, in order to give the spiny crustaceans a chance to replenish their population. Giving carnival a run for its money, Lobster Fest, marking the opening of lobster season with feasting and merriment day and night, is a part of Belizean culture that should not be missed.
In case you're wondering, it is really not hard to find folks to help you push-start a vehicle in Belize. Once, when I went on automatic pilot and turned the engine off in front of the "Chinese" (as people call the 7-Eleven-style grocery stores here), I just walked over to a bunch of guys unloading merchandise into the store and asked if they could give me a push. They did, and off I went. My high school-era skills at clutch-popping are now fully updated, by the way.
Fortunately, my kind Carmelita Gardens neighbors who'd been jump-starting my truck for me daily recommended Damon, an expat diesel mechanic who keeps their cars running on Belizean roads (no small feat!). Not only could he fix it over the weekend, but he rebuilt the starter so we didn't have to wait to find one somewhere in Belize or have one imported.
And he gave a one-year guarantee.
I dropped the truck off after market on Saturday and got it back on Sunday afternoon. Definitely a Belizean experience!
The starter failure was, it turned out, another unfortunate consequence of Hurricane Earl. Those small ponds (formerly potholes) in the middle of the road that I'd driven through while transporting workers to help me move construction materials out of the way of floodwaters had apparently done quite a number on the starter.
It's now fixed, working fine and with more time on the guarantee. I also now know what to do when my car won't start at the Belize City airport.
Kacie Crisp
Belize Insider