US$10,000 Buys You This Productive Land Play In A Growth Market With Big Upside
Last week, the guys at Tierra Cafetera updated me on their progress since I last reported on their Colombian coffee plantation offer. The group has closed on Finca "La Virgen." (I'm not sure if the name came with the finca or they came up with the name given that this is the first plantation in their network being offered to individual investors.)
As of this writing, they have but a dozen or so parcels still available out of the farm's total 150. Meantime, the Managing Director, James Cummisky, has already identified and started working on the paperwork for the purchase of the next finca to add to the portfolio.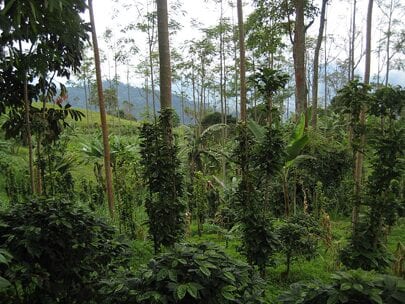 I've been very bullish on agricultural land. This has been a focus for the past several years, as yield-generating investments are a critical part of any portfolio right now. Agricultural land can not only throw off a yield, but it also can be expected to appreciate in value as arable land around the world becomes scarcer and demand for food increases. Agricultural land in Colombia is no exception, but the crop you want to get involved with is coffee…not the other stuff.
Seriously, this country is known for growing some of the best coffee beans in the world. Surprisingly, though, the industry is not nearly as efficient or as developed as you might expect.
That's where Tierra Cafetera comes in. Their investment model is to source fincas already in production and then put turn-key operations and management in place on behalf of their investors.
You see, farmers in Colombia have little incentive to grow better or even more coffee. They get the same price for their product regardless of quality…unless they happen to be found by a micro-exporter like Tierra Cafetera's sister company Coffee Latin America.
With the sales outlet in place through Coffee Latin America, Tierra Cafetera is putting together the supply it needs—both directly, from Colombia coffee farmers, and by finding independent fincas to add to its portfolio. Fincas like La Virgen.
Now, with Finca La Virgen, the Tierra Cafetera team is at work on step 2—making the finca more efficient and productive. They are surveying the entire farm to finalize the planting plan for the high-value coffee bean varietals that Tierra Cafetera's wholesale buyers are looking for. It'll take up to three years for these newly planted coffee trees to produce, but that coffee will be worth considerably more than the good coffee already being harvested from this finca.
The high-value varietals that Tierra Cafetera plans to grow include Geisha, Mocha, Caturra, Parajito, and Bourbon. Geisha is the current hot commodity in the coffee world, but, like fine wine drinkers, gourmet coffee aficionados like different coffees for different occasions. Hence the plan to plant multiple high-quality specialty coffees.
Perhaps most important, the tenant farmer charged with caring for the coffee trees that Tierra Cafetera is planting is being trained in modern, state-of-the-art coffee-farming techniques so that he can maximize yields. Growing better quality coffee beans and increasing yields are two integral parts of the overall value formula at work here.
By implementing modern farming techniques—using fertilizers, organic pesticides, and better planting techniques, for example—Tierra Cafetera expects to be able to increase the average yield of farms from the current less than 50% of maximum potential to a more optimum level over the course of 10 years. Meantime, they will get better quality coffee from the current trees…and the new plantings (such as the Geisha) will increase the average per-pound price potential when those trees start producing.
The bottom line of all this is a turn-key opportunity for the investor. An investor buys a piece of property (that is, a parcel in La Virgen), and Tierra Cafetera takes over from there.
Built-in management is one of the big advantages of this kind of agricultural investment. You own the land, but it's worked by a local farmer who cares for the coffee plants and that farmer is managed by the Tierra Cafetera team. Returns for investing in these turn-key fincas are projected to reach an annualized 19% over a 20-year period. Of course, it'll take some time to optimize the finca for quality and quantity of the coffee produced, but, as each finca that Tierra Cafetera brings into their network is already a producing coffee farm, cash starts flowing back to investors six months after the farm is brought online. Initial cash flow will be nominal, but, over time, the revenue generated from the farm could become significant as the production yields increase and the higher value coffee comes online.
That 19% annualized yield doesn't include the value of the land (remember, as an investor, you own and take title to the piece of the finca in question that you invest in), which one could reasonably expect to increase over the 20-year period used for the projections.
Given the minimum investment of US$10,000 for a half-acre parcel, this is an opportunity to dip your toe into an agricultural land play with minimum risk. Note that I don't expect this low minimum to remain in place much longer. Soon, Tierra Cafetera intends to raise the minimum to five parcels (that is, US$50,000).
For more details on what I see as a very appealing productive land investment opportunity in a growth market, inquire here.
Lief Simon
Continue Reading: How To Find A Job In Panama